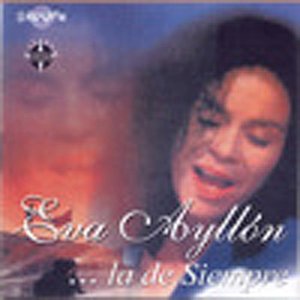 Eva Ayllón (born February 6, 1956 as María Angélica Ayllón Urbina) is one of Peru's foremost Afro-Peruvian musicians and one of the country's most enduring stars.
Ayllón adopted the stage "Eva" from her maternal grandmother, Eva, who began teaching the young María music at an early age. As a child and teen, Eva Ayllón sang in school competitions and later on television and radio. Throughout the early 1970s, Eva appeared in many música criolla musical groups such as Rinconcito Monsefuano
Read Full Bio
Eva Ayllón (born February 6, 1956 as María Angélica Ayllón Urbina) is one of Peru's foremost Afro-Peruvian musicians and one of the country's most enduring stars.
Ayllón adopted the stage "Eva" from her maternal grandmother, Eva, who began teaching the young María music at an early age. As a child and teen, Eva Ayllón sang in school competitions and later on television and radio. Throughout the early 1970s, Eva appeared in many música criolla musical groups such as Rinconcito Monsefuano, La peña de los Ugarte, Los Mundialistas o Callejón and Los Kipus. By 1975, Eva began to pursue a solo singing career, touring internationally by 1979. In 1989, Eva formed Los Hijos del Sol (Children of the Sun), a supergroup made up of Peruvian musical stars in an effort to promote Peruvian music through performance and recording.
To date, Eva has produced over 20 records. Her latest release is Kimba Fa, an exploration of the musical styles that she has performed over the last three decades[1]. In 2004 she released Eva! Leyenda Peruana (Eva! Peruvian Legend), which was her first album produced in the United States. Today, Eva continues to tour and lives in New Jersey with her Peruvian-American husband and childrenIn her music, Ayllón blends indigenous Peruvian, African and Spanish influences into a style known as musica criolla.
Typically, Ayllón focuses on the musical genres of Peru's capital city along the Pacific coast, Lima. Ayllón is particularly known for the Peruvian music genres of the lando, the festejo, and the vals, and is known as "The Queen of Lando".
Genre not found
Artist not found
Album not found
Search results not found
Song not found
We have lyrics for these tracks by Eva Ayllón:



Azucar de Caña Salgo de mañana a tumbar la caña, salgo de mañana a…
Desden, Rebeca Aunque mi vida esta de sombras llenas no necesito amar, no…
El arrullo Enciéndete candela, fríete cebolla que en mi vida no he vist…
El Puente de los Suspiros Puentecito escondido, entre follajes y entre añoranzas. Puen…
El Tamalito Si usted mirara un ratito A través de la ventana Ay, yo…
Enamorada de Estar Aqui Si... Estoy enamorada de mi pais (enamorada) Estoy enamorad…
Fina Estampa si señor eva ayllon tumbaa... Una veredita alegre con luz d…
Hilda / Nunca Podrán / Alma de Mi Alma Muchas cosas te estan diciendo de mi Pues lo que quieren…
Huellas No me pidas que te olvide porque es imposible porque todavía…
Idolatria La idolatria es simbolo de amor que el culto nos lo…
inga Enciéndete candela, fríete cebolla Que en mi vida no he vist…
José Antonio Por una vereda viene, cabalgando José Antonio. Se viene des…
La noche de tu ausencia Fria es la noche de tu ausencia ni hay calor…
Mi cariñito Por lejos que estes cariñito ahí ahí te seguiré por lejos qu…
Muñeca Rota Muchachita ingenua De los ojos negros No eres ni siquiera La…
No Valentin Mira, toca, espera, llega Hasta mi con tu locura Yo te atrap…
Que somos amantes El lugar de siempre La misma penumbra Los mismos bohemios La…
Raices negras Este ritmo de negros, este ritmo sabroso este ritmo festejo …
Ritmo Color y Sabor Ritmo, color y sabor ritmo para vacilar Ritmo, color y…
Ruperta A mi prima la Ruperta el santo se le ha…
Toro Mata Toro mata ahí, toro mata, toro mata, rumbambero, ay toro ma…
Yo Te Canto Escuchen la alegría del cajón, del bajo la guitarra y el…

The lyrics can frequently be found in the comments below, by filtering for lyric videos or browsing the comments in the different videos below.