It's true, we're all a little, insane
But it's so clear now that I'm, unchained
Fear is only in our minds
Taking over all the time
Fear is only in our minds
But it's, taking over all the time
You poor, sweet, innocent thing; dry your eyes and testify
You know you live to break me, don't deny sweet sacrifice
One day I'm gonna forget your name
And one sweet day you're gonna drown in my, lost pain
Fear is only in our minds
Taking over all the time
Fear is only in our minds
But it's taking over all the time
You poor, sweet, innocent thing; dry your eyes and testify
You know you love to hate me; don't you, honey? I'm your sacrifice
(I dream in darkness I sleep to die, erase the silence, erase my life)
Do you wonder why you hate?
Are you still too weak to survive your mistakes?
You poor, sweet, innocent thing, dry your eyes and testify
You know you live to break me, don't deny, sweet sacrifice
Lyrics © BMG Rights Management, RESERVOIR MEDIA MANAGEMENT INC
Written by: TERRY BALSAMO, AMY LEE

Lyrics Licensed & Provided by LyricFind
To comment on specific lyrics,
highlight them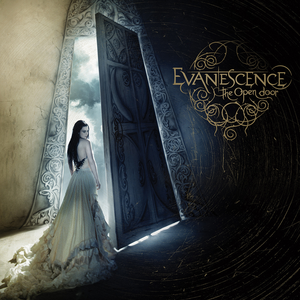 Evanescence is a Grammy-winning band founded in Little Rock, Arkansas, United States in 1995 by singer/pianist Amy Lee and guitarist Ben Moody (who left in 2003).

After recording private albums, the band signed to Wind-up Records and released their first full-length album, Fallen, in 2003, which sold more than 15 million copies worldwide and helped the band win two Grammy Awards. A year later, they released their first live album, Anywhere But Home, which sold more than one million copies worldwide.
Read Full Bio
Evanescence is a Grammy-winning band founded in Little Rock, Arkansas, United States in 1995 by singer/pianist Amy Lee and guitarist Ben Moody (who left in 2003).

After recording private albums, the band signed to Wind-up Records and released their first full-length album, Fallen, in 2003, which sold more than 15 million copies worldwide and helped the band win two Grammy Awards. A year later, they released their first live album, Anywhere But Home, which sold more than one million copies worldwide. In 2006, they then released their second studio album, The Open Door, which sold more than five million copies. They released their third and latest studio album, Evanescence in 2011.

The band currently consists of Amy Lee (lead vocals, piano, keyboards), Terry Balsamo (guitars), and Tim McCord (bass). Former members include David Hodges (piano, keyboards, backing vocals; left in 2002), Ben Moody (guitars; left in 2003), William Boyd (bass; left in 2006), John LeCompt (guitars, backing vocals; fired in 2007), and Rocky Gray (drums; left in 2007). Session members include Troy McLawhorn (guitars) and Will Hunt (drums), both are from Dark New Day, they were "borrowed" to replace LeCompt and Gray during 2007 tours.

Amy Lee and Ben Moody met in 1994 at a youth camp in Little Rock, where Moody heard Lee playing I'd Do Anything for Love (But I Won't Do That) by Meat Loaf on the piano. Their first songs were Solitude and Give Unto Me, written by Lee, and Understanding and My Immortal, written by Moody.

Two of Lee and Moody's songs found playtime on local radio stations, raising local awareness of the group and demand for a show. The band eventually appeared live, and became one of the most popular acts in the area. After experimenting with band names, such as Childish Intentions and Stricken, they decided on Evanescence, which means "disappearance" or "fading away" (from the word evanesce, which means "to disappear"). Lee has stated she loves the name because "it is mysterious and dark, and places a picture in the listeners' mind.".

Their first full-length demo CD, Origin (released in 2000), is relatively unknown. The band also released two EPs. First, the self-titled Evanescence EP (1998) of which about 100 copies were made, and second the Sound Asleep EP, also known as the Whisper EP (1999), limited to 50 copies. Origin and the EPs contain demo versions of some of the songs on their debut album, Fallen. For example, the recording of My Immortal found on Fallen can also be found on Origin, minus a handful of additional string accompaniments. Only 2,500 copies of this record were produced; in response, Lee and Moody encouraged fans to download the band's older songs from the Internet.

In several interviews Amy has said that 'Origin' was not an album, it was merely meant to be a demo. While appearing to be an official CD, it was never meant to be officially released. According to Amy Lee "Origin is not an album. Should I say that clearer? 'Origin' is not an album. We recorded its demos, we recorded it a long time ago, in Ben's apartment or in my parent's attic with an 8-track recorder that cost $300. It sounds like crap. Don't feel bad that you don't have it, just download it. It looks kind of like an album because we had an artist make us this cool album cover because we were shopping it to record labels. We put everything we had on there, and some songs that are on there are on 'Fallen', just done right". The video of this interview can be seen here.

The band sent 'Origin' to several record labels, and eventually Wind-Up Records signed them. The band then recorded a large collection of demos throughout 2001 and 2002. Afterwards, the band began work on their second full-length album. However, after the album had been finished, Hodges left the band in December of 2002.

The album, entitled 'Fallen', was then released in March 2003. It brought the band international fame, selling 14 millions of copies worldwide. 'Fallen' has since gone 6 times platinum in the United States and has sold more than 15 million copies altogether worldwide.

However, shortly after, Moody left the band on October 22 of 2003 due to internal struggles with the band members. He was then replaced by guitarist Terry Balsamo from the band Cold. Before Moody's departure, Gray, LeCompt, and Boyd had been session members, but afterwards they became full-time members.

At the 2004 Grammy Awards, Evanescence won Best New Artist and Best Hard Rock Performance for their single Bring Me to Life, known worldwide from the Daredevil soundtrack. That same year, the band released a live CD/DVD entitled 'Anywhere But Home', which also sold 1 million of copies worldwide and has since gone platinum in the United States.

Afterwards, the band began work on their next release. Many things set the release back, including the health problems of Terry. He was unfortunately affected by a stroke, but is recovering successfully. Amy also fired their old manager which they had relations with during 'Fallen', and brought him to court. In 2006, they finished recording their second album, titled 'The Open Door', as well as shooting a video for the single Call Me When You're Sober. On July 13th, 2006, Lee announced through Evanescence's online message board that bassist Boyd has decided to leave the band in order to make time for his personal life and family. Tim McCord was announced as Will Boyd's replacement in August 2006.

'The Open Door' debuted at number 1 in Australia, United States, Greece, Germany, and Switzerland. It sold over 1 million copies worldwide within the first week of its release.

The second single of 'The Open Door' was Lithium. A video was shot for the single - directed by Paul Fedor (who has worked with Marilyn Manson, Seether, and Deftones). It took 2 days to film, October 31 and November 1, 2006.

The third single off 'The Open Door' was Sweet Sacrifice. The label, Wind-Up, had originally chosen All That I'm Living For to be the third single, but was met with opposition from the fans. The video was shot on March 9th and 10th, 2007. Directed by Paul Brown.

On May 4, 2007, John LeCompt announced that he had been fired from Evanescence, and also stated that drummer Rocky Gray had decided to quit as well. Both musicians posted on their personal MySpace pages to confirm the news report, however, neither elaborated about the circumstances surrounding their departures, and no official statement has yet been released by the band or label.

On his MySpace blog, LeCompt stated that Lee called his cellphone to fire him, and that no warning had previously been given nor were any negotiations made available. No replacements have been named as of yet, but Evanescence says they will continue touring and producing music.

Lee revealed during the taping of MuchMusic's January 9, 2007 episode of Live @ Much that she had become engaged the previous evening. She later confirmed on EvThreads.com that she was proposed to by Josh Hartzler, a 29-year-old therapist and long time friend. She noted in an interview that the songs Good Enough and Bring Me To Life were inspired by him. The couple were married on May 6, 2007, and honeymooned near The Bahamas. She has posted on EvThreads that she is "now officially Mrs. Amy Hartzler."

Recently Lee and Evanescence (with temporary members) headlined a one off show in Sao Paulo, Brazil for a music festival. A couple of weeks before, Lee posted on her Twitter that the band need to practice and was going to play a secret show in NYC's The Palace.

Lee confirmed that a third album was on the way and was set to release late 2010. A short video surfaced on one members Twitter account showing the band practicing and recording.

On 22 January, 2010, Amy posted on her Twitter that the b-side Together Again would be a gift to all who donate just the minimum amount to the Relief Effort over in Haiti.

In a MTV interview Amy Lee announced that the new album would be named 'Evanescence'. This was released October 11th, 2011. It is the first of their albums to have a deluxe version with 4 extra songs and an accompanying DVD.

Lost Whispers is a compilation album and was released on December 9, 2016, by The Bicycle Music Company. The album is a career-spanning collection of B-sides and two new recordings: "Lost Whispers", the intro from the band's 2009 tour and a new version of "Even in Death", originally on their 2000 demo album, Origin.

Their fourth Studio album, Synthesis, was released in November 2017. The album debuted at number 8 on the Billboard 200, and has reached number 23 in the UK, 5 in Germany, and 6 in Australia.

Discography
1998: Evanescence EP
1999: Sound Asleep EP
2000: Origin
2003: Mystary EP and Fallen (first official studio album)
2004: Anywhere But Home
2006: The Open Door
2011: Evanescence
2016: Lost Whispers
2017: Synthesis
2021: The Bitter Truth

Official site: www.evanescence.com
Genre not found
Artist not found
Album not found
Search results not found
Song not found