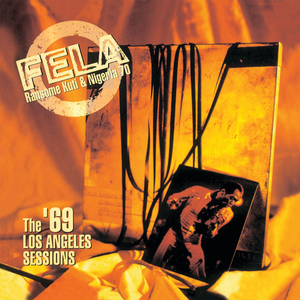 Olufela Olusegun Oludotun Ransome-Kuti (15 October 1938 – 2 August 1997 ), known professionally as Fela Kuti, Fela Anikulapo Kuti, or simply Fela, was a Nigerian multi-instrumentalist musician and composer, pioneer of Afrobeat music, human rights activist, political maverick & leader of Fela Ransome Kuti & Africa 70.

HMV Magazine ranked him as #46 on a list of the 100 most influential musicians of the 20th century.

The musical style performed by Fela Kuti is called Afrobeat
Read Full Bio
Olufela Olusegun Oludotun Ransome-Kuti (15 October 1938 – 2 August 1997 ), known professionally as Fela Kuti, Fela Anikulapo Kuti, or simply Fela, was a Nigerian multi-instrumentalist musician and composer, pioneer of Afrobeat music, human rights activist, political maverick & leader of Fela Ransome Kuti & Africa 70.

HMV Magazine ranked him as #46 on a list of the 100 most influential musicians of the 20th century.

The musical style performed by Fela Kuti is called Afrobeat, which is essentially a fusion of jazz, funk, highlife, and traditional Yoruban chants and rhythms. It is characterized by having African-style percussion, vocals, and musical structure, along with jazzy, funky horn sections. The endless groove is also used, in which a base rhythm of drums, shekere, muted guitar, and bass guitar are repeated throughout the song. His band was notable for featuring two baritone saxophones, whereas most groups using this instrument only use one. This is a common technique in African and African-influenced musical styles, and can be seen in funk and hip-hop. Some elements often present in Fela's music are the call-and-response within the chorus and figurative but simple lyrics. Fela's songs were almost always over 10 minutes in length, some reaching the 20- or even 30-minute marks, while some unreleased tracks would last up to 45 minutes when performed live. This was one of many reasons that his music never reached a substantial degree of popularity outside of Africa. His songs were mostly sung in Nigerian pidgin, although he also performed a few songs in the Yoruba language. Fela's main instruments were the saxophone and the keyboards, but he also played the trumpet, guitar, and took the occasional drum solo. Fela refused to perform songs again after he had already recorded them, which also hindered his popularity outside Africa. Fela was known for his showmanship, and his concerts were often quite outlandish and wild. He referred to his stage act as the Underground Spiritual Game.

Fela was born Olufela Olusegun Oludotun Ransome-Kuti in Abeokuta, Ogun State, Nigeria, to a middle-class family. His mother, Funmilayo Ransome-Kuti, was a feminist activist in the anti-colonial movement and his father, Reverend Israel Oludotun Ransome-Kuti, a Protestant minister and school Principal, was the first president of the Nigerian Union of Teachers. His brothers, Dr. Beko Ransome-Kuti and Professor Olikoye Ransome-Kuti,both medical doctors, are both well known in Nigeria.

Fela was sent to London in 1958 to study medicine but decided to study music instead at the Trinity College of Music. While there, he formed the band Koola Lobitos, playing a style of music that he would later call Afrobeat. The style was a fusion of American Jazz, psychedelic rock, and Funk with West African Highlife. In 1961, Fela married his first wife, Remilekun (Remi) Taylor, with whom he would have three children (Femi, Yeni, and Sola). In 1963, Fela moved back to Nigeria, re-formed Koola Lobitos and trained as a radio producer for the Nigerian Broadcasting Corporation. In 1969, Fela took the band to the United States. While there, Fela discovered the Black power movement through Sandra Smith (now Isidore)—a partisan of the Black Panther Party—which would heavily influence his music and political views and renamed the band Nigeria '70. Soon, the Immigration and Naturalization Service was tipped off by a promoter that Fela and his band were in the US without work permits. The band then performed a quick recording session in Los Angeles that would later be released as The '69 Los Angeles Sessions.

Fela and his band, renamed Africa '70, returned to Nigeria. He then formed the Kalakuta Republic, a commune, a recording studio, and a home for many connected to the band that he later declared independent from the Nigerian state. Fela set up a nightclub in the Empire Hotel, named the Afro-Spot and then the Afrika Shrine, where he performed regularly. Fela also changed his middle name to Anikulapo (meaning "he who carries death in his pouch"), stating that his original middle name of Ransome was a slave name. The recordings continued, and the music became more politically motivated. Fela's music became very popular among the Nigerian public and Africans in general. In fact, he made the decision to sing in Pidgin English so that his music could be enjoyed by individuals all over Africa, where the local languages spoken are very diverse and numerous. As popular as Fela's music had become in Nigeria and elsewhere, it was also very unpopular with the ruling government, and raids on the Kalakuta Republic were frequent. In 1974 the police arrived with a search warrant and a cannabis joint, which they had intended to plant on Fela. He became wise to this and swallowed the joint. In response, the police took him into custody and waited to examine his feces. Fela enlisted the help of his prison mates and gave the police someone else's feces, and Fela was freed. He then recounted this tale in his release Expensive Shit (now released together with "He Miss Road" as Expensive Shit/He Miss Road).

In 1977 Fela and the Afrika '70 released the hit album Zombie, a scathing attack on Nigerian soldiers using the zombie metaphor to describe the methods of the Nigerian military. The album was a smash hit with the people and infuriated the government, setting off a vicious attack against the Kalakuta Republic, during which one thousand soldiers attacked the commune. Fela was severely beaten, and his elderly mother was thrown from a window, causing fatal injuries. The Kalakuta Republic was burned, and Fela's studio, instruments, and master tapes were destroyed. Fela claimed that he would have been killed if it were not for the intervention of a commanding officer as he was being beaten. Fela's response to the attack was to deliver his mother's coffin to the main army barrack in Lagos and write two songs, "Coffin for Head of State" and "Unknown Soldier," referencing the official inquiry that claimed the commune had been destroyed by an unknown soldier.

Fela and his band then took residence in Crossroads Hotel as the Shrine had been destroyed along with his commune. In 1978 Fela married 27 women, many of whom were his dancers, composers, and singers to mark the anniversary of the attack on the Kalakuta Republic. Later, he was to adopt a rotation system of keeping only twelve simultaneous wives. The year was also marked by two notorious concerts, the first in Accra in which riots broke out during the song "Zombie," which led to Fela being banned from entering Ghana. The second was at the Berlin Jazz Festival after which most of Fela's musicians deserted him, due to rumors that Fela was planning to use the entirety of the proceeds to fund his presidential campaign.

Despite the massive setbacks, Fela was determined to come back. He formed his own political party, which he called 'Movement of the People'. In 1979 he put himself forward for President in Nigeria's first elections for more than a decade but his candidature was refused. At this time, Fela created a new band called Egypt 80 and continued to record albums and tour the country. He further infuriated the political establishment by dropping the names of ITT vice-president Moshood Abiola and then General Olusegun Obasanjo at the end of a hot-selling 25-minute political screed titled "I. T. T. (International Thief Thief)."

In 1984, he was again attacked by the Military government, who jailed him on a dubious charge of currency smuggling. His case was taken up by several human-rights groups, and after 20 months, he was released from prison by General Ibrahim Babangida. On his release he divorced his 12 remaining wives, saying that "marriage brings jealousy and selfishness." Once again, Fela continued to release albums with Egypt 80, made a number of successful tours of the United States and Europe and also continued to be politically active. In 1986, Fela performed in Giants Stadium in New Jersey as part of the Amnesty International Conspiracy of Hope concert, sharing the bill with Bono, Carlos Santana, and the Neville Brothers. In 1989, Fela & Egypt 80 released the anti-apartheid "Beasts of No Nation" album that depicts on its cover U.S. President Ronald Reagan, UK Prime Minister Margaret Thatcher and South African Prime Minister P.W. Botha with fangs dripping blood.

His album output slowed in the 1990s, and eventually he stopped releasing albums altogether. The battle against military corruption in Nigeria was taking its toll, especially during the rise of dictator Sani Abacha. Rumors were also spreading that he was suffering from an illness for which he was refusing treatment. On 3 August 1997, Olikoye Ransome-Kuti, already a prominent AIDS activist and former Minister of Health, stunned the nation by announcing his younger brother's death a day earlier from Kaposi's sarcoma brought on by AIDS. (Their younger brother Beko was in jail at this time at the hand of Abacha for political activity). More than a million people attended Fela's funeral at the site of the old Shrine compound. A new Africa Shrine has opened since Fela's death in a different section of Lagos under the supervision of his son Femi Kuti.
Genre not found
Artist not found
Album not found
Search results not found
Song not found
My Lady Frustration
Fela Kuti Lyrics
We have lyrics for these tracks by Fela Kuti:



2000 Blacks Got To Be Free Podría invitarte a un restaurante que no sea muy, muy ni…
Africa Centre Of The World Antes de morir quiero volver a creer volver a enloquecer por…
Alagbara The bread of life is from you The bread if life…
Alagbon Close Now listen Now listen Now listen Never mind, never mind, nev…
Alu Jon Jonki Jon E wa jo o Ehn, Alu Jon Jonki Jon Alu Jon Jonki…
Black Man's Cry Black man's cry One, two, three, eh Nijo wo la ma bo…
Buy Africa Se tiwa nio mio fe Se tiwa nio mio ra Se tiwa…
Coffin For Head of State Amen, Amen, Amen! Through Jesus Christ our Lord By the grac…
Colonial Mentality Colo-mentality If you say you be colonial man You don be sl…
Confusion Break Bones I sing dis song some time ago Call am Confusion" Then army n…
Confusion Break Bones (C.B.B) I sing dis song some time ago Call am "Confusion" Then army…
Don't Worry About My Mouth O (Instrument). Don't worry about my mouth o I dey use chewin…
Egbe Mi O Me gustas por lo que eres y es que tienes…
Egbe Mio Egbe mi o Bebemi ti já bó o Furo mi tí dàrú…
Eko Eko l′ayo, e o puro Eko ko le, a o puro Eko…
Everything Scatter Na to ri?? I wan drag you?? Oo oo oo oo…
Excuse-O Excuse ooo Excuse o Excuse ooo Excuse o Make we no hala Mak…
Expensive Shit Eran na goat o, for Yoruba land Eran na goat o,…
Fear Not For Man Brothers and sisters The father of Pan-Africanism Dr. Kwam…
Fefe Naa Efe Fe fe naa efe inti na, o ba tu miri…
Gbagada Gbagada Gbagodo Gbogodo Ti e ba ngbo gbagada gbagada TI E BA NGBO GBAGADA…
Gbagada Gbagada Gbogodo Gbogodo Bi eba ngbo gbagada gbagada BI EBA NGBO GBAGADA GBAGADA Bi e…
Gentleman À toutes les ladies, oh yeah Laisse-moi te conter l'histo…
Gentlemen I no be gentleman at all I no be gentleman at…
Go Slow Go slow, go slow Go slow, go slow! Go slow, go slow Go…
Government Chicken Boy Soulja Boy Heavy In The Streets Soulja Boy Aint Got No Money…
He Miss Road Hun hun hun hun hun-un hun Hun hun hun hun hun…
Highlife Time Everybody knows how much he meant to you, baby But you…
I.T.T. (International Thief Thief) INTERNATIONAL THIEF THIEF (x3) I.T.T INTERNATIONAL THIEF THI…
Ikoyi Blindness Hello. I don't know you but thanks for sending me a…
Ikoyi Mentality Versus Mushin Mentality One, two, three Make we hear how people different for this…
It's No Possible Informal poll. Hit play and read on. Are you a pessimist…
ITT International thief, thief (International thief, thief) (Int…
J'Ehin J'Ehin This tune is called j′ehin, j'ehin Which in broken English m…
Je'nwi Temi Hey, ehn, hey, oh, eh Ti'n ba ro tan ma so,…
Kalakuta Show KALAKUTA SHOW Make we talk something We never talk before a…
Lady If you call am woman African woman no go 'gree She go…
Let's Start We're gonna start our live recording right now We gonna play…
Look and Laugh I chuckle too Hey I chuckle too Hey Hey I chuckle too Hey I …
Lover Ololufe mi, ti e ni mo fe Alayanfe mi, ti e…
M.O.P Before dem turn us into monkey with tail o Make we…
Mistake (Live At the Berlin Jazz Festival - 1978) Everything is alright (right) Everything is all wrong (that′…
Mister Follow Follow Mr. Follow Follow *[CHORUS] FOLLOW, FOLLOW, FOLLOW,- FOLLOW,…
Monday Morning In Lagos Take 4 1, 2, 3 Ahh Ha ... Ahhh ... Ah ...…
Monkey Banana La la la la la la la la la La la…
Mr. Follow Follow Mr. Follow Follow *[CHORUS] FOLLOW, FOLLOW, FOLLOW,- FOLLOW,…
Mr. Grammarticalogylisationalism Is The Boss Now listen to me now My brothers and sisters I beg you…
No Agreement *(CHORUS) NO AGREEMENT TODAY, NO AGREEMENT TOMORROW - 2X I…
No Buredi Raah-raah-raaah, raah-raaah... Look-u, well-e, well-well-e,…
O.D.O.O I get my money Plan my plan finish Start to go for…
Obe (Zombie is a refrence to the soldiers in the army…
Obe (Stew) Yeah, ready, go Mi o le j′obe, ti o l'ata Mi o…
Observation Is No Crime One, two, three… One, two, three… [?] like they carry [?] li…
Observation No Crime One, two, three... One, two, three... Like they carry Like t…
Ololufe Mi Ololufemi, ti e ni mo fe Alayanfemi, ti e ni mo…
Open & Close This is a new dance Called open and close We're going to…
Opposite People Them go show o, them go show Them go show themselves…
Original Suffer Head You Africans, please listen to me as Africans And you non-Af…
Pansa Pansa I go someplace I see the place I sing this I sing Alako Eh…
Power Show You reach border immigration Officer dey (Yes) Him go bluff …
Question Jam Answer When question drop for mouth Question go start to run When a…
Rain People all dey fear too much We fear for the things…
Roforofo Fight From Abeokuta city Translation to original English: She tear…
Sense Wiseness You be student You say you go for grammar school You be…
Shakara To ba b'oni sakara pade Pasan to ma fi na e…
Shuffering and Shmiling You Africans, please listen to me as Africans And you non-Af…
Shuffering And Smiling Suffer, suffer, suffer, suffer, suffer Suffer for world Na y…
Sorrow Tears and Blood Eh-ya! Everybody run run run Eh-ya! Everybody scatter scatte…
Sorrow, Tears and Blood [Fela mimics a police siren with his voice] [Chorus] Hey ye…
Stalemate I explain, Two heavy brothers dem sit down inside sun, dem…
Suegbe & Pako na pako ooo na pako na suegbe ehh na suegbe ehh…
Swegbe And Pako Swegbe and Pako Na Swegbe na Swegbe Na Pako na Pako Na Swegb…
Teacher TEACHER, TEACHER-O NA THE LECTURER BE YOUR NAME TEACHER, TEA…
Trouble Sleep When trouble sleep Yanga go wake am Waking him dey find Pal…
Trouble Sleep - Yenga Wake Am When Trouble sleep yanga go wake am Weh ti they find Chorus …
Trouble Sleep Yanga Wake Am When trouble sleep Yanga go wake am Waking him dey find Pal…
U.S. (Underground System) I don sing song for the great African men I don…
Unknown Soldier Make you no go anywhere Just wait make I tell you…
Unnecessary Begging Unnecessary begging As we dey call am for area Oro ebe O…
Upside Down Upside down Insturmetal... Open that book them call dictio…
Viva Nigeria This is brother Fela Ransome Kuti This is one time I'd…
Waka Waka Meskipun diri ini menyukaimu Kamu seperti tak tertarik kepad…
Water Get No Enemy T'o ba fe lo we omi l'o ma'lo If you wan'…
Who're You Ẹ panu de o Eṣinṣin nbo Ẹ panu de o Orin wù ú…
Why Black Man Dey Suffer This rhythm is called Kanginni Koko used in some particular …
Witchcraft Those fingers in my hair That sly come hither stare That s…
Yellow Fever Different different fever na him dey Different different fe…
You Gimme Shit I Give You Shit Yes, yes, yes, yes, yes, yes, yes Yes, yes, yes Yes, yes,…
You No Go Die... Unless You no go die Unless you won die But if you won…
Zombie Zombie o, zombie (zombie o, zombie) Zombie o, zombie (zombie…

The lyrics can frequently be found in the comments below or by filtering for lyric videos.