Wonder why it's getting cold at night
I must be getting old
Looks like I'm gonna have to wait a while
What the hell, I'm bored
What's that there on the railway line
Looks like my old brown shoe
It ain't mine mister, how's that for laughs
Not even how do you do
Wonder what's cooking at the house tonight
Stew and beans
Tune that station, turn that dial
Have another dream
Ain't it stupid how some people stare
Not even how do you do
What's that mister - na na na
I'm just the same as you
Chorus:
Running down the main line
Shaking off the pain
Heading for a bright time
Waiting for a train
Who's that guy, I've seen his face before
Where or when
Must be another face from Suzie's bar
It was different then
Ain't no way that I can fix this up
I've really lost the place
What's that mister, yeah yeah
I hope they fix you face
1. She says you don't make it
2. She said you don't care
3. She said she's unhappy
4. That you're never there
5. She give you the option
6. You sink or you drown
7. Well what's it to be Jo
(chorus)
Contributed by David F. Suggest a correction in the comments below.
To comment on specific lyrics,
highlight them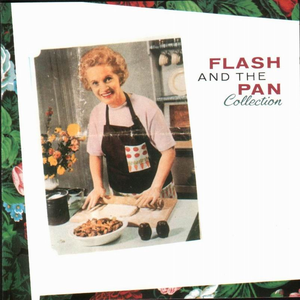 Waiting for a Train - Single Mix
Flash and the Pan (aka Flash & The Pan) was a New Wave / Rock band from Australia formed in 1977 by Harry Vanda and George Young, the older brother of the AC/DC members Angus Young and Malcom Young. Both formerly members of The Easybeats. In the UK, until the release of "Waiting for a Train" in 1983 they had been a one-hit wonder, which was coincidental as the expression, 'Flash in the pan', denotes something which is only briefly popular.

Albums
Read Full Bio
Flash and the Pan (aka Flash & The Pan) was a New Wave / Rock band from Australia formed in 1977 by Harry Vanda and George Young, the older brother of the AC/DC members Angus Young and Malcom Young. Both formerly members of The Easybeats. In the UK, until the release of "Waiting for a Train" in 1983 they had been a one-hit wonder, which was coincidental as the expression, 'Flash in the pan', denotes something which is only briefly popular.

Albums
Flash and the Pan (1979)
Lights in the Night (1980)
Headlines (1982)
Pan-orama (1983)
Early Morning Wake Up Call (1984)
Nights in France (1987)
Burning Up The Night (1992)
Genre not found
Artist not found
Album not found
Search results not found
Song not found