White Winter Hymnal
Fleet Foxes Lyrics
Jump to: Overall Meaning | Line by Line Meaning
I was following the, I was following the
I was following the, I was following the
I was following the, I was following the
I was following the, I was following the
I was following the pack, all swallowed in their coats
With scarves of red tied 'round their throats
To keep their little heads from falling in the snow
And I turned 'round and there you go
And Michael, you would fall and turn the white snow red
As strawberries in the summertime
I was following the pack, all swallowed in their coats
With scarves of red tied 'round their throats
To keep their little heads from falling in the snow
And I turned 'round and there you go
And Michael, you would fall and turn the white snow red
As strawberries in the summertime
I was following the pack, all swallowed in their coats
With scarves of red tied 'round their throats
To keep their little heads from falling in the snow
And I turned 'round and there you go
And Michael, you would fall and turn the white snow red
As strawberries in summertime
Overall Meaning
The opening verses of Fleet Foxes' 'White Winter Hymnal' evoke a sense of being caught up in the busy rush of winter. The repetition of "I was following the" highlights a feeling of being carried along by a wave of movement and energy, without any sense of direction or purpose, as if blindly following the crowd. The chorus also adds to this image of a frenzied winter storm, with the pack of people all bundled up in coats with red scarves tied around their throats for warmth. The line "To keep their little heads from falling in the snow" suggests a vulnerability and need for protection, as if they are all huddled together for survival in harsh conditions. The sudden turn in the chorus, with the mention of Michael falling in the snow and turning it red as strawberries, is a striking image that jars with the earlier sense of cozy comfort that the scarves and coats evoke. The reference to summertime also adds a feeling of wistfulness and longing for a different season, perhaps for the warmth and abundance that summer brings. This imagery of winter's hustle and bustle is a reflection of the chaotic modern world, where people can feel lost and disconnected amidst the frenzy of activity around them.

Line by Line Meaning
I was following the, I was following the
The speaker repeated this sentence to emphasize that they were following something or someone.
I was following the pack, all swallowed in their coats
The speaker was following a group of people who were bundled up in their winter coats.
With scarves of red tied 'round their throats
The group of people had red scarves tied tightly around their necks.
To keep their little heads from falling in the snow
The scarves were used to keep the group's heads up so they wouldn't fall into the snow.
And I turned 'round and there you go
The speaker turned around and saw someone they knew.
And Michael, you would fall and turn the white snow red
Michael, who the speaker knew, would fall in the snow and his red scarf would stain the white snow red.
As strawberries in the summertime
The red stain on the snow reminded the speaker of strawberries in the summertime.
Lyrics © Kobalt Music Publishing Ltd.
Written by: Robin Noel Pecknold

Lyrics Licensed & Provided by LyricFind
To comment on or correct specific content,
highlight it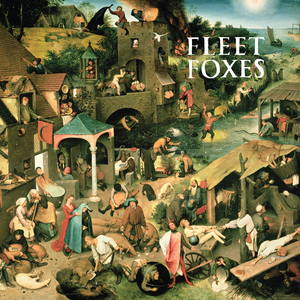 White Winter Hymnal is the first single off Fleet Foxes's debut 2008 self-titled album.
Released by European label Bella Union on July 21, 2008, the single was issued on 7" vinyl as well as digital MP3 format. The b-side is the non-album track, "Isles."
Genre not found
Artist not found
Album not found
Search results not found
Song not found