[Music written by Niclas Frohagen 2006]
[Arranged by Niclas Frohagen 2006-2007]
[Lyrics written by Niclas Frohagen 2007]
I felt the world turn away
Without saying why
To leave me trembling among
The thorns of the waste
To be swallowed by myself
And the darkness that is me
All I asked for was a dream to live
Or a final farewell
Please tell me why I can't be there
And have to seek shelter in isolation
Please tell me why I choose to escape
And leave the world that could be mine
I don't know when
I don't know how
But somehow I lost it
The will to see beyond
I am stuck with the shadows
Of my own destruction
And I sink with the wreckage
Of my broken dream
Save me...
Save me...
Please tell me why I can't be there
To welcome another beautiful day
To taste the sweet honey of life
And smile upon all that was granted to me
Please tell me why I choose isolation
And detach myself from the ones I love
It seems like I really lost it
And now the world lost me
Contributed by Caden K. Suggest a correction in the comments below.
To comment on specific lyrics,
highlight them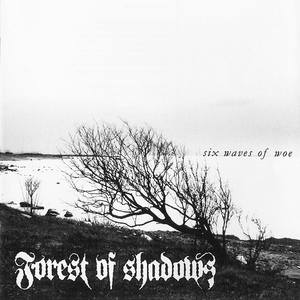 Forest of Shadows was founded in Stockholm, Sweden in the autumn of 1997 by Niclas Frohagen. After months of searching for members to form the band of my dreams I grew tired and decided to make it a solo-project. During this first period I wrote and recorded the songs "The Silent Cry", "Under the Dying Sun", "Moments in Solitude" and "November Dream". These early recordings were later on featured on the '98-promo "Under the Dying Sun".
Read Full Bio
Forest of Shadows was founded in Stockholm, Sweden in the autumn of 1997 by Niclas Frohagen. After months of searching for members to form the band of my dreams I grew tired and decided to make it a solo-project. During this first period I wrote and recorded the songs "The Silent Cry", "Under the Dying Sun", "Moments in Solitude" and "November Dream". These early recordings were later on featured on the '98-promo "Under the Dying Sun".

In the beginning of 1998 Johan Svensson showed interest in the band and joined on guitar/bass. This new line-up didn't last long since we had different aims and after some months Forest of Shadows was once again a one-man band. After Johan's departure I started to redo the recordings of the old songs and in may 1998 the same four songs were released on the first real demo, titled "The Silent Cry". During the release of the demo I got in contact with a friend of a friend, Micce Andersson, who found my band interesting and wanted to help me out. Almost instantly we wrote the opening riff of "Eternal Autumn" and started discussing some old songs to re-record.

In the beginning of 1999 we contacted Katatonia and asked them if we could do a cover of their masterpiece "Rainroom". They approved and we recorded the song as well as a new version of "The Silent Cry". In may 1999, a year after the release of the first demo, we released a promo called "promotion-cd 1999" which featured these two song. The intention of the promo was to show our new direction and sound which was a success since we recieved good critics from both friends and zines. We were really satisfied with what we had accomplished and ready to take it all a step further.

To read more, please visit: www.forestofshadows.com
Genre not found
Artist not found
Album not found
Search results not found
Song not found