Jump to: Overall Meaning | Line by Line Meaning
En mi corazón llevo un dolor
Es azul y negro, tiene un gran peso
Ya no hay remedio ya no hay más
Y las palabras sobre el papel me alimentan y quitan la sed
Manchada de errores que quiero borrar
Si cierro la boca y me dejo llevar
Ven, mi corazón llévame del dolor
Donde no hay recuerdo, donde ya hay silencio
Donde es suficiente con ser yo y no más
Y las palabras sobre el papel me alimentan y quitan la sed
Manchada de errores que quiero borrar
Si cierro la boca y me dejo llevar
Y las palabras sobre el papel me alimentan y quitan la sed
Manchada de errores que quiero borrar
Si cierro la boca y me dejo
Y las palabras sobre el papel me alimentan y quitan la sed
Manchada de errores que quiero borrar
Si cierro la boca y me dejo llevar
Overall Meaning
The song "Corazon" by Francisca Valenzuela depicts the weight of a heavy heart burdened with pain that seems to be a permanent fixture. In the first part of the song, the artist describes the physicality of the pain carried within, suggesting that it is a mixture of blue and black and feels heavy. She goes on to say that there does not seem to be any remedy, indicating that the pain has become a part of her being.
The chorus speaks of the desire to escape or move on from the pain. Francisca sings about wanting to go to a place where there are no memories and silence reigns. It seems as though her heart is no longer interested in holding on to past hurts and is ready to move on. Throughout the song, the importance of words is highlighted as a way to cope with the pain. The words written on paper are what provide sustenance and quench her thirst. They also serve as a way to examine and possibly eradicate the mistakes that have contributed to the pain. The final chorus speaks to a desire to let go completely, to stop talking and be carried away by one's own will.
Overall, "Corazon" is a song about the weight of emotional pain and the desire to move on from it, utilizing the power of words and self-reflection to do so.

Line by Line Meaning
En mi corazón llevo un dolor
I carry a pain in my heart
Es azul y negro, tiene un gran peso
It's blue and black, it weighs heavily
Ya no hay remedio ya no hay más
There's no cure, there's no more
Y las palabras sobre el papel me alimentan y quitan la sed
The words on the paper nourish and quench my thirst
Manchada de errores que quiero borrar
Stained with mistakes I want to erase
Si cierro la boca y me dejo llevar
If I shut my mouth and let myself go
Ven, mi corazón llévame del dolor
Come, heart of mine, take me away from the pain
Donde no hay recuerdo, donde ya hay silencio
Where there's no memory, where there's already silence
Donde es suficiente con ser yo y no más
Where it's enough to just be me, and nothing more
Lyrics © Warner Chappell Music, Inc.
Written by: Francisca Valenzuela Mendez

Lyrics Licensed & Provided by LyricFind
To comment on or correct specific content,
highlight it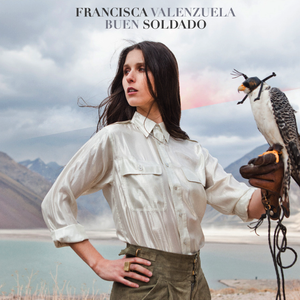 Francisca Valenzuela is a Chilean-American singer-songwriter who was born, 1987, and raised in San Francisco, CA, USA and moved to Chile when 12 y/o. Her eclectic - jazz, rock, pop, orchestral influenced - music is generally in Spanish, English or a mix. Her début single, "Peces" (2006 - written when she was thirteen years old), enjoyed substantial radio success in Chile. Valenzuela's latest album is Tajo Abierto (Sep 2014).

Other Valenzuela releases include her début album, Muérdete la lengua (Jul 2007).
Read Full Bio
Francisca Valenzuela is a Chilean-American singer-songwriter who was born, 1987, and raised in San Francisco, CA, USA and moved to Chile when 12 y/o. Her eclectic - jazz, rock, pop, orchestral influenced - music is generally in Spanish, English or a mix. Her début single, "Peces" (2006 - written when she was thirteen years old), enjoyed substantial radio success in Chile. Valenzuela's latest album is Tajo Abierto (Sep 2014).

Other Valenzuela releases include her début album, Muérdete la lengua (Jul 2007).

Sites: YouTube, SoundCloud, Discogs, Twitter and Google+
Genre not found
Artist not found
Album not found
Search results not found
Song not found