Llego más temprano con los zapatos lustrados con mi modo educado y un traje impeclable
Entro asustado, protocolo instalado
Él me extiende una mano, una sonrisa para y digo
1, 2, 3 - 1, 2, 3
Es lo que tengo que hacer
1, 2, 3 - 1, 2, 3
Haré
Como yo consigo que me de lo que necesito, un trabajo salariado con un bono anual
Un orgullo, una hipoteca, un seguro de familia, un sentido a la vida, una nueva actividad
Yo no se, como responder
Yo no se, como hacerlos entender
Que yo puedo, yo debo mis manos - mi cerebro
Mientras sigo en este limbo laboral
Me pregunta si yo tengo mis estudios realizados, si yo tengo algún grado, titulo profesional
A donde he trabajado, porque yo he llegado, en este tiempo es complicado la economía anda mal
1, 2, 3 - 1, 2, 3
Es lo que tengo que hacer
1, 2, 3 - 1, 2, 3
Haré
Yo no se, como responder
Yo no se, como hacerlos entender
Que yo puedo, yo debo mis manos - mi cerebro
Mientras sigo en este limbo laboral
Uh, uh (x2)
Delibera, pondera, evalua, examina de lo que soy capaz
Él delibera, pondera, evalua, examina de lo que soy capaz y
Si soy uno de esos ando en busqueda
Si yo vengo a esta entrevista, nueva opotunidad
Por un rato continuamos y yo sigo incomodado
Es como andar sin ropa en la calle principal
De pronto se despide, dice las frases correctas con una mueca chueca "Te vamos a llamar"
1, 2, 3 - 1, 2, 3
Es lo que tengo que hacer
1, 2, 3 - 1, 2, 3
Haré
Yo no se, como responder
Yo no se, como hacerlos entender
Que yo puedo, yo debo mis manos - mi cerebro
Mientras sigo en este limbo laboral
Yo no se...
En esta entrevista...
Contributed by Sophia T. Suggest a correction in the comments below.
To comment on specific lyrics,
highlight them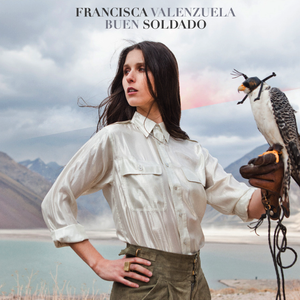 Francisca Valenzuela is a Chilean-American singer-songwriter who was born, 1987, and raised in San Francisco, CA, USA and moved to Chile when 12 y/o. Her eclectic - jazz, rock, pop, orchestral influenced - music is generally in Spanish, English or a mix. Her début single, "Peces" (2006 - written when she was thirteen years old), enjoyed substantial radio success in Chile. Valenzuela's latest album is Tajo Abierto (Sep 2014).

Other Valenzuela releases include her début album, Muérdete la lengua (Jul 2007).
Read Full Bio
Francisca Valenzuela is a Chilean-American singer-songwriter who was born, 1987, and raised in San Francisco, CA, USA and moved to Chile when 12 y/o. Her eclectic - jazz, rock, pop, orchestral influenced - music is generally in Spanish, English or a mix. Her début single, "Peces" (2006 - written when she was thirteen years old), enjoyed substantial radio success in Chile. Valenzuela's latest album is Tajo Abierto (Sep 2014).

Other Valenzuela releases include her début album, Muérdete la lengua (Jul 2007).

Sites: YouTube, SoundCloud, Discogs, Twitter and Google+
Genre not found
Artist not found
Album not found
Search results not found
Song not found