Jump to: Overall Meaning | Line by Line Meaning
Algo se mueve en mí
En mis entrañas
Tengo un sueño una ilusión
Que todo puede estar mejor
Busco como hacerlo realidad
Las cosas cambiaré
Haré revolución
Yo seré el primero
Todos me seguirán
Se que no están contentos con las cosas como están
Vamos ya, ha cambiarlo
Y me recordaran ídolo fénix y canción
Enseñaran como me entregue a mi pueblo con devoción
Quiero ser la luz
Iluminar este país que esta tan gris
Quiero ser su Salvador
Habrá oposición
Habrá que derrotar
Quizás le duela a alguien
Quizás me duela a mí
Para tener victoria quizás tenga que morir
Y no será suficiente
Y me recordaran ídolo fénix y canción
Enseñaran como me entregue a mi pueblo con devoción
Quiero ser la luz
Iluminar este país que esta tan gris
Quiero ser su Salvador
Ídolo fénix y canción
Enseñaran como me entregue a mi pueblo con devoción
Yo quiero ser un faro
Y guiar este país, que esta tan gris
Quiero ser su Salvador
Overall Meaning
The lyrics of Salvador by Francisca Valenzuela reflect a strong desire for change and revolution in the country. The song speaks of a dream and an illusion to make things better, to be the light that illuminates the grayness of the country. The lyrics also embody a sense of purpose-driven activism as the singer talks about wanting to be remembered as an idol, a Phoenix, an emblem of devotion to her people. She suggests that change is necessary and that it will come at a cost, even possibly her life. The song acknowledges that there will be opposition, but she is willing to fight for what's right.
The song is a powerful anthem for those who want to bring about positive change for their country. It's a rallying cry for those who want to stand up for their beliefs and go against the status quo. By being a Salvador, acting as a savior of some sort, one can make a difference and leave a legacy that inspires others to follow their path. The lyrics convey a sense of urgency and hope, as if to say that change is within reach if everyone comes together and works towards a common goal.

Line by Line Meaning
Algo se mueve en mí
There is something stirring inside of me
En mis entrañas
In my very being
Tengo un sueño una ilusión
I have a dream, an aspiration
Que todo puede estar mejor
That everything can be better
Busco como hacerlo realidad
I am searching for a way to make it a reality
Las cosas cambiaré
I will change things
Haré revolución
I will start a revolution
Yo seré el primero
I will be the first one
Todos me seguirán
Everyone will follow me
Se que no están contentos con las cosas como están
I know they are not happy with the way things are
Vamos ya, ha cambiarlo
Let's go, let's change it
Y me recordaran ídolo fénix y canción
And they will remember me as a phoenix idol and song
Enseñaran como me entregue a mi pueblo con devoción
They will teach how I devoted myself to my people
Quiero ser la luz
I want to be the light
Iluminar este país que esta tan gris
Illuminate this country that is so gray
Quiero ser su Salvador
I want to be their savior
Habrá oposición
There will be opposition
Habrá que derrotar
We will have to defeat them
Quizás le duela a alguien
Perhaps someone will be hurt by this
Quizás me duela a mí
Perhaps it will hurt me
Para tener victoria quizás tenga que morir
To achieve victory, perhaps I will have to die
Y no será suficiente
And it will not be enough
Yo quiero ser un faro
I want to be a lighthouse
Y guiar este país, que esta tan gris
And guide this country, that is so gray
Lyrics © Warner Chappell Music, Inc.
Written by: Francisca Valenzuela Mendez

Lyrics Licensed & Provided by LyricFind
To comment on or correct specific content,
highlight it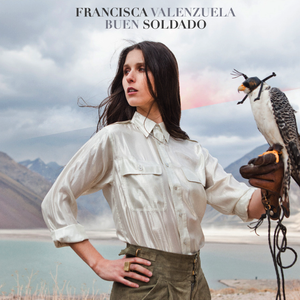 Francisca Valenzuela is a Chilean-American singer-songwriter who was born, 1987, and raised in San Francisco, CA, USA and moved to Chile when 12 y/o. Her eclectic - jazz, rock, pop, orchestral influenced - music is generally in Spanish, English or a mix. Her début single, "Peces" (2006 - written when she was thirteen years old), enjoyed substantial radio success in Chile. Valenzuela's latest album is Tajo Abierto (Sep 2014).

Other Valenzuela releases include her début album, Muérdete la lengua (Jul 2007).
Read Full Bio
Francisca Valenzuela is a Chilean-American singer-songwriter who was born, 1987, and raised in San Francisco, CA, USA and moved to Chile when 12 y/o. Her eclectic - jazz, rock, pop, orchestral influenced - music is generally in Spanish, English or a mix. Her début single, "Peces" (2006 - written when she was thirteen years old), enjoyed substantial radio success in Chile. Valenzuela's latest album is Tajo Abierto (Sep 2014).

Other Valenzuela releases include her début album, Muérdete la lengua (Jul 2007).

Sites: YouTube, SoundCloud, Discogs, Twitter and Google+
Genre not found
Artist not found
Album not found
Search results not found
Song not found