Búscate a otra que lama tus heridas;
si quieres que salive por tí,
tendrás que mejorar.
Si cuando haces algo no haces más que hacerme mal,
así que ahora voy a dejarte.
Y aunque
me mires con calor
y me dejes ruborizada
Y cuando sientas que ya no estoy
y me quieres apoyada contra la pared,
volveré,
volveré,
volveré.
Y si te veo con otra no habrá segunda vuelta.
Seré terca pero no idiota,
así que piensa bien antes de actuar.
y ¿quién dice que no?
¿Quién dice que no
me puedo equivocar?
Malgastar el tiempo que me sobra
encontrar una maniobra que me de placer
Si todos hacer
lo que les hace sentir bien
Y cuando sientas que siempre estoy
y me tienes apoyada contra la pared,
cuando yo reconozca que fuiste un error
que estoy dispuesta a nuevamente cometer,
me iré,
me iré,
me iré.
Me iré.
Contributed by Zachary L. Suggest a correction in the comments below.
To comment on specific lyrics,
highlight them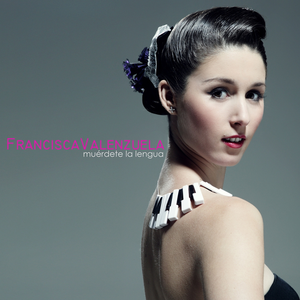 Francisca Valenzuela is a Chilean-American singer-songwriter who was born, 1987, and raised in San Francisco, CA, USA and moved to Chile when 12 y/o. Her eclectic - jazz, rock, pop, orchestral influenced - music is generally in Spanish, English or a mix. Her début single, "Peces" (2006 - written when she was thirteen years old), enjoyed substantial radio success in Chile. Valenzuela's latest album is Tajo Abierto (Sep 2014).

Other Valenzuela releases include her début album, Muérdete la lengua (Jul 2007).
Read Full Bio
Francisca Valenzuela is a Chilean-American singer-songwriter who was born, 1987, and raised in San Francisco, CA, USA and moved to Chile when 12 y/o. Her eclectic - jazz, rock, pop, orchestral influenced - music is generally in Spanish, English or a mix. Her début single, "Peces" (2006 - written when she was thirteen years old), enjoyed substantial radio success in Chile. Valenzuela's latest album is Tajo Abierto (Sep 2014).

Other Valenzuela releases include her début album, Muérdete la lengua (Jul 2007).

Sites: YouTube, SoundCloud, Discogs, Twitter and Google+
Genre not found
Artist not found
Album not found
Search results not found
Song not found