Es imposible pensar que quizás esta vez
Sea diferente
Es imposible pensar que quizás me porte mejor
Como el resto de la gente
Es imposible pensar que no voy a mirar ni tentarme
Con tanto candidato
Es imposible pensar que esta vez
No voy a enredarlos
Y lo busco cuando ya no estas
Y yo te quiero
Pero quiero a alguien más
Y yo te tengo
Pero se que quizás si te vas
Yo lo busque
Y tenga a alguien
Y tenga a alguien
Más
Yo intento encontrar un real motivo
Una razón
Que le de sentido
Que me haga sentir mejor
Menos culpable
Menos triste
Menos desesperada
Si yo lo veo y lo deseo
Pero no hasta mi cama
Y lo busco cuando ya no estas
Y yo te quiero
Pero quiero a alguien más
Y yo te tengo
Pero se que quizás si te vas
Yo lo busque
Y tenga a alguien
Y tenga a alguien
Más
Tu mirada que me antoja nada va pasar
Aunque las ganas están
Y yo mañana te pondré mi cara de fidelidad
Y yo mañana te pondré mi cara de fidelidad
De felicidad
Y yo por fuera siempre serena
Contenida, no hay sospecha
De que adentro, yo me tiento
Y lo intento controlar
Esto pasa, y pasara
Son las cosas de
De mi cuerpo de nosotros
De tener siempre a uno
Y no a otro.
Y lo busco cuando ya no estas
Y yo te quiero
Pero quiero a alguien más
Y yo te tengo
Pero se que quizás si te vas
Yo lo busque
Y tenga a alguien
Más
Y yo por fuera siempre serena
Contenida, no hay sospecha
De que adentro, yo me tiento
Y lo intento controlar
Y lo intento controlar
Contributed by Caden R. Suggest a correction in the comments below.
To comment on specific lyrics,
highlight them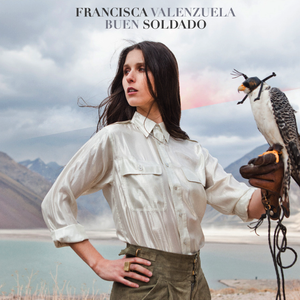 Francisca Valenzuela is a Chilean-American singer-songwriter who was born, 1987, and raised in San Francisco, CA, USA and moved to Chile when 12 y/o. Her eclectic - jazz, rock, pop, orchestral influenced - music is generally in Spanish, English or a mix. Her début single, "Peces" (2006 - written when she was thirteen years old), enjoyed substantial radio success in Chile. Valenzuela's latest album is Tajo Abierto (Sep 2014).

Other Valenzuela releases include her début album, Muérdete la lengua (Jul 2007).
Read Full Bio
Francisca Valenzuela is a Chilean-American singer-songwriter who was born, 1987, and raised in San Francisco, CA, USA and moved to Chile when 12 y/o. Her eclectic - jazz, rock, pop, orchestral influenced - music is generally in Spanish, English or a mix. Her début single, "Peces" (2006 - written when she was thirteen years old), enjoyed substantial radio success in Chile. Valenzuela's latest album is Tajo Abierto (Sep 2014).

Other Valenzuela releases include her début album, Muérdete la lengua (Jul 2007).

Sites: YouTube, SoundCloud, Discogs, Twitter and Google+
Genre not found
Artist not found
Album not found
Search results not found
Song not found