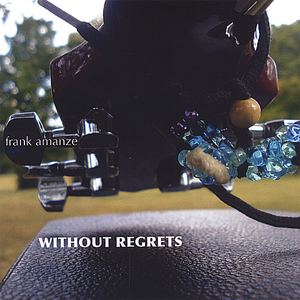 Frank Amanze is a quiet soul who finds his voice through song. This long awaited debut album, Without Regrets, is a collection of story-songs about love lost, love gained, and a "Spoonfed Cassanova". The instrumentation is simple and open; featuring just six strings and occasionally a piano. The lyrics, however, are dark and complex, describing a variety of characters and images that invite the listener to enter the world of the songwriter. This eclectic mix transcends genres and is accessible to all
Read Full Bio
Frank Amanze is a quiet soul who finds his voice through song. This long awaited debut album, Without Regrets, is a collection of story-songs about love lost, love gained, and a "Spoonfed Cassanova". The instrumentation is simple and open; featuring just six strings and occasionally a piano. The lyrics, however, are dark and complex, describing a variety of characters and images that invite the listener to enter the world of the songwriter. This eclectic mix transcends genres and is accessible to all, from the casual listener to the most discerning. This peaceful CD is one that can be played for relaxation or to set an intimate mood-Without Regrets.

"Frank Amanze's CD "Without Regrets" winds personally and poetic through guitar and piano based singer/songwriter tunes. Troubadour vocal style with darkly sad and personal lyrics spark the imagination as Amanze disguises regret in melody and message...'Ohio' is a gem of a tune that begins with lyrics, 'You can't feed every bum you meet'...You can't help but hear narrative reflections ala Springsteen...One of the more lyrical on the record is track 11's, "It's Not Me". Amanze travis-picks as he contemplates, 'I sat through the worst of what you dished out baby, I'm sorry, it's not me that calls each night at 2am, and I can't make you skip a beat, and it's not me that holds you close while you're asleep'... Amanze's tenor-blessed voice soars high in the verses, 'when she finds herself far away from that place, and she becomes a memory of a drifter lost in space' in a timbre that gives a Neil Young empathy. And so it ends...The artist leaves the listener without any resolution...in a secret dark place where we relate." - Earbuzz.com
Genre not found
Artist not found
Album not found
Search results not found
Song not found
We have lyrics for 'It's Not Me' by these artists:



02. 3 Doors Down Looking back at the beginning of this And how life was Just…
Anna Ternheim ( Demo EP & I´ll Follow You Tonight EP ) What's…
Beast 앞만 보고 달렸지 주위를 둘러볼 틈 없이 어느새 나는 가족의 자랑이 됐고 어느정도…
Dorinda Clark-Cole It's not for me to say you love me It's not…
Hawksley Workman It's not me. I don't usually do this. I'm not…
Issa We have changed There's really no one Who should be blamed W…
Kevin Coyne Coyne I said who made Black Africa fall? I said who spit…
Lissie Back and forth, I'm moving north, You can have my things, …
Neurotic Fish Once the light has turned my face Into the look of…
O. Johnson I know the difference in our ages Is quite considerable ind…
Paul Stanley You tell me what you want And you try to…
PW Gopal I made a lesson from a rose I took her piece…
Shiloh You say that I should watch my mouth, that everything…
SJ Ooh, yeah, yeah-yeah-yeah-yeah-eeh Yeah, da da dat, hmm Fre…
Street To Nowhere She takes her cold coffee with sugar packets, yes She'll…
Supergrass Over the heads, I find a place to crawl away So…
Ten Foot Pole You took my closest friends Split my family I gave up everyt…
The Knack Fieger-Bossman If my smile is like the sun Shining 'til …
郁 The virgin Mary on a chain Has hit me in the…

The lyrics can frequently be found in the comments below, by filtering for lyric videos or browsing the comments in the different videos below.