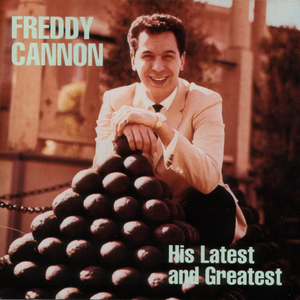 Freddy Cannon, born Frederick Anthony Picariello, in Revere, Massachusetts, on December 4, 1940, is an American rock-n-roll singer.

Picariello grew up in the North Boston suburb of Lynn and learned to play guitar as a boy. In high school, he formed a band and tried to emulate the hard-driving style of Little Richard. Picariello eventually signed with Philadelphia label Swan Records, a recording studio in which Dick Clark had an interest. Clark brought Picariello national exposure through numerous appearances on Clark's TV show
Read Full Bio
Freddy Cannon, born Frederick Anthony Picariello, in Revere, Massachusetts, on December 4, 1940, is an American rock-n-roll singer.

Picariello grew up in the North Boston suburb of Lynn and learned to play guitar as a boy. In high school, he formed a band and tried to emulate the hard-driving style of Little Richard. Picariello eventually signed with Philadelphia label Swan Records, a recording studio in which Dick Clark had an interest. Clark brought Picariello national exposure through numerous appearances on Clark's TV show, American Bandstand. Cannon holds the record for most appearances by a performer (110) on Bandstand! He and Clark continued to collaborate on Bandstand reunion concerts long after the TV show ended.

By 1959, Picariello was singing using the stage name, Freddy Cannon. He was also called "Boom Boom" because of his thundering musical renditions and the "Cannon" name. From 1959 through the early 60s, Cannon had three Top Ten hit:
Palisades Park
Tallahassee Lassie (A song written by Cannon's mother. It was also the first of 22 songs which appeared on the Billboard Charts for Cannon.)
Way Down Yonder in New Orleans

On June 24, 1966, Cannon played himself and performed one of his own songs during the final episode of the teen soap opera "Never Too Young." The role of Cannon was played by David Julian Hirsh in George Clooney's 2003 film, "Confessions of a Dangerous Mind.'

As of 2006, Cannon was a resident of Tarzana, California, and continued performing in concert.
Genre not found
Artist not found
Album not found
Search results not found
Song not found
We have lyrics for these tracks by Freddy Cannon:



Abigail Beecher Hey everybody get out of the street now, I hear the…
Action Oh, baby come on, let me take you where the…
Beachwood City Packin′ up and leavin' town Gasin′ up my wheels I'm a-headin…
Blue Skies was blue, just as blue as I could be Evry day…
Buzz Buzz a Diddle It Well, I was rolling down the highway To see my baby,…
Bye Bye Blues I got a big surprise when I saw you smile I…
California Here I Come When the wintry winds start blowing And the snow is starting…
Chattanooga Shoe Shine Boy Have you ever passed the corner Of Fourth and Grand Where a…
Dedication Song The Dedication" (performed by Freddy "Boom Boom" Cannon in 1…
Everybody Monkey Monkey, monkey, monkey Monkey, monkey, monkey Monkey, monkey…
Five Foot Two Eyes of Blue Five foot two, eyes of blue But oh, what those five…
For Me & My Gal The bells are ringing for me and my gal. The birds…
For Me and My Gal The bells are ringing for me and my gal. The birds…
Happy Shades of Blue Bluebells on my doorstep A blue skies up above A bluebird's …
Humdinger Well, she's a hum, hum, humdinger She's a hum, hum, humdinge…
If You Were A Rock And Roll Record If you were a rock and roll record You would be…
Jump Over We wanted to know if we were in love So we…
Muskrat Ramble Look at them shuffling shuffling down Rambling and scrambli…
Okefenokee Way down south in Okefenokee The sun goes down And the air…
Palisades Park Last night I took a walk after dark A swingin' place…
Patty Baby Patty baby The girl with the dancing feet She's a real ball…
Santa I just came back from a lovely trip along the…
St. Louis Blues I hate to see that evening sun go down I hate…
Talahassee Lassie well she comes from tallahassee she's got a hi-fi chassis ma…
Tallahassee Lassie Well, she comes from Tallahassee (woo) She got a hi-fi chass…
Tallahassie Lassie Well, she comes from Tallahassee She got a Hi-Fi chassis May…
Teen Queen Of The Week Last night they held a beauty contest And crowned my girl…
The Dedication Song The Dedication" (performed by Freddy "Boom Boom" Cannon in 1…
The Old Piano Roll Blues I wanna hear it again, I wanna hear it again, The…
The Urge When I first laid eyes on you I got the urge…
Transistor Sister She's my transistor sister With a radio on her arm No one…
Way Down Yonder Well, way down yonder in New Orleans in the land…

The lyrics can frequently be found in the comments below or by filtering for lyric videos.