Summer in the City
Freedom Fry Lyrics
I won't live up to any expectations
What you see is what you get
And worse yet I can't give an explanation
For why it's gray on your side
But from me the sun can't hide
Somehow in the city it's summer in the city
Somewhere in the city it's summer in the city
I will rise up to every day's occasion
What you reach is what you get
And better yet I'll give you an indication
For why you're feeling deprived
But with me you come alive
Somehow in the city it's summer in the city
Somewhere in the city it's summer in the city
No more raining on this lonely town
Summer comes around when you really want it
Immortalized, young forever now
There's more to life than running in the circles you become
No more raining on this lonely town
Summer comes around when you really want it
Immortalized, young forever now
C'mon and spend the summer with me
We won't give into any hesitation
What you need is what you get
We'll never let lack of an imagination
Keep us locked up inside
Even when the sun has died
Somehow in the city it's summer in the city
Somewhere in the city it's summer in the city
No more raining on this lonely town
Summer comes around when you really want it
Immortalized, young forever now
There's more to life than running in the circles you become
No more raining on this lonely town
Summer comes around when you really want it
Immortalized, young forever now
C'mon and spend the summer with me
Contributed by Andrew Y. Suggest a correction in the comments below.
To comment on specific lyrics,
highlight them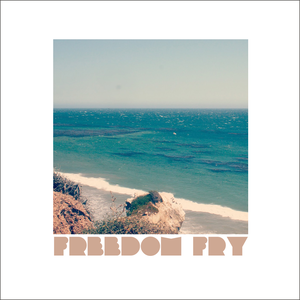 Freedom Fry is an American indie pop duo from Los Angeles, California, United States, composed of Parisian-born Marie Seyrat and American Bruce Driscoll.

Their music features minimalistic sounds and driving beats combined with various organic instrumentation - from autoharps and ukuleles to harpsichords and dulcimers. Seyrat's breathy, soft, French-accented vocals combine hauntingly with Driscoll's in both English and French.

Their single Earthquake was released out in 2012 via their own label Caveman Arts Society.
Genre not found
Artist not found
Album not found
Search results not found
Song not found