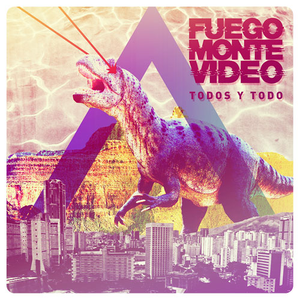 En el marco de tres músicos, cuyos caminos existenciales, pero , sobre todo, musicales, y que tras cierto recorrido y experimentación, se encuentran en el tiempo, nace Fuego Montevideo. Esta banda que, tal y como su nombre alude, evoca toda la pasión propia del calor y del fuego, combinado con toda la cultura que implica la convergencia de distintos estilos musicales, corrientes literarias y filosóficas, incluso metafísicas y teológicas de alrededor del mundo
Read Full Bio
En el marco de tres músicos, cuyos caminos existenciales, pero , sobre todo, musicales, y que tras cierto recorrido y experimentación, se encuentran en el tiempo, nace Fuego Montevideo. Esta banda que, tal y como su nombre alude, evoca toda la pasión propia del calor y del fuego, combinado con toda la cultura que implica la convergencia de distintos estilos musicales, corrientes literarias y filosóficas, incluso metafísicas y teológicas de alrededor del mundo, contextualizadas a nuestro continente y, por supuesto, nuestro país, con la pretensión de romper esquemas. Con sus dinámicas musicales constantemente cambiantes e impredecibles, variaciones métricas, sus letras agudas y críticas, y la esencia de sus integrantes: Carlos Poletto en la guitarra y voz, Luis Fernández en el bajo y Frank Briceño en la batería, Fuego Montevideo, pretende contribuir en la escena musical venezolana de una manera auténtica, plasmando nuevas estructuras y colonizando territorios musicales todavía vírgenes en nuestro país. Un volcán en erupción, animales raros con alma y un degradé de colores que va de rojo a verde son algunas imágenes que esta banda evoca con su música.
Genre not found
Artist not found
Album not found
Search results not found
Song not found
We have lyrics for 'Pol Pot' by these artists:



Tika It's the nation's celebration of amnesia Who's the real bad …

The lyrics can frequently be found in the comments below, by filtering for lyric videos or browsing the comments in the different videos below.