Cold
Gaeko Lyrics
Jump to: Overall Meaning | Line by Line Meaning
널 만나기 위해 핑계를 대던 때는 오로지 난 사랑만이 전부였어
안 보기 위해 온갖 이유를 대는 지금 하루에 두세 번 안부만이 전부가 됐어
사랑은 온데간데없고 미운 정과 미움만 반반씩 섞여 있고 서로 변명만 해
진심으로 잘 되길 바란다면서 아플 땐 딴청을 하며 가식적인 걱정만 해
24시간이 모자랄 때도 내 미래와 꿈과 침대 옆엔 항상 네가 있었네
이제 꿈은 희미하고 권태만이 색이 짙어 매일이 화려한 축제였었는데
지금 난 너에게 재미없고 착한 사람인가 봐
욕심만 많아서 널 놔주질 못해
사실 난 나쁜 놈이었던 거고 바빠서 우리 이별할 시간도 난 못 준다고 해
언젠가부터
우린 바쁜 게 이별의 이유가 됐어 huh
언젠가부터
지금 바빠서 바빠서만 계속 반복해 um
날 만나기 위해 온갖 핑계를 대며
넌 일 빼려고 애썼고
날 보기 위해 온갖 이유 대며
지금 집 앞이라며 나오라고 떼썼고
사랑을 해도 해도 넘쳐흘러서
멈추려 해도 멈출 수 없어서
난 눈을 감고 난 후에도 우린 서로
사랑하고 있는 중일 거라 믿었어
근데 이젠 바빠서
날씨가 좀 나빠서
차가 많이 막혀서
빨리 다시 가봐야 해서
너는 바쁘다고 연락 안 되면서
나랑 있을 때는 답장해야 해서
하루 종일 바빠
사랑한다면서
언젠가부터
우린 바쁜 게 이별의 이유가 됐어 huh
언젠가부터
지금 바빠서 바빠서만 계속 반복해 um
Uh 일이 많아서 한동안 집을 비울 거야
그동안에 그 집엔 우리 아닌 너만 남을 거야
아마 어딘가에 남은 것이 있을 텐데
미련 없이 다 버려도 돼 난 어차피 모를 거야
너 없으면 죽겠단 농담과 채우기에 바빴던 공간 다
다른 줄 알았던 우리도 평범했고 마지막은 똑같아
언젠가부터
우린 바쁜 게 이별의 이유가 됐어 huh ah oh
언젠가부터
지금 바빠서 바빠서만 계속 반복해 um
Overall Meaning
In Gaeko's song Cold, the singer expresses the difficulties of being in a relationship where they have grown apart and are now too busy for each other. He reminisces on the times when their relationship was everything to him and how it has now become a distant memory. The singer acknowledges that love is not always straightforward, as it involves both bad feelings like anger and good feelings like affection.
The first verse describes the time when the singer found any excuse to meet his partner because his love for her was everything back then. Nowadays, the only communication they have is a simple greeting. The singer realizes that his love for his partner is diminishing, and he feels like he is a selfish person, and he cannot let go of her. He is trapped in his busy work schedule, and the little time he gets, he would rather spend it all by himself or doing something else.
In the second verse, the singer reflects on his past with his partner. He used to see her in his dreams, but now the dreams have vanished, and he is left with dull, monotonous colors. He realizes that he is not making his partner happy and wants to make a change. However, he is bound by his evil actions and busy schedule, and he knows deep down that he cannot give her the time she deserves. The chorus repeats the idea that the reasons for their separation are their constantly busy schedules.

Line by Line Meaning
널 만나기 위해 핑계를 대던 때는 오로지 난 사랑만이 전부였어
When I used to make excuses to meet you, it was only because love was everything to me.
안 보기 위해 온갖 이유를 대는 지금 하루에 두세 번 안부만이 전부가 됐어
Now, I make all sorts of excuses to avoid seeing you, and all we have left is a greeting or two every day.
사랑은 온데간데없고 미운 정과 미움만 반반씩 섞여 있고 서로 변명만 해
Love is nowhere to be found, only a mix of hate and negativity, and we only have excuses for each other.
진심으로 잘 되길 바란다면서 아플 땐 딴청을 하며 가식적인 걱정만 해
We pretend to care when we want things to work out, but when it hurts, we change the subject and only make superficial concerns.
24시간이 모자랄 때도 내 미래와 꿈과 침대 옆엔 항상 네가 있었네
Even when I didn't have enough hours in the day, you were there by my side, in my future, in my dreams, and next to my bed.
이제 꿈은 희미하고 권태만이 색이 짙어 매일이 화려한 축제였었는데
Now, my dreams are dim, and all that's left is a deep, dull apathy. Each day used to be a colorful festival.
지금 난 너에게 재미없고 착한 사람인가 봐
Now, it seems like I'm just a boring, nice person to you.
욕심만 많아서 널 놔주질 못해
I can't let you go because I'm too greedy.
사실 난 나쁜 놈이었던 거고 바빠서 우리 이별할 시간도 난 못 준다고 해
To be honest, I was a bad guy, and because I was busy, I couldn't even give us enough time to break up properly.
언젠가부터 우린 바쁜 게 이별의 이유가 됐어 huh
Somewhere along the way, our busyness became the reason for our breakup.
지금 바빠서 바빠서만 계속 반복해 um
Now, we keep repeating how busy we are.
날 만나기 위해 온갖 핑계를 대며 넌 일 빼려고 애썼고
You made every excuse to meet me, and you even sacrificed work for it.
날 보기 위해 온갖 이유 대며 지금 집 앞이라며 나오라고 떼썼고
You came up with all sorts of reasons to see me and even begged me to come out of the house now.
사랑을 해도 해도 넘쳐흘러서 멈추려 해도 멈출 수 없어서
We kept pouring out love, and even when we tried to stop, we couldn't.
난 눈을 감고 난 후에도 우린 서로 사랑하고 있는 중일 거라 믿었어
Even when I closed my eyes, I believed that we were still in love with each other.
Uh 일이 많아서 한동안 집을 비울 거야 그동안에 그 집엔 우리 아닌 너만 남을 거야
Because I have so much work, I'll be away from home for a while, and in that time, only you, not us, will be left behind in that house.
아마 어딘가에 남은 것이 있을 텐데 미련 없이 다 버려도 돼 난 어차피 모를 거야
There may be something left somewhere, but feel free to get rid of it all without regret; I won't know anyway.
너 없으면 죽겠단 농담과 채우기에 바빴던 공간 다
The space I used to fill with jokes about how I would die without you, I now fill with busyness.
다른 줄 알았던 우리도 평범했고 마지막은 똑같아
Even though we thought we were different, we were just average, and in the end, we're the same as everyone else.
Lyrics © O/B/O APRA AMCOS
Written by: Da Hye Jang, Yoon Sung Kim, Davii

Lyrics Licensed & Provided by LyricFind
To comment on or correct specific content,
highlight it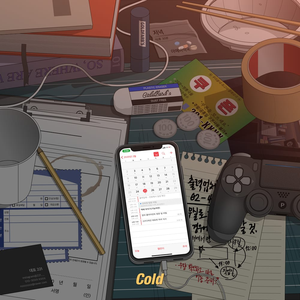 Gaeko (개코) is South Korean rapper and singer under Amoeba Culture. He is a part of the hip-hop duo Dynamic Duo.
He made his solo debut on October 16, 2014 with the release of the studio album Redingray.
Genre not found
Artist not found
Album not found
Search results not found
Song not found