Fortress Of Solitude
Gaia Epicus Lyrics
[Words & Music: Hansen]
Inside of this soul there is not much control
When the walls are falling down
There is no one to help you when you need it most
You got to stand your own ground
Fortress of Solitude
Fortress of crime
Fortress of Solitude
Don't waste my time
Pictures are flashing and burning my brain
How can I focus with all of this pain?
Noises are creeping inside of my ear
How can I live my life when all I feel is fear?
In good times and bad times you are there for me
The one that I care for but no one can see
The shadow is dancing a warrior's dance
This time I wont make it, I don't have a chance
Fortress of Solitude
You can't win
I won't go down
So don't waste my time
Contributed by Nathaniel W. Suggest a correction in the comments below.
To comment on specific lyrics,
highlight them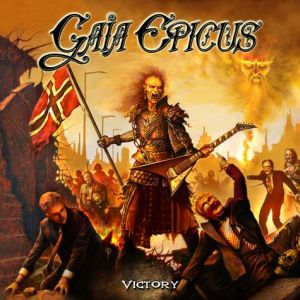 Gaia Epicus is a power metal band from Ålesund, Norway. With 5 Full Length Albums under their belt.

The band started off as Punk Rock under the name of Rått kjøtt (Raw Meat), A year later from 1993 to 1998 the band was known as Execution and played Thrash Metal. from 1998 to 1999 the band was known as Millenium and played Melodic Metal. Soon they had to change their name due to legal issues and changed it to Theater of Pain, which they were known as from 1999 to 2000.
Read Full Bio
Gaia Epicus is a power metal band from Ålesund, Norway. With 5 Full Length Albums under their belt.

The band started off as Punk Rock under the name of Rått kjøtt (Raw Meat), A year later from 1993 to 1998 the band was known as Execution and played Thrash Metal. from 1998 to 1999 the band was known as Millenium and played Melodic Metal. Soon they had to change their name due to legal issues and changed it to Theater of Pain, which they were known as from 1999 to 2000. Yet again later in 2000 still playing Melodic Metal they change their name to Eternal Flame. Then finally in 2001 change their name to Gaia Epicus and start playing Power Metal.

More information is to be found on their website: www.GAIA-EPICUS.com
Genre not found
Artist not found
Album not found
Search results not found
Song not found