Blinded
Geike Lyrics
The year snow fell before the leaves
And truth was beyond my grasp
You told me that when the moon is on it′s guard
Your heart's tide is out
The year snow fell before the leaves
Truth was beyond my grasp
You told me that words are chains
That fall to the sky
I was blinded
All pride aside
I was blinded
Reminded of what feels like a million chains
You froze my eyes by an old fireplace
With dubious metaphors for remorse
Truth is still beyond my grasp
And it′s my heart's tide that's out
And words are chains
And they′re tying me down
I was blinded
All pride aside
I was blinded
Reminded of what feels like a million chains
I know them by heart
The words, the lies
The whispering, the hissing
Written for your part
You have shaken my world
With the force of just a sigh
I was blinded
All pride aside
I was blinded
Reminded of what feels like a million chains
Writer(s): George Teren, Randy Wachtler

Contributed by Xavier M. Suggest a correction in the comments below.
To comment on specific lyrics,
highlight them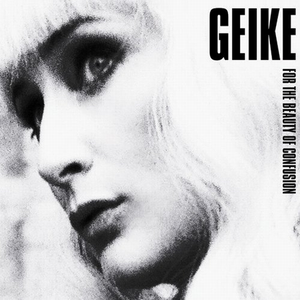 Geike is the solo project of former Belgium based Hooverphonic singer Geike Arnaert (born in Poperinge, 13 September 1979) She left the band in 2008, after eleven years and many Belgian awards for her vocal performances, and finally released her début solo single Rope Dancer in 2011. In October 2011 she released her début album as a solo artist For The Beauty Of Confusion.

Between 2008 and 2011 her distinctive vocals could be heard in a variety of projects.
Read Full Bio
Geike is the solo project of former Belgium based Hooverphonic singer Geike Arnaert (born in Poperinge, 13 September 1979) She left the band in 2008, after eleven years and many Belgian awards for her vocal performances, and finally released her début solo single Rope Dancer in 2011. In October 2011 she released her début album as a solo artist For The Beauty Of Confusion.

Between 2008 and 2011 her distinctive vocals could be heard in a variety of projects. She recorded Le Temps des Cerises (feat. Geike Arnaert) with Flemish icon, Bobbejaan Schoepen. In 2008 she teamed up with Tom Helsen for the 2008 Music For Life theme song, Home. In 2010 Geike formed the band Dorleac with Dutchman, Erik de Jong (a.k.a. Spinvis). Their Dorleac album was used as the main score for the Flemish film, 'Adem'.

Geike - Facebook
Genre not found
Artist not found
Album not found
Search results not found
Song not found