Tu n'es pas de celles qui meurent où elles s'attachent
Tu frottes ta joue à toutes les moustaches
Faut s'lever de bon matin pour voir un ingénu
Qui n't'ait pas connu
Entrée libre à n'importe qui dans ta ronde
Cœur d'artichaut, tu donnes une feuille à tout l'monde
Jamais, de mémoire d'homme, moulin n'avait été
Autant fréquenté
De Pierre à Paul
En passant par Jules et Félicien
Embrasse-les tous, embrasse-les tous, Dieu reconnaîtra le sien
Passe-les tous par tes armes
Passe-les tous par tes charmes
Jusqu'à c'que l'un d'eux, les bras en croix
Tourne de l'œil dans tes bras
Des grands aux p'tits en allant jusqu'aux Lilliputiens
Embrasse-les tous, embrasse-les tous, Dieu reconnaîtra le sien
Jusqu'à ce qu'amour s'ensuive
Qu'à son cœur une plaie vive
Le plus touché d'entre nous demande grâce à genoux
En attendant le baiser qui fera mouche
Le baiser qu'on garde pour la bonne bouche
En attendant de trouver, parmi tous ces galants
Le vrai merle blanc
En attendant qu'le p'tit bonheur ne t'apporte
Celui derrière qui tu condamneras ta porte
En marquant dessus "fermé jusqu'à la fin des jours
Pour cause d'amour"
De Pierre à Paul
En passant par Jules et Félicien
Embrasse-les tous, embrasse-les tous, Dieu reconnaîtra le sien
Passe-les tous par tes armes
Passe-les tous par tes charmes
Jusqu'à c'que l'un d'eux, les bras en croix
Tourne de l'œil dans tes bras
Des grands aux p'tits en allant jusqu'aux Lilliputiens
Embrasse-les tous, embrasse-les tous, Dieu reconnaîtra le sien
Alors toutes tes fredaines
Guilledous et prétentaines
Tes écarts, tes grands écarts
Te seront pardonnés, car
Les filles quand ça dit "je t'aime"
C'est comme un second baptême
Ça leur donne un cœur tout neuf
Comme au sortir de son œuf
Lyrics © Universal Music Publishing Group
Written by: Georges Brassens

Lyrics Licensed & Provided by LyricFind
To comment on specific lyrics,
highlight them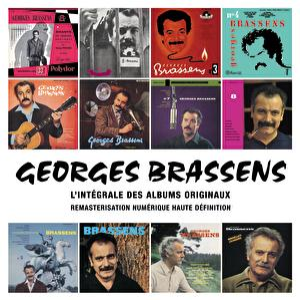 Georges Brassens was a French singer and songwriter known for accompanying himself with his acoustic guitar. He wrote some extremely controversial, yet poetic songs. In doing so, he managed to change attitudes across France.

He was uncompromising when composing his songs. His tactical method of addressing issues was profound and often humorous, making him a unique and effective figure in the French community.

Brassens, born in 1921 in the small Mediterrenean port of Sete, wanted to be a poet.
Read Full Bio
Georges Brassens was a French singer and songwriter known for accompanying himself with his acoustic guitar. He wrote some extremely controversial, yet poetic songs. In doing so, he managed to change attitudes across France.

He was uncompromising when composing his songs. His tactical method of addressing issues was profound and often humorous, making him a unique and effective figure in the French community.

Brassens, born in 1921 in the small Mediterrenean port of Sete, wanted to be a poet. He realized very early however that poetry in the 20th century could hardly put bread on the table and instead set himself to become a singer.

He is much less famous internationally than contemporaries like Charles Aznavour, Edith Piaf and Yves Montand, as much of the impact of his songs came from the lyrics, which proved difficult to translate into other languages. He loved the Middle Ages and used a great deal of Old French vocabulary, as well as many classical - ie., Latin and Greek - references. Few people, even in France, possess the background to fully understand his songs.

Yet he was at the same time a hugely popular singer and many of his songs still carry a lot of appeal and relevance. In this sense, he can be compared to Boris Vian, to Jacques Brel, and to a lesser extent to Serge Gainsbourg.

He was very sophisticated, yet at the same time used profanity liberally. While he wasn't politically engaged, he was nevertheless unambiguously a leftist, many of his songs carrying blatant and buoyant anarchist overtones.

While his music was initially quite primitive, the 1950's St-Germain-des-Pres influence quickly made itself felt and while subdued and - in his mind - always secondary to the lyrics, it became increasingly sophisticated - to the point that many of his songs have been covered and reinterpretated by jazzmen (see for instance this UK site: www.projetbrassens.eclipse.co.uk)

He died in 1981, but up to this date (2006) there are few French people - including most of those born since - who can't sing along to his most famous song, Les Copains d'abord ("Friends foremost") or his "Bancs public" ("Public Benches").

For those interested, this site carries a number of (quite good) English tranlations of his songs: www.brassens.org
Genre not found
Artist not found
Album not found
Search results not found
Song not found