Dieu sait que je n'ai pas le fond méchant
Je ne souhaite jamais la mort des gens
Mais si l'on ne mourait plus
Je crèverais de faim sur mon talus
Je suis un pauvre fossoyeur
Les vivants croient que je n'ai pas de remords
À gagner mon pain sur le dos des morts
Mais ça me tracasse et d'ailleurs
Je les enterre à contrecœur
Je suis un pauvre fossoyeur
Et plus je lâche la bride à mon émoi
Et plus les copains s'amusent de moi
Ils me disent "mon vieux, par moments
T'as une figure d'enterrement"
Je suis un pauvre fossoyeur
J'ai beau me dire que rien n'est éternel
Je peux pas trouver ça tout naturel
Et jamais je ne parviens
À prendre la mort comme elle vient
Je suis un pauvre fossoyeur
Ni vu ni connu, brave mort adieu
Si du fond de la terre on voit le Bon Dieu
Dis-lui le mal que m'a coûté
La dernière pelleté
Je suis un pauvre fossoyeur
Je suis un pauvre fossoyeur
Lyrics © WARNER CHAPPELL MUSIC FRANCE
Written by: Georges Brassens

Lyrics Licensed & Provided by LyricFind
To comment on specific lyrics,
highlight them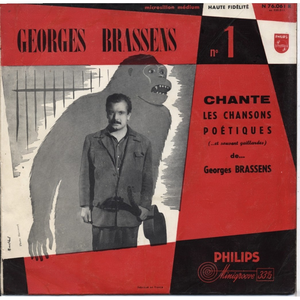 Georges Brassens was a French singer and songwriter known for accompanying himself with his acoustic guitar. He wrote some extremely controversial, yet poetic songs. In doing so, he managed to change attitudes across France.

He was uncompromising when composing his songs. His tactical method of addressing issues was profound and often humorous, making him a unique and effective figure in the French community.

Brassens, born in 1921 in the small Mediterrenean port of Sete, wanted to be a poet.
Read Full Bio
Georges Brassens was a French singer and songwriter known for accompanying himself with his acoustic guitar. He wrote some extremely controversial, yet poetic songs. In doing so, he managed to change attitudes across France.

He was uncompromising when composing his songs. His tactical method of addressing issues was profound and often humorous, making him a unique and effective figure in the French community.

Brassens, born in 1921 in the small Mediterrenean port of Sete, wanted to be a poet. He realized very early however that poetry in the 20th century could hardly put bread on the table and instead set himself to become a singer.

He is much less famous internationally than contemporaries like Charles Aznavour, Edith Piaf and Yves Montand, as much of the impact of his songs came from the lyrics, which proved difficult to translate into other languages. He loved the Middle Ages and used a great deal of Old French vocabulary, as well as many classical - ie., Latin and Greek - references. Few people, even in France, possess the background to fully understand his songs.

Yet he was at the same time a hugely popular singer and many of his songs still carry a lot of appeal and relevance. In this sense, he can be compared to Boris Vian, to Jacques Brel, and to a lesser extent to Serge Gainsbourg.

He was very sophisticated, yet at the same time used profanity liberally. While he wasn't politically engaged, he was nevertheless unambiguously a leftist, many of his songs carrying blatant and buoyant anarchist overtones.

While his music was initially quite primitive, the 1950's St-Germain-des-Pres influence quickly made itself felt and while subdued and - in his mind - always secondary to the lyrics, it became increasingly sophisticated - to the point that many of his songs have been covered and reinterpretated by jazzmen (see for instance this UK site: www.projetbrassens.eclipse.co.uk)

He died in 1981, but up to this date (2006) there are few French people - including most of those born since - who can't sing along to his most famous song, Les Copains d'abord ("Friends foremost") or his "Bancs public" ("Public Benches").

For those interested, this site carries a number of (quite good) English tranlations of his songs: www.brassens.org
Genre not found
Artist not found
Album not found
Search results not found
Song not found