C'est à travers de larges grilles
Que les femelles du canton
Contemplaient un puissant gorille
Sans souci du qu'en-dira-t-on
Avec impudeur, ces commères
Lorgnaient même un endroit précis
Que, rigoureusement, ma mère
M'a défendu d'nommer ici
Gare au gorille!
Tout à coup la prison bien close
Où vivait le bel animal
S'ouvre, on n'sait pourquoi, je suppose
Qu'on avait dû la fermer mal
Le singe, en sortant de sa cage
Dit "c'est aujourd'hui que j'le perds!"
Il parlait de son pucelage
Vous aviez deviné, j'espère!
Gare au gorille!
L'patron de la ménagerie
Criait, éperdu "nom de nom!
C'est assommant, car le gorille
N'a jamais connu de guenon!"
Dès que la féminine engeance
Sut que le singe était puceau
Au lieu de profiter de la chance
Elle fit feu des deux fuseaux!
Gare au gorille!
Celles-là même qui, naguère
Le couvaient d'un œil décidé
Fuirent, prouvant qu'elles n'avaient guère
De la suite dans les idées
D'autant plus vaine était leur crainte
Que le gorille est un luron
Supérieur à l'homme dans l'étreinte
Bien des femmes vous le diront!
Gare au gorille!
Tout le monde se précipite
Hors d'atteinte du singe en rut
Sauf une vieille décrépite
Et un jeune juge en bois brut
Voyant que toutes se dérobent
Le quadrumane accéléra
Son dandinement vers les robes
De la vieille et du magistrat!
Gare au gorille!
"Bah! soupirait la centenaire
Qu'on pût encore me désirer
Ce serait extraordinaire
Et, pour tout dire, inespéré!"
Le juge pensait, impassible
"Qu'on me prenne pour une guenon
C'est complètement impossible"
La suite lui prouva que non!
Gare au gorille!
Supposez que l'un de vous puisse être
Comme le singe, obligé de
Violer un juge ou une ancêtre
Lequel choisirait-il des deux?
Qu'une alternative pareille
Un de ces quatre jours, m'échoie
C'est, j'en suis convaincu, la vieille
Qui sera l'objet de mon choix!
Gare au gorille!
Mais, par malheur, si le gorille
Aux jeux de l'amour vaut son prix
On sait qu'en revanche il ne brille
Ni par le goût ni par l'esprit
Lors, au lieu d'opter pour la vieille
Comme l'aurait fait n'importe qui
Il saisit le juge à l'oreille
Et l'entraîna dans un maquis!
Gare au gorille!
La suite serait délectable
Malheureusement, je ne peux
Pas la dire, et c'est regrettable
Ça nous aurait fait rire un peu
Car le juge, au moment suprême
Criait "maman!", pleurait beaucoup
Comme l'homme auquel, le jour même
Il avait fait trancher le cou
Gare au gorille!
Lyrics © WARNER CHAPPELL MUSIC FRANCE
Written by: Georges Brassens

Lyrics Licensed & Provided by LyricFind
To comment on specific lyrics,
highlight them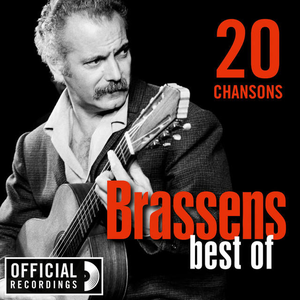 Georges Brassens was a French singer and songwriter known for accompanying himself with his acoustic guitar. He wrote some extremely controversial, yet poetic songs. In doing so, he managed to change attitudes across France.

He was uncompromising when composing his songs. His tactical method of addressing issues was profound and often humorous, making him a unique and effective figure in the French community.

Brassens, born in 1921 in the small Mediterrenean port of Sete, wanted to be a poet.
Read Full Bio
Georges Brassens was a French singer and songwriter known for accompanying himself with his acoustic guitar. He wrote some extremely controversial, yet poetic songs. In doing so, he managed to change attitudes across France.

He was uncompromising when composing his songs. His tactical method of addressing issues was profound and often humorous, making him a unique and effective figure in the French community.

Brassens, born in 1921 in the small Mediterrenean port of Sete, wanted to be a poet. He realized very early however that poetry in the 20th century could hardly put bread on the table and instead set himself to become a singer.

He is much less famous internationally than contemporaries like Charles Aznavour, Edith Piaf and Yves Montand, as much of the impact of his songs came from the lyrics, which proved difficult to translate into other languages. He loved the Middle Ages and used a great deal of Old French vocabulary, as well as many classical - ie., Latin and Greek - references. Few people, even in France, possess the background to fully understand his songs.

Yet he was at the same time a hugely popular singer and many of his songs still carry a lot of appeal and relevance. In this sense, he can be compared to Boris Vian, to Jacques Brel, and to a lesser extent to Serge Gainsbourg.

He was very sophisticated, yet at the same time used profanity liberally. While he wasn't politically engaged, he was nevertheless unambiguously a leftist, many of his songs carrying blatant and buoyant anarchist overtones.

While his music was initially quite primitive, the 1950's St-Germain-des-Pres influence quickly made itself felt and while subdued and - in his mind - always secondary to the lyrics, it became increasingly sophisticated - to the point that many of his songs have been covered and reinterpretated by jazzmen (see for instance this UK site: www.projetbrassens.eclipse.co.uk)

He died in 1981, but up to this date (2006) there are few French people - including most of those born since - who can't sing along to his most famous song, Les Copains d'abord ("Friends foremost") or his "Bancs public" ("Public Benches").

For those interested, this site carries a number of (quite good) English tranlations of his songs: www.brassens.org
Genre not found
Artist not found
Album not found
Search results not found
Song not found