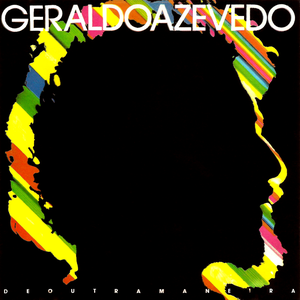 Geraldo Azevedo (b. 11 Jan 1945, Petrolina, Pernambuco, Brasil), is a singer, guitarist and songwriter. He is known for varied rhythms and tempo, which might be attributed to his Northeastern origins. His guitar performances mix sophisticated harmony, with hot Northeastern rhythms - distinctive amongst Brazilian musicians. Geraldo's work ranges from lyrical love songs to swinging Caribbean numbers.

Geraldo Azevedo is also known by his incadescent frevos (a street dance from Pernambuco
Read Full Bio
Geraldo Azevedo (b. 11 Jan 1945, Petrolina, Pernambuco, Brasil), is a singer, guitarist and songwriter. He is known for varied rhythms and tempo, which might be attributed to his Northeastern origins. His guitar performances mix sophisticated harmony, with hot Northeastern rhythms - distinctive amongst Brazilian musicians. Geraldo's work ranges from lyrical love songs to swinging Caribbean numbers.

Geraldo Azevedo is also known by his incadescent frevos (a street dance from Pernambuco, performed during Carnaval), that he often plays at a concert's end. He also uses this technique on hits like "Tempo Tempero", "Pega Fogo Coração", and "Tempo Folião".

Azevedo has participated in collective projects such as "Asas da América", "Cantoria" and "O Grande Encontro", with Elba Ramalho and Zé Ramalho.
Genre not found
Artist not found
Album not found
Search results not found
Song not found
We have lyrics for these tracks by Geraldo Azevedo:



Adoro Você Começo de tudo Não da pra saber Passado ou futuro Adoro você…
Ai Que Saudade D'Ocê Não se admire se um dia Um beija flor invadir A porta…
Berekekê Erumbekum Berekekê Erumbekum Berekeká Há muitos sóis não te…
Berekerê Erumbekum Berekekê Erumbekum Berekeká Há muitos sóis não te …
Bossa Tropical Bossa você é tropical Tudo que é, me faz tocar Notas de…
Cadê Meu Carnaval Monami kutundé Kutundé ngoe Mon'ami zeka-ié Mungu ngu moné …
Canção Da Despedida Já vou embora Mas sei que vou voltar Amor não chora Se eu…
Canta Coração D/C G B7 Em | Canta, canta passarinho, canta, canta miudinh…
Caravana Corra não pare, não pense demais Repare essas velas no ca…
Chorando e Cantando Quando Fevereiro chegar Saudade já não mata a gente A chama …
Coqueiros Por entre as palmas desse lugar Por coqueiros de beira mar …
Cravo Vermelho Quintais, varandas de Olinda Farol, ladeiras, luar Descansa …
Dia Branco Se você vier Pro que der e vier Comigo Eu lhe prometo o…
Domingo de Pedra e Cal Pisando na argamassa Do que vai ser construído Ao longo das …
Dona Da Minha Cabeça Dona da minha cabeça ela vem como um carnaval E toda…
Em Copacabana Em Copacabana tudo é Rei Copacabana tudo é Rei Em Copacabana…
Estrela Guia Ela apareceu hoje no céu só pra me ver tenho…
Ilha Morena Cheguei na ilha de Itamaracá Eu cheguei na ilha de Itamaracá…
La Primera Vez La primera vez no te conocí La segunda sí, dime Si el…
Moça Bonita Moça bonita Seu corpo cheira Ao botão de laranjeira Eu ta…
Pot-Pourri: Caravana / Talismã / Barcarola do São Francisco Corra não pare, não pense demais Repare essas velas no cais …
Quem é Muito Querido a Mim Quem é muito querido Quem é muito querido a mim É muito…
Sexo XX É bom pra tudo Bom pro corpo Bom pra mente É muito bom Princ…
Só Depois de Muito Amor Eu Vou Embora A beleza brotou no seu sorriso E os meus olhos colheram…
Tanto Querer Quando a gente se encontra, cresce no peito um gosto…
Táxi Lunar Pela sua cabeleira vermelha Pelos raios desse sol lilás Pelo…
Você Se Lembra Entre as estrelas do meu drama Você já foi meu…

The lyrics can frequently be found in the comments below or by filtering for lyric videos.