Every girl that's guilty of waiting so long sometime
So it seems like it doesn't make sense
Yea, it was them cute pretty bitches that was smelling like coke
They kept going like they had shit in they throats
They had stacks on the tables, cables
I had to say it was like early May a few days 'til my birthday date, baby date
I'll play to the sucker DJ, lookin' like Enrique
Told him to throw in that Supreme Cliee-ente
He said just gave a nod with a thumbs up wink
I just put down my dollar bill, took off my mink
Bartenders know me big spenders, gave us those monster drinks
Sent us lobsters and cigars that stink
Playing them oldie but goodie classics, them honies had fat asses
Noses runnin' from the raw, they hid behind they glasses
Toney with the Montana, I came to play
With my long fingernail, yo honey you should pass that yea
Let me see what color you got boo, I got that beige
I see y'all from the peripherals? ladies far right from the stage
I'm thirty-three, I look twenty-six with big furs on
What y'all inherent the Santa Maria? Y'all money that long?
Your father must have fell back when y'all started fucking
You asked me what I think about dude? I say fuck him
And this one bitch called me Fat Albert
The way my pockets had the mumps you know that Ghost is 'bout it
Then I asked these young ladies do they buff helmets
They said fuck you, took a sniff and then they didn't tell me
Just because you left home, this is Tone, yo you see I flip stones
Birthstone, you ain't grown fuck around and get boned
Peerage pretty young ladies lost at six, Gucci kicks
And they picky when it come to they dick
If y'all ladies was all mine I'd teach you well
Free tales, sweet smells, slee? well hear bells
Before you sleep read your books like it was mah fanmail
And when you wake ? you woman the whole world can tell
Word life, put you to school when the clubs'll stop
College girl, pay for your books at 200 a pop
And all I ask in life's for you to be careful
Stay focused, take care of your health
Have kids and marry a prince
Good luck and happiness
And no longer shut yourself in, taste the pain, the sorrow
The sun'll shine and still come out tomorrow
And maybe be a secretary, business woman, 5th Ave., or run a library
You got the right conversation, education, and looks
With the right intelligence to stay away from them crooks
Baby get on your feet, be an accountant, doctor, lawyer or nurses's aid
Computer wizard, you about to get paid
Yea,
You know I just met y'all
And I love y'all already and all that
But I gotta get off that nose candy
To make it in life and all that shit
That's why I'm here
I'm like a father figure and all that shit
I let y'all get high, and that's all you're going to do but
Ya know what I'm saying?
Cause I drop jewels all over the place
Y'all too pretty for that...
Some of y'all nose hairs is burnt
I just want you to snap out of it
You know why, cause you'se a
Lyrics © Sony/ATV Music Publishing LLC, Warner/Chappell Music, Inc., Universal Music Publishing Group, Kobalt Music Publishing Ltd.
Written by: DARYL HALL, JOHN OATES, LAMAR BRYANT, ROBERT DOUGLAS, ARTURO MOLINA, G. RUE DE FLORES

Lyrics Licensed & Provided by LyricFind
To comment on specific lyrics,
highlight them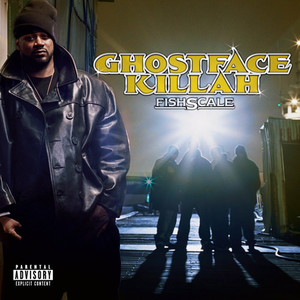 Dennis Coles (born May 9, 1970), better known by his stage name Ghostface Killah, is an American rapper and member of the Wu-Tang Clan. After the group achieved breakthrough success with their 1993 debut, Enter the Wu-Tang (36 Chambers) , the members went on to pursue solo careers to varying levels of success. Ghostface Killah debuted his solo-career in 1996 with Ironman, which was well received by music critics. He would continue his career, creating additional award-winning albums over the following years such as Supreme Clientele
Read Full Bio
Dennis Coles (born May 9, 1970), better known by his stage name Ghostface Killah, is an American rapper and member of the Wu-Tang Clan. After the group achieved breakthrough success with their 1993 debut, Enter the Wu-Tang (36 Chambers) , the members went on to pursue solo careers to varying levels of success. Ghostface Killah debuted his solo-career in 1996 with Ironman, which was well received by music critics. He would continue his career, creating additional award-winning albums over the following years such as Supreme Clientele, Fishscale, More Fish, and The Big Doe Rehab.

Ghostface Killah is critically acclaimed for his loud, fast-paced flow, and his stream-of-consciousness narratives containing cryptic slang and non-sequiturs.

Ghostface Killah was raised in the Stapleton housing projects in Staten Island, New York. In his autobiographical song "All That I Got Is You", Ghost tells the story of his childhood. He raps about how he grew up in a three bedroom apartment without his father, who left him at the age of six. Apparently, his mother had nine children.

His stage name was taken from one of the characters in the 1979 kung fu film Mystery of Chessboxing.
He was also a close friend of the three founding members of Wu-tang clan
Genre not found
Artist not found
Album not found
Search results not found
Song not found