Here We Go
Grits Lyrics
Jump to: Overall Meaning | Line by Line Meaning
He feel it she feel it we feel it
So round and round we go
He feel it she feel it we feel it
Ah here we go
He gon' get up she gon' get up we gon' get up
Lockin' down the joint til the playa haters shut up
Take you to outer limits flawless with no gimmicks
Imitate but can't get it
Ah here we go
My brain pattern skip a jiggawatt
No more room in the pan I cook up rhymes in a bigger pot
On a roll, what you figure got
Tricks up my sleeve you won't believe
My story weave to a thicker plot
Words leap off pages hop on stages
We crazy need to be locked in cages
Raah you feel it
Yeah I'm light skinned vanilla
Comin' atcha like a pack of gorillas
Whole planet gone ape
Understand from afar Nashville to the lone star state
Relate indicator instilled in me by men greater
This is where you belong strong you gon' be great
Flaunt clout with a scream and a shout cast out doubt
Fast like a gun blast drawn out
The sounds in leaps and bounds flush out clowns Creeps
and hounds
Foxes and wolves in sheeps gowns
I was born in the cold
Moved to the heat
Got used to the flame
Now I spit it on beat
I was raised in the womb
Groomed by Christ
With a gift to raise souls from the tomb
Please don't assume
We ain't tryna take the slot
Blow the spot
Worldwide still parta the plot
Everybody talkin' bout changinthe game
But everything I hear why'all soundin' the same
From the beats to the videos
Clothes and look
Same concept for your flows and hook
See these round here they can raise the dead
So come on everybody now bob your head
Why'all need to heed these words from the wise
Rhymes so meaty like jambalaya
Got truth for hire
Can you stand the fire
To see you come alive that's my desire now
Boy looka here
Have you ever heard a dead man talk before
You ever seen a dead man walk before
You ever heard dead man lock the flow
Like these before
We raised the qou
Now my time flip make time change
You knew another record would hit
Explode and make your brains hang
Peep my language of my dialect
Circulate like a boomerang
Man what did you expect
Overall Meaning
In Grits's song Here We Go, the lyrics revolve around the idea of feeling the music and letting it take control. The repetition of "he feel it she feel it we feel it" creates a sense of unity among the listeners who are all experiencing the same emotions while listening to the music. The lyrics also talk about locking down the joint until the "playa haters" shut up, which suggests a sense of empowerment in the music that allows the listeners to ignore negative comments and focus on enjoying themselves. The lyrics also suggest that the music is flawless and unique, with no imitation possible, and that it can take you to outer limits.
The second verse of the song talks about the artist's talent for creating rhymes and playing with words. The lyrics suggest that his skills are beyond ordinary and that his stories are woven into a thick plot that only he can create. The lyrics also suggest that he is crazy, and perhaps misunderstood, which reinforces the idea of the power of the music as a way to express oneself. The chorus repeats the phrase "ah here we go," which creates a sense of anticipation and excitement, as if something big is about to happen.

Line by Line Meaning
He feel it she feel it we feel it So round and round we go He feel it she feel it we feel it Ah here we go
We're all feeling the energy and excitement of the moment, and we can't help but keep going. This feeling is contagious and everyone is in it together.
He gon' get up she gon' get up we gon' get up Lockin' down the joint til the playa haters shut up Take you to outer limits flawless with no gimmicks Imitate but can't get it Ah here we go
We're going to stay determined and push through any negativity until we succeed. We're going to reach new levels without using any cheap tricks, and others may try to emulate us but they won't match our originality and skill.
My brain pattern skip a jiggawatt No more room in the pan I cook up rhymes in a bigger pot On a roll, what you figure got Tricks up my sleeve you won't believe My story weave to a thicker plot Words leap off pages hop on stages We crazy need to be locked in cages Raah you feel it Yeah I'm light skinned vanilla Comin' atcha like a pack of gorillas Whole planet gone ape Understand from afar Nashville to the lone star state Relate indicator instilled in me by men greater This is where you belong strong you gon' be great Flaunt clout with a scream and a shout cast out doubt Fast like a gun blast drawn out The sounds in leaps and bounds flush out clowns Creeps and hounds Foxes and wolves in sheeps gowns
My mind operates in a way that's beyond comprehension. I've outgrown my old methods and have moved on to bigger and better things, with hidden talents that will surprise and impress you. My words are powerful and captivating, and I belong among the greats. We're destined for greatness and will do whatever it takes to silence any doubters or obstacles in our way.
I was born in the cold Moved to the heat Got used to the flame Now I spit it on beat I was raised in the womb Groomed by Christ With a gift to raise souls from the tomb Please don't assume We ain't tryna take the slot Blow the spot Worldwide still parta the plot Everybody talkin' bout changinthe game But everything I hear why'all soundin' the same From the beats to the videos Clothes and look Same concept for your flows and hook See these round here they can raise the dead So come on everybody now bob your head Why'all need to heed these words from the wise Rhymes so meaty like jambalaya Got truth for hire Can you stand the fire To see you come alive that's my desire now
I've come from humble beginnings and endured tough times, but now I'm thriving and showcasing my skills. My faith has given me the ability to inspire others and lift them up. We're not trying to take over the industry, just make a significant impact within it. We're hearing a lot of repetitive, unoriginal content, but we're breaking the mold and bringing something new to the table. Our music has the ability to bring people to life and we want everyone to enjoy it and gain something meaningful from it.
Boy looka here Have you ever heard a dead man talk before You ever seen a dead man walk before You ever heard dead man lock the flow Like these before We raised the qou Now my time flip make time change You knew another record would hit Explode and make your brains hang Peep my language of my dialect Circulate like a boomerang Man what did you expect
Listen up and pay attention, because I'm about to impress you with something you've never heard before. We're breaking barriers and doing things no one else has done. We're changing the game and turning heads with every new release. Be ready for the explosion of our music and language, which will spread out and come back to us like a boomerang. We're always on the cutting edge of our craft and our audience should expect nothing less.
Lyrics © CAPITOL CHRISTIAN MUSIC GROUP, Ultra Tunes, BMG Rights Management, Universal Music Publishing Group, Sony/ATV Music Publishing LLC, Capitol CMG Publishing, Kobalt Music Publishing Ltd.
Written by: IVAN A. BENAVIDES, RICHARD GRANVILLE BLAIR, TERON DAVID CARTER, STACY BERNARD JONES, OTTO MONTGOMERY PRICE JR., RIC ROBBINS

Lyrics Licensed & Provided by LyricFind
To comment on or correct specific content,
highlight it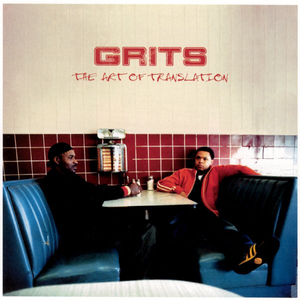 GRITS (Grammatical Revolution In The Spirit) are a Dove Award winning hip-hop group from Nashville, Tennessee, made up of Stacy "Coffee" Jones and Teron "Bonafide" Carter signed to TobyMac's record label Gotee Records. They're both Christians, and their faith takes a central place in their music. Since forming in 1995 they have released nine studio albums, two EPs and a remix album. Outside of the Christian music community they are best known for
Read Full Bio
GRITS (Grammatical Revolution In The Spirit) are a Dove Award winning hip-hop group from Nashville, Tennessee, made up of Stacy "Coffee" Jones and Teron "Bonafide" Carter signed to TobyMac's record label Gotee Records. They're both Christians, and their faith takes a central place in their music. Since forming in 1995 they have released nine studio albums, two EPs and a remix album. Outside of the Christian music community they are best known for their song Ooh Ahh which has appeared on various movie and game soundtracks and various television shows, and their song Tennessee Bwoys was also featured on the popular MTV show Pimp My Ride.

They have recieved several Gospel Music Association Dove Awards throughout their career. Their first first was "Rap/Hip Hop Song" for "Alcoholic Plagiarism", from Factors of the Seven. The next year they took the same award for "They All Fall Down", from Grammatical Revolution. In 2003 The Art Of Translation won the award for "Rap/Hip Hop Album", and the following year their song "Believe" from the same album took "Rap/Hip Hop Song". They also shared in the "Special Event Album" that year, for their contribution to !Hero The Rock Opera.

Album list:

1. Mental Releases
2. Factors of the Seven
3. Grammatical Revolution in the Spirit
4. Art of Translation
5. Dichotomy A
6. Dichotomy B
7. Art of Transformation (remix album of Translation)
8. 7 (best of album)
9. Redemption
10. The Greatest Hits
11. Reiterate
12. Quarantine
Genre not found
Artist not found
Album not found
Search results not found
Song not found