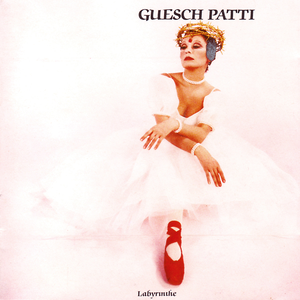 Guesch Patti is a French singer, dancer, choreographer and actress. To date she has recorded five albums. Guesch Patti started her musical career in 1987 with the release of the notorious hit single 'Etienne'.

Guesch Patti was born on 19 March 1946 as Patricia Porasse, she was nicknamed Guesch (a Basque name) as a child, Patti is a pet name for Patricia. Her father, Jean Porasse, worked as an artistic director for the record company HMV-Pathé-Marconi
Read Full Bio
Guesch Patti is a French singer, dancer, choreographer and actress. To date she has recorded five albums. Guesch Patti started her musical career in 1987 with the release of the notorious hit single 'Etienne'.

Guesch Patti was born on 19 March 1946 as Patricia Porasse, she was nicknamed Guesch (a Basque name) as a child, Patti is a pet name for Patricia. Her father, Jean Porasse, worked as an artistic director for the record company HMV-Pathé-Marconi, taking care of Gilbert Bécaud and later as an impresario for people like Eric Charden, Jean-Jacques Debout and Nino Ferrer. Aged 9 she danced the role of the Little Rat at the Paris Opera. When she was 19 she had a brief flirtation with singing as one half of the duo Yves et Patricia, a venture she was talked into by her father. They released 2 singles on the Philips label.

In the seventies she frequently worked for television as a dancer, for example in shows with Nana Mouskouri and Silvie Vartan. Later she moved into contemporary dance and became first dancer in Carolyn Carson's group, Prima Ballerina at the Scala in Milan and guest performer with Roland Petit and Maurice Béjart. She worked on the choreography for performances set to the music of Silvano Bussoti, Luigi Nono and Karlheinz Stockhausen. She also worked with the German choreographer Pina Bausch, practised Jazz dance with Michael Peter and worked on Robert Hossein's staging of Les Misérables.

In 1984 she teamed up with Lydie Callier and another girl to form the trio DaCapo. Virgin Records released one single, but declined to take it further. 1987 saw her emerge as a solo artist with the release of the single Étienne. It charted in 9 European countries, accompanied by a video that caused some controversy due to its erotic nature. It ended up winning Best Video awards in several countries. The success was remarkable because at that time modern French pop\rock music was rarely successful in non-French speaking territories. The international success of Étienne landed her an album recording contract with EMI, the band Encore was formed around her and together they produced her first album Labyrinthe, released in 1988. A second album Nomades followed in 1990. After an (amicable) split with Encore, a third album Gobe saw the light in 1992. Sales of Gobe were disappointing, Gobe was to be her last album for EMI.

After a period of reflection she met Étienne Daho, this contributed to a renewed interest in creating music. She teamed up with independent French label XIIIBis Records (now defunct) which resulted in the 1995 release of Blonde. Songs from this album were also used for the Peter Greenaway film The Pillow Book. Her most recent album is Dernieres Nouvelles, released in November 2000.

In recent years she has also appeared in film and television productions, most notably a co-starring role in the 1997 movie Elles where she appeared alongside Marthe Keller and Miou - Miou. 2001 saw her re-emerge as a dancer on stage in the production She smiles through tears. , Her latest work is the Dernieres Nouvelles DVD, released in February 2002 it features a video illustration of the music of the CD with the same title.
Genre not found
Artist not found
Album not found
Search results not found
Song not found
We have lyrics for these tracks by Guesch Patti:



Adieu Au début était le verbe, le verbe aimer Au début était…
Amnésie Perdue le long d'un trottoir Croisant des regards Des reflet…
Backstage D une Star Backstage dune star Que jaime Depuis 25 ans Je nen reviens p…
Backstage D'une Star Backstage d'une star Que j'aime Depuis 25 ans Je n'en rev…
Beautiful If you love me, come along I've been waiting over long Si…
Blonde S'éveille-telle en lui Déloge l'homme en lui Un ange vol…
Bon Anniversaire Mauvaise affaire Notre amour éphémère Un goût amer, tu sai…
C'est Pas Assez Toutes ces nuits A refaire le monde Tous mes amours Des b…
C'Est Passé Trempés de couleur tisane Aux parfums couleur tzigane Simp…
Comment dire J'allais prendre un café - une idée Dans les hasards, des…
Copie Quand personne ne sait Démêler le faux du vrai Si personne…
Cul Cul Clan Un mélange mou Comme un sortilège Ça dérange tout Pour fa…
Culture Perdu Au fond d'un loft J'interroge L'époque en off A…
Dans l'Enfer Tous ces beaux messieurs Sont tailleurs de terre Grisés co…
Doc Docteur, je viens te voir pour une horrible douleur Ce mal…
Dominer Choisissez En toute légalité Décidez Mais par où recommen…
Encore Encore hier Se promenait ma mémoire Encore hier Dans les …
Etienne Étienne, Étienne, Étienne Oh, tiens-le bien Baiser salé, sal…
Faits Divers Comme fait divers Ya de la poussire Dans les rivires Jusqu l…
Gobe Dire Le droit de l'homme est sa "Liberté" Faire Que tourn…
Héroïne Dansons à la démesure Cousine des appoggiatures Héroïne D…
Il va loin le malheur Il va loin le malheur Il enchaîne Des kilos de pudeur pour…
Impossible Lover Street life Qui a tué grand-maman ? Impossible lover St…
Interlude Tirer la langue – En élastique On est en manque –…
J'Veux pas m'en mêler Rien ne t'appartient Faut en voir les circonstances et Rien …
L'Homme au tablier vert C'est l'homme au tablier vert Bizarre mais si drôle Il veu…
La marquise J'aime danser à ma guise Comme une marquise Noir en thème es…
Les Monstres Les mentors... tort ! La manie des records Désaccord des c…
Let Be Must The Queen A quand le méli mélo Des parkings en dancings Si, y'a du…
Libido Garantie de l'ègo Cabot Jamais désespéré Gagné Panoplie …
Ma réalité Je souffre d'interdits Sans alibi. Et là, Mais on humilie Ma…
Manque Un Détail Oh ! M'man J'suis confuse, ressembler Sembler, recluse Oh ! …
Mélomane Tous les salons, les jardins d'Eden D'au viennent les signe…
Merci Il y des jours Où les mots sont si lourds Dire merci Il…
Metempsycose Dix mille ans qu'on se poursuit Jour et nuit de vie…
Nomade Il était une fois Un nomade dans la cité Habitait la mai…
Parole d'honneur Est-ce une erreur Si tout à l'heure Je parlais de douleur S…
Phénomène Phénomène des retours en arrière Phénomène à rien Phénomèn…
Promesses La vitesse du mensonge qui soudain s'amplifie Sans espèce d…
Roule Tu Dis Jessaie Jfile et jravale le bitume Et jfais Gaffe la brume J…
Roule... Tu Dis J'essaie J'file et j'ravale le bitume Et j'fais Gaffe à l…
Tabou Croyez-vous Savoir tout de vous Il y a des mystères, des…
Tapis de laine Le nez collé sur le col Je n'sais comment changer d'humeur S…
Tout Seul On dit, des choses On dit rien On se repose On fait rien …
Tout Seul... On dit, des choses On dit rien On se repose On fait rien Les…
Triangle Triangle A s'arracher les glandes Triangle Avoir les main…
Tu tires Je vais aux supplices D'une histoire factice Et, là, je me…
Un Espoir J'ai couru des heures après lui Ramassé des preuves un défi…
Wake Up Tu m'dis qu'non mais moi je sexy Adios my French lover On…

The lyrics can frequently be found in the comments below or by filtering for lyric videos.