Loungin'
Guru Lyrics
Yeah I'm loungin' I got my man Donald Byrd
I wanna give a big shout out to my little man Miko he's 2 years old
He's away visiting his grandmom but I miss him dearly
Check it out
If I rhyme this you will find this situation shall advance
You could take a glance or dance
Elevator lyrics to arouse the crowd
Now tell me who's the man to show you how
Many legacies of brothers who get busy
And I do it fluid til the suckers get dizzy
Saying peace to the blackbirds 125th street
And check the flow that's unique
For loungin', loungin', mellow out and just loungin'
Loungin', loungin', mellow out and just loungin'
Can't refuse this, never lose this, it's the choice this
'Cause my voice is the smoothest
Dominating to your boys 'cause I've been around doing work
And sold tons of others jerk
Donald Byrd word on the track, quite exact
Giving you the format, Jack
See we gotta pave the way and display
How to loungin', loungin'
Mellow out and just loungin'
Loungin', loungin', mellow out and just loungin'
Peace to the pioneers but I gotta try to clear
My throat, check out what I wrote
You can't tap into this unless you know the roots
Word shoe like life absolute
For real so now you gotta know the deal
For loungin', just loungin', mellow out and just loungin'
Loungin', loungin' mellow out, check it out and loungin'
Loungin', loungin', mellow out and just loungin'
Loungin', loungin', peace to Brooklyn where I live
Realistic, kind of mystic when I kick this
You should witness the slickness
Of the horn player and the dope rhymesayer
Quite emotional and inspirational
Philosophical and yes very logical
Teaching you the method for loungin'
Everybody knows they have times when they wanna just lay back
Kick their feet up, you know
Listen to some good music and just lounge
That's right, I said lounge
Lyrics © Universal Music Publishing Group, Sony/ATV Music Publishing LLC, Royalty Network
Written by: Keith Elam

Lyrics Licensed & Provided by LyricFind
To comment on specific lyrics,
highlight them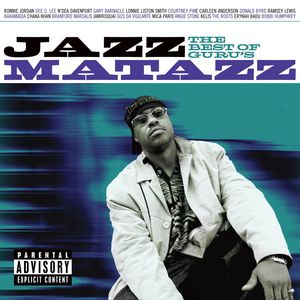 Loungin' (Jazz Not Jazz Mix)
There are two artists which use this name
1. A rapper from the United States and member of alternative hip-hop duo Gang Starr
2 A rapper from Ghana

1. (July 17, 1961 – April 19, 2010) was one half of the legendary hip hop duo Gang Starr and an accomplished solo artist. Guru, an acronym for Gifted Unlimited Rhymes Universal, originally began his hip hop career in Boston but due to lack of local support moved to New York where Gang Starr then blew up.
Read Full Bio
There are two artists which use this name
1. A rapper from the United States and member of alternative hip-hop duo Gang Starr
2 A rapper from Ghana

1. (July 17, 1961 – April 19, 2010) was one half of the legendary hip hop duo Gang Starr and an accomplished solo artist. Guru, an acronym for Gifted Unlimited Rhymes Universal, originally began his hip hop career in Boston but due to lack of local support moved to New York where Gang Starr then blew up. Guru was well known for his smooth voice; socially conscious and hardcore lyrics; and an effortless, confident delivery.

Founded in 1987, Gang Starr built a sizable following in the early 90's, releasing classic albums like Step in the Arena (1991) and Daily Operation (1992). Guru's lyrical style was based on battle rhymes delivered smoothly, modestly, and with sly wit; he typically avoided using overwhelming charisma, focusing instead on his rhyming ability. Over the years he even took on younger rappers, including Jeru the Damaja, as proteges. He is credited, along with DJ Premier, for the executive production of Jeru's debut, The Sun Rises in the East (1994).

In 1993, he released his first solo album, Jazzmatazz, Vol. 1. The album featured collaborations with Donald Byrd, N'Dea Davenport, Dee C. Lee, and Roy Ayers, whilst his second LP, Jazzmatazz, Vol. 2: The New Reality, featured Ramsey Lewis, Branford Marsalis, and Jamiroquai. The Jazzmatazz albums have been met with mixed reviews, Guru continued with Jazzmatazz, Vol. 3: Streetsoul (2000) and Baldhead Slick & Da Click (2001).

Moreover, recent Gang Starr albums have continued to garner Guru critical acclaim. Prominent Boston underground rapper Mr. Lif frequently cites Guru as a major stylistic influence; he appears as a guest with Lif on the Perceptionists' debut album, Black Dialogue (2005).

Besides Gang Starr, his Jazzmatazz and solo albums, Guru collaborated with countless artists since the early 90s. Not only in Hip-Hop, but also with artists from various genres such as pop, electronica/dance, acid jazz, and even brass bands.

His "first proper solo album", in his own words, was Version 7.0: The Street Scriptures (2005), released with the help of producer and new backup MC/producer Solar. The album reached #1 on the college hip-hop charts, but was a failure with both fans and critics. It still managed to sell relatively well for an independent release.

Guru's latest project is the fourth installment in the Jazzmatazz series, entirely produced by Solar. It was released in early June 2007 and received good reviews and comments from fans.

In 2007 Guru was ranked at 45 for the Top 50 MCs of our time: 1987-2007

On February 28th 2010, Guru suffered a severe heart attack and was in a coma. He passed away on April 19, 2010 at the age of 49 after a long battle with cancer.

2. Guru also refers to a Ghanaian hip-hop artist known for his single "LaPaz Toyota" and the song "Akayida" - basis for a azonto dance craze
Genre not found
Artist not found
Album not found
Search results not found
Song not found