Transit Ride
Guru Lyrics
'Watch the closing doors!'
Right now I'm gonna take you for a ride
Hold on tight, so you don't slip or slide
This train is packed, you don't get no seat, yup
You gotta stand on your tired feet
Where we goin' don't worry, you'll be there in a hurry
But you better watch you pockets cause the thieves work quickly
This is a New York transit thing
Don't wear too much gold and hide your diamond rings
And don't smile at anyone
'Cause people out here, they like to travel with handguns
You say you like this trip, well are you sure?
You better step lively, and watch the
Watch the closing doors
'Watch the closing doors!'
Here we go, as we ride, through the underground
Coming from Uptown, taking you downtown
Headed for Brooklyn, Brooklyn the planet
Somebody stinks in here, I hope you can stand it!
Homeless people everywhere holdin' cups for change
And if you don't have none, they may look at you strange
But this is all part of the scene
And yo check those kids 'cause they're startin' to scheme
See them lookin' at you up and down?
Oh yeah they can tell, that you're somebody from out of town
Think they won't harm you? Well they might
And that ain't right, but everyday is like a fight
'Watch the closing doors!'
Ah ah
I can't quit, I gotta do what I must
'Cause I can take you on a ride with the lyrics I bust
'Cause I'm a master, try to diss and I'll blast ya
Any wack MC that steps up, is gettin' plastered
Straight against the wall, 'cause I don't stall
I give em drama and trauma, til they all fall
And for those who don't know, about the city life
It's where we take no pity, and the kiddies are trife
Takin' the train is just part of it
The next stop is Brooklyn, you're comin' to the heart of it
You never know what will occur
So just keep to yourself and watch the closing doors
'Step lively' and uh
'Watch the closing doors!'
Lyrics © Universal Music Publishing Group, Sony/ATV Music Publishing LLC, Royalty Network
Written by: Keith Elam

Lyrics Licensed & Provided by LyricFind
To comment on specific lyrics,
highlight them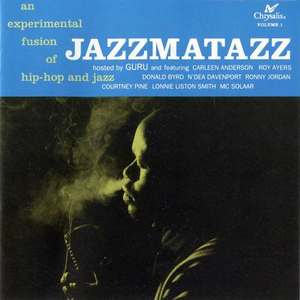 There are two artists which use this name
1. A rapper from the United States and member of alternative hip-hop duo Gang Starr
2 A rapper from Ghana

1. (July 17, 1961 – April 19, 2010) was one half of the legendary hip hop duo Gang Starr and an accomplished solo artist. Guru, an acronym for Gifted Unlimited Rhymes Universal, originally began his hip hop career in Boston but due to lack of local support moved to New York where Gang Starr then blew up.
Read Full Bio
There are two artists which use this name
1. A rapper from the United States and member of alternative hip-hop duo Gang Starr
2 A rapper from Ghana

1. (July 17, 1961 – April 19, 2010) was one half of the legendary hip hop duo Gang Starr and an accomplished solo artist. Guru, an acronym for Gifted Unlimited Rhymes Universal, originally began his hip hop career in Boston but due to lack of local support moved to New York where Gang Starr then blew up. Guru was well known for his smooth voice; socially conscious and hardcore lyrics; and an effortless, confident delivery.

Founded in 1987, Gang Starr built a sizable following in the early 90's, releasing classic albums like Step in the Arena (1991) and Daily Operation (1992). Guru's lyrical style was based on battle rhymes delivered smoothly, modestly, and with sly wit; he typically avoided using overwhelming charisma, focusing instead on his rhyming ability. Over the years he even took on younger rappers, including Jeru the Damaja, as proteges. He is credited, along with DJ Premier, for the executive production of Jeru's debut, The Sun Rises in the East (1994).

In 1993, he released his first solo album, Jazzmatazz, Vol. 1. The album featured collaborations with Donald Byrd, N'Dea Davenport, Dee C. Lee, and Roy Ayers, whilst his second LP, Jazzmatazz, Vol. 2: The New Reality, featured Ramsey Lewis, Branford Marsalis, and Jamiroquai. The Jazzmatazz albums have been met with mixed reviews, Guru continued with Jazzmatazz, Vol. 3: Streetsoul (2000) and Baldhead Slick & Da Click (2001).

Moreover, recent Gang Starr albums have continued to garner Guru critical acclaim. Prominent Boston underground rapper Mr. Lif frequently cites Guru as a major stylistic influence; he appears as a guest with Lif on the Perceptionists' debut album, Black Dialogue (2005).

Besides Gang Starr, his Jazzmatazz and solo albums, Guru collaborated with countless artists since the early 90s. Not only in Hip-Hop, but also with artists from various genres such as pop, electronica/dance, acid jazz, and even brass bands.

His "first proper solo album", in his own words, was Version 7.0: The Street Scriptures (2005), released with the help of producer and new backup MC/producer Solar. The album reached #1 on the college hip-hop charts, but was a failure with both fans and critics. It still managed to sell relatively well for an independent release.

Guru's latest project is the fourth installment in the Jazzmatazz series, entirely produced by Solar. It was released in early June 2007 and received good reviews and comments from fans.

In 2007 Guru was ranked at 45 for the Top 50 MCs of our time: 1987-2007

On February 28th 2010, Guru suffered a severe heart attack and was in a coma. He passed away on April 19, 2010 at the age of 49 after a long battle with cancer.

2. Guru also refers to a Ghanaian hip-hop artist known for his single "LaPaz Toyota" and the song "Akayida" - basis for a azonto dance craze
Genre not found
Artist not found
Album not found
Search results not found
Song not found