Beata viscera
Marie virginis
Cuius ad ubera
Rex magni nominis
Veste sub altera
Vim celans numinis
Dictavit federa
Dei et hominis
O mira novitas
Et novum gaudium
Matris integrita
Post puerperium
Populus gentium
Sedens in tenebris
Surgit ad gaudium
Partus tam celebris
Iudea tedium
Fovet in latebris
Cor gerens conscium
Delicet funebris
O mira novitas
Et novum gaudium
Matris integrita
Post puerperium
Beata viscera
Marie virginis
Cuius ad ubera
Rex magni nominis
Veste sub altera
Vim celans numinis
Dictavit federa
Dei et hominis
O mira novitas
Et novum gaudium
Matris integrita
Post puerperium
Contributed by James O. Suggest a correction in the comments below.
To comment on specific lyrics,
highlight them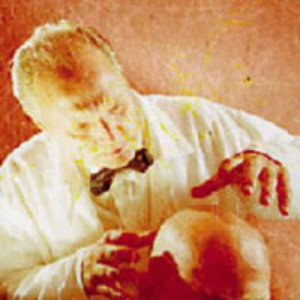 Höyry-Kone was a Finnish band that emerged in the mid-1990s and released two albums. Their music combines the avant-garde with hard rock and metal, featuring extensive use of the cello and violin in addition to more traditional instruments such as guitar, drums and bass. The band's structure resembles a double power trio at first, except that violin/cello replace the second bass. Perhaps the defining factor of the band's sound, however, is Topi Lehtipuu's operatic voice.
Read Full Bio
Höyry-Kone was a Finnish band that emerged in the mid-1990s and released two albums. Their music combines the avant-garde with hard rock and metal, featuring extensive use of the cello and violin in addition to more traditional instruments such as guitar, drums and bass. The band's structure resembles a double power trio at first, except that violin/cello replace the second bass. Perhaps the defining factor of the band's sound, however, is Topi Lehtipuu's operatic voice. He is currently a regular performer at the Opera of Paris and is one of the most sought after lyrical tenors in the world. The band was friendly with fellow proggers Anekdoten. After their sophomore effort, the band broke up, but several of the members went on to form the instrumental Alamaailman Vasarat, who play a jazzy mix of death metal and klezmer, among other things.

The band's name means Steam Engine.

Last known line-up
Matti Jalava - Vocals
Erno Haukkala - Trombone (Alamaailman Vasarat, Calypso King & The Soul Investigators, Soul Captain Band)
Teemu Hänninen - Drums (Alamaailman Vasarat)
Tuomas Hänninen - Guitar
Marko Manninen - Cello (Alamaailman Vasarat, Kalastaja)
Jussi Kärkkäinen - Guitar, Pump Organ
Jarno Sarkula - Bass, Pump Organ, Soprano Saxophone (Alamaailman Vasarat)
Former/past member(s)
Jukka Hannukainen - Vocals, Synthesizers, Programming
Nina Lehos - Oboe
Topi Lehtipuu - Vocals, Violin

Höyry-Kone have appeared on the Iron Maiden tribute compilation "Slave to the Power" performing a heavy orchestral version of "The Trooper".

from:
http://www.metal-archives.com/band.php?id=11925
Genre not found
Artist not found
Album not found
Search results not found
Song not found