Devil in Me
Halsey Lyrics
You said I would've hit the ceiling
You said I
You said I should eat my feelings
Head held high
I won't take anyone down if I crawl tonight
But I still let everyone down when I change in size
And I went tumbling down tryna reach your high
But I scream too loud if I speak my mind
I don't wanna wake it up
I don't wanna wake it up
I don't wanna wake it up
The devil in me
I don't wanna wake it up
I don't wanna wake it up
I don't wanna wake it up
The devil in me
Gotta wake up, gotta wake up
Gotta wake up, gotta wake up
Gotta wake up, come back to life
Gotta wake up, gotta wake up
Gotta wake up, gotta wake up
Gotta wake up, come back to life
You said I'm too much to handle
You said I
Shine too bright, I burnt the candle
Flew too high
I won't take anyone down if I crawl tonight
But I still let everyone down when I change in size
And I went tumbling down tryna reach your high
But I scream too loud if I speak my mind
I don't wanna wake it up
I don't wanna wake it up
I don't wanna wake it up
The devil in me
I don't wanna wake it up
I don't wanna wake it up
I don't wanna wake it up
The devil in me
Gotta wake up, gotta wake up
Gotta wake up, gotta wake up
Gotta wake up, come back to life
Gotta wake up, gotta wake up
Gotta wake up, gotta wake up
Gotta wake up, come back to life
Now I gotta wake it up
Now I gotta wake it up
Now I gotta wake it up
The devil in me
Now I gotta wake it up
Now I gotta wake it up
Now I gotta wake it up
The devil in me
Gotta wake up, gotta wake up
Gotta wake up, gotta wake up
Gotta wake up, come back to life
Gotta wake up, gotta wake up
Gotta wake up, gotta wake up
Gotta wake up, come back to life
Lyrics © Universal Music Publishing Group, Sony/ATV Music Publishing LLC
Written by: ASHLEY FRANGIPANE, GREG KURSTIN, SIA FURLER

Lyrics Licensed & Provided by LyricFind
To comment on specific lyrics,
highlight them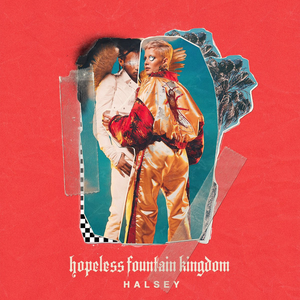 "Devil In Me" is dark themed track talking about the demons that live deep inside everyone and the internal turmoil everyone faces in their life. The song marks the first collaboration between Australian singer-songwriter, Sia and Halsey. Halsey said via Twitter that Sia was able to bring a wailing sound to the song which she loved.

The song seems to hint at Halsey's previous works including, "Hold Me Down" and "Control" from her debut album, Badlands where she also talks about her demons linking to having bipolar disorder.
Read Full Bio
"Devil In Me" is dark themed track talking about the demons that live deep inside everyone and the internal turmoil everyone faces in their life. The song marks the first collaboration between Australian singer-songwriter, Sia and Halsey. Halsey said via Twitter that Sia was able to bring a wailing sound to the song which she loved.

The song seems to hint at Halsey's previous works including, "Hold Me Down" and "Control" from her debut album, Badlands where she also talks about her demons linking to having bipolar disorder.

Halsey published a poem by the same name in her poetry collection, "I Would Leave Me If I Could."
Genre not found
Artist not found
Album not found
Search results not found
Song not found