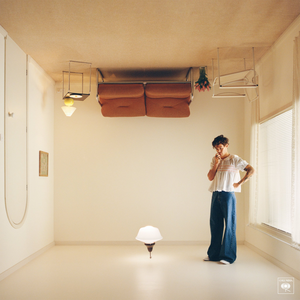 "Daylight" is the fifth track off Harry Styles' third studio album, Harry's …
Read Full Bio ↴
"Daylight" is the fifth track off Harry Styles' third studio album, Harry's House. Styles unveiled the song a day before its release at the Citi Concert Series for the TODAY show.

The song focuses on a lover who pushed Harry away despite all his affection for her. In a May 2022 interview for the Howard Stern Show, the British singer declared that "Daylight" was written in a "stream-of-consciousness" style after ruminating on a relationship all night—the band stayed up until daylight to finish composing the song.

Additionally, after numerous speculations, Styles confirmed to Howard Stern that the song had no connection to his former girlfriend Taylor Swift's track "Daylight" from the album "Lover"—a song about finding a healthy new love after a period of toxic relationships.

"You are reading too much into it. You know I'd love to tell you that you're spot-on, but you're not. We will always wonder."

"We were like, 'We have to find a way to stay awake and finish this, because if we all go to bed, then this won't turn out the way it would if we finished tonight.' So we powered through, finished it and went down to the beach as the sun was coming up and it was like, 'Okay. Yeah.' It felt correct that we'd finished it in that place. Life, and songs in particular, are so much about moments. In surfing, for example, sometimes you don't get the wave and sometimes the wave comes and you haven't practised. But every now and again, the wave comes and you're ready, you've practised enough that you can ride it. Sometimes when the songs write themselves like that, it feels like, 'Okay, there's a reason why sometimes I sit out there, falling off the board a bunch. It's for this moment."

– via Apple Music
Jump to: Overall Meaning ↴ Line by Line Meaning ↴
I'm on the roof
You're in your airplane seat
I was nose bleedin'
Lookin' for life out there
Readin' your horoscope
You were just doing cocaine
In my kitchen, you never listen
I hope you're missin' me by now
If I was a bluebird
I would fly to ya
You'd be the spoon
Dip you in honey so I could be stickin' to you
Daylight, you got me cursin' the daylight (ooh)
Daylight, you got me cursin' the daylight (ooh)
Daylight, you got me callin' at all times (ooh)
Ain't gonna sleep 'til the daylight (ooh)
Out of New York
I'm on the comedown speed
We're on bicycles
Sayin' there's life out there
You got the antidote
I'll take one to go, go, please
Get the picture, cut out my middle
You ain't got time for me right now
If I was a bluebird
I would fly to ya
You'd be the spoon
Dip you in honey so I could be stickin' to you
(Ooh)
(Ooh)
Daylight, you got me callin' at all times (ooh)
Ain't gonna sleep 'til the daylight (ooh)
Daylight, you got me cursin' the daylight (ooh)
Daylight, you got me cursin' the daylight (ooh)
Daylight, you got me callin' at all times (ooh)
Ain't gonna sleep 'til the daylight (ooh)
If I was a bluebird
I would fly to ya
You'd be the spoon
Dip you in honey so I could be stickin' to you
Overall Meaning
The lyrics of "Daylight" by Harry Styles can be interpreted as a yearning for connection with someone who is physically absent. The first verse finds the singer on the roof, while the other person is in an airplane, representing not only distance but possibly also a class difference. The singer indicates they were looking for "life out there," while the other person was "just doing cocaine," further highlighting a sense of existential crisis within the singer.
The chorus repeats the phrase "Daylight, you got me cursin' the daylight," indicating a sense of frustration that the daylight is separating them from the other person. The line, "Ain't gonna sleep 'til the daylight" suggests the singer is struggling to cope with their own loneliness and longing for the other person.
The second verse suggests that the singer and the other person are in different places, with the singer on a comedown speed in New York City and the other person on bicycles claiming that there is "life out there." The other person has "the antidote," suggesting they have the remedy for the singer's emotional pain, but they are too busy for the singer right now.
Overall, the song is about the longing for connection with someone who is physically and/or emotionally distant. The singer is struggling to cope with their own loneliness and is eager to be with the other person who they believe has the solution to their problems.

Line by Line Meaning
I'm on the roof
I am in a high place, possibly physically, emotionally or mentally.
You're in your airplane seat
You are in a different place, both physically and emotionally, than I am.
I was nose bleedin', Lookin' for life out there
I was struggling and searching for something meaningful and fulfilling in my life.
Readin' your horoscope
Searching for signs of hope or direction through astrology.
You were just doing cocaine In my kitchen, you never listen
You were distracted by drugs and not paying attention to me and my concerns.
I hope you're missin' me by now
I wish you were feeling the same sense of loss and separation as I do.
If I was a bluebird I would fly to ya You'd be the spoon Dip you in honey so I could be stickin' to you
I would do anything to be closer to you, even if it meant transforming myself into something else entirely.
Daylight, you got me cursin' the daylight (ooh)
I am frustrated and upset with myself for being so hung up on you, especially in the light of day when my thoughts are clearer.
Daylight, you got me callin' at all times (ooh)
I am constantly thinking about you and feel the need to reach out to you, regardless of whether it is an appropriate time or not.
Ain't gonna sleep 'til the daylight (ooh)
I am too consumed by my feelings for you to be able to rest or relax until it is daylight again.
Out of New York I'm on the comedown speed We're on bicycles Sayin' there's life out there
We are both trying to escape our problems and find meaning in our lives, but we are taking different paths to get there, with mine leading me to a sense of exhaustion and desperation.
You got the antidote I'll take one to go, go, please
You seem to have found a solution or remedy to your problems, but I can't access it easily or effortlessly, despite my desire to do so.
Get the picture, cut out my middle You ain't got time for me right now
I feel like you are dismissing or ignoring me, and I am desperately trying to find a way to be part of your life and be seen and heard by you.
Lyrics © Universal Music Publishing Group, CONCORD MUSIC PUBLISHING LLC
Written by: Harry Edward Styles, Thomas Edward Percy Hull, Tyler Sam Johnson

Lyrics Licensed & Provided by LyricFind
To comment on or correct specific content,
highlight it
Genre not found
Artist not found
Album not found
Search results not found
Song not found