I can feel it coming in the air tonight
And I've been waiting for this moment for all my life
Can you feel it calling in the air tonight
Cos I've been waiting for this moment for all my life
Well if you told me you were drowning
I would not lend a hand
I've seen your face before my friend
But I don't know if you know who I am
I was there and I saw what you did
I saw it with my own two eyes
So you can wipe off that grin, I know where you've been
It's all been a pack of lies
I can feel it coming in the air tonight (Oh Lord)
I've been waiting for this moment for all my life (Oh Lord)
Can you feel it coming in the air tonight (Oh Lord)
I've been waiting for this moment for all my life (Oh Lord x2)
And I remember, I remember don't worry
How could I ever forget, it's the first time, the last time we ever met
I know the reason why you keep your silence up
No you don't fool me
And the hurt doesn't show; and the pain still grows
No stranger to you and me
Can you feel it calling in the air tonight
'Cause I've been waiting for this moment for all my life
Can you feel it coming in the air tonight
'Cause I've been waiting for this moment for all my life
Can you feel it in the air tonight (Oh Lord x6)
Can you feel it in the air tonight
'Cause I've been waiting for this...
Contributed by Charlotte H. Suggest a correction in the comments below.
To comment on specific lyrics,
highlight them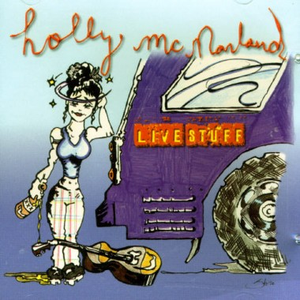 Holly McNarland (born in Winnipeg, Manitoba) is a Canadian singer-songwriter. Her more noteworthy songs include "Stormy," "Elmo," and "Numb."

She collaborated with Matthew Good for his song "Flight Recorder From Viking 7," which can be found on his album "Loser Anthems" and with fellow Canucks of The Tea Party on "Wishing you would stay".
Genre not found
Artist not found
Album not found
Search results not found
Song not found