A Coronal Of Silver And Gold
Howard Shore Lyrics
THE REVELATION OF THE RINGWRAITHS
text by PHILIPPA BOYENS, translation by DAVID SALO
( ADÚNAIC )
Nêbâbîtham Magânanê.
Nêtabdam dâur-ad.
Nêpâm nêd abârat-aglar
Îdo Nidir nênâkham.
Bârî'n Katharâd.
(( We renounce our maker.
We cleave to the darkness.
We take unto ourselves the power and the glory.
Behold! We are the Nine.
The Lords of Unending Life. ))
Contributed by Mackenzie K. Suggest a correction in the comments below.
To comment on specific lyrics,
highlight them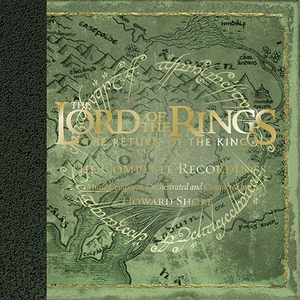 A Coronal Of Silver And Gold
Finally reaching the Cross-roads, Frodo and Sam pause. Supported by the Pensive Setting of the Shire theme, Sam reassures Frodo, telling him that they will make it both to Mordor and then back home. Frodo seems unconvinced, but continues forward as the Fellowship theme honors the hobbits' resolve.

Down the path a little, the troupe encounters a statue, once erected by the men of Gondor to honor their king. The monument is now defaced, however, decapitated and marred with blood-red Orc scrawl.
Read Full Bio
Finally reaching the Cross-roads, Frodo and Sam pause. Supported by the Pensive Setting of the Shire theme, Sam reassures Frodo, telling him that they will make it both to Mordor and then back home. Frodo seems unconvinced, but continues forward as the Fellowship theme honors the hobbits' resolve.

Down the path a little, the troupe encounters a statue, once erected by the men of Gondor to honor their king. The monument is now defaced, however, decapitated and marred with blood-red Orc scrawl. Half buried in the forest's detritus, the head now wears a crown of wild flowers, its stone eyes ever looking towards the darkening sky. But in a fleeting moment, Sauron's fume of smoke parts, and a single beam of light strikes the statue's fallen head, illuminating it. Here Shore introduces a proposed theme, the first in his collection dedicated to the upcoming Fourth Age of Middle-earth. Gondor Reborn brightens the orchestra with a glistening line beaming high in the ensemble that at once resembles the Minas Tirith theme and is yet unlike anything we've heard before. The melody dissipates as quickly as the sky shrouds over again, but in it lies the promise of a new tomorrow for Middle-earth.

Gollum, acting in servile mode once again, urges the hobbits not to dawdle among such observations. Subtle hints of the Pity theme's opening triplets lope beside him, likewise playing the Sméagol role without genuine commitment.

Back in Gondor, Gandalf and Pippin once again ponder the growing fires glaring at them from the east. Sunless melodies for low strings and rolling timpani grumble through the orchestra, though an isolated moment of sprightly hobbit-esque clarinet and flute writing colors a hopeful mention of Frodo and Sam. But Gandalf tells Pippin of the coming of the Witch-king of Angmar, and the orchestra sinks back to its sonic depths, the six-note Evil/History of the Ring hybrid sounding in the brass.

Scrambling up rock, Gollum leads the hobbits to the entrance of Minas Morgul. Frodo staggers towards the front gate, entranced, his mind overwhelmed by the Ring. Sam and Gollum pull him back, but something is amiss. Minas Morgul shakes, violins begin to divide into eight-part clusters, chorus and brass clotting beneath them, their own massive textures thickening the palette. An ensemble-wide crescendo begins as the orchestra and chorus' (see text The Revelation of the Ringwraiths) ground lifts upwards, spiking into the sky. Minas Morgul sends up a beacon of coiling green light, and from the pits below rises the Witch-king, mounted on the leathery back of his winged beast. The Descending Third motif tramps through the score, bracketed beneath a muted brass and rhaita statement of the Evil of the Ring theme in its classic setting bedecked in exotic harmonies. Low strings begin to anchor the music, odd asymmetrical accents slowly resurrecting an old ally—the Five Beat Pattern. But the refugees of Isengard no longer have its theme to drive them. Shore, instead, offers this composition's second potential Fourth Age theme, the Witch King/the Orcs of Mordor. Climbing in an unchecked bid for supremacy, this new theme combines the inverted Threat of Mordor motif with rhythmic suggestions of the old Isengard theme. As before, Mordor is summoning its power, moving to crush mankind once and for all.

While the Orcs begin their march to Gondor, Frodo, Sam and Gollum begin to climb the secret staircase along the Morgul Vale. The One Ring slips by Sauron's forces undetected, marked only by Shore's Ring Quest Theme, Dangerous Passes, the same theme that played as the Fellowship began to traverse the steep inclines of Caradhras.

UNUSED CONCEPT:
Due to reediting, neither the music for Gandalf and Pippin's balcony conversation nor select passages at Minas Morgul were realized in the final film.

The scene with which Dangerous Passes was aligned was eventually edited out, meaning that Dangerous Passes never actually appears in the film.

TEXTS
THE REVELATION OF THE RINGWRAITHS
Text by Philippa Boyens
Adûnaic Translation by David Salo
FIRST HEARD: DISC ONE | TRACK FOURTEEN
Nêbâbîtham magânanê. | We renounce our Maker.
Nêtabdam dâur-ad. | We cleave to the darkness.
Nêpâm nêd abârat-aglar. | We take unto ourselves the power and the glory
Îdô nidir nênâkham | Behold! We are the Nine
Bârî'n katharâd | The Lords of Unending Life.

(c) The Annotated Score (The Music of The Lord of the Rings Films)
Genre not found
Artist not found
Album not found
Search results not found
Song not found