Marshalling at Dunharrow
Howard Shore Lyrics
THE DIMHOLT ROAD
text by PHILIPPA BOYENS, translation by DAVID SALO
( SINDARIN )
Go vegil tolo hí
Egor íriel firi
'Ni men hen ú veth 'war.
(( Come armed,
or prepared to die.
There is no other end to this road. ))
- - -
THE BLADE THAT WAS BROKEN
text by PHILIPPA BOYENS, translation by DAVID SALO
( SINDARIN )
Achannen, andaminnen
Aeg a celair
Naur'wain
An ardhon 'wain
(( Reforged, remade
Sharp and bright
A new fire
For a new world ))
Dan ma istach han maetho?
Nu lach?
I'was dín
Sereg in iorath
I hautha den na daew
Lungas e ndaged
I hardhant i chathol.
(( But you can still feel it, can't you?
Beneath the flame?
The stain of it
The blood of the old
That seeped into the hilt.
The weight of killing
That tempered the blade ))
Ortho i vegil Elessar.
Rango in gyrth
An el rangatha gurth.
(( Take up the sword, Elessar
 Embrace the dead,
 For death shall yet embrace you. ))
Contributed by Adeline P. Suggest a correction in the comments below.
To comment on specific lyrics,
highlight them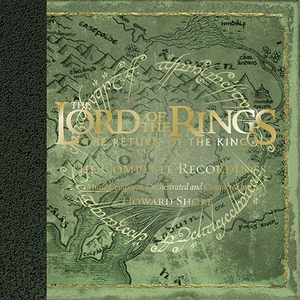 En route to Minas Tirith, the Rohirrim amass their collective forces at Dunharrow. Although a society of Nature, Rohan's theme is routed to a squared-away series of contrapuntal statements transmitted between strings, French horns and Hardanger. Even the melody line itself is hammered into a more aggressive countenance. The telltale rising minor third interval that traditionally opens the theme is now stretched a whole tone higher, into a perfect fourth—an interval only a whole step away from the declamatory opening of the Gondor theme.
Read Full Bio
En route to Minas Tirith, the Rohirrim amass their collective forces at Dunharrow. Although a society of Nature, Rohan's theme is routed to a squared-away series of contrapuntal statements transmitted between strings, French horns and Hardanger. Even the melody line itself is hammered into a more aggressive countenance. The telltale rising minor third interval that traditionally opens the theme is now stretched a whole tone higher, into a perfect fourth—an interval only a whole step away from the declamatory opening of the Gondor theme. This is Rohan at the most regal, most urban end of their capacity. As they near Gondor they become, in a way, more like it. And yet, they're able to retain their essential sensitivity—the connection to Middle-earth that is so crucial to their existence. As the militaristic rigor subsides that gentility emerges. Riding among the troops, rallying them, Théoden is dismayed to find so few have come. French horns sing the Rohan theme more softly, over tremolo strings.

The string writing suddenly changes its tenor, rising weightlessly until it hangs mistily over the orchestra. Gimli and Legolas peer down the valley of Harrowdale as once again the Army of the Dead begins. But this time it is no far off twinge. Aragorn stares down the narrow mouth of the road. Men's voices are audible, calling with the text of "The Dimholt Road": "Come armed/or prepared to die./There is no other end/to this road." The faintest hints of a glowing apparition can be seen, challenging Aragorn's gaze. Bassoon and hanging Tibetan gongs twist and contort behind the broad choral lines as the aural equivalents of reanimated bone and battle-ravaged metal. The Army of the Dead awaits.

Within the nighttime encampment, Merry readies himself for battle—or at least does so to the limited extent of hobbit abilities. For all their resolve, the Shirefolk are not built for war. Woodwinds and pizzicato strings tickle the edges of the Hobbits' Antics (and, by proxy, the End Cap) as Merry, bedecked in his new ill-fitting armor, practices his blade work before Éowyn. Out of the violas and celli flows a darker melodic shape, a line that seems at once informed by the B phrase of the Fellowship theme, the Rohan Fanfare's minor mode and the canorous linearity of the Shire theme. This is Merry the warrior. Hobbits may lack a physical aptitude for battle but, perhaps better than most, they understand its responsibilities and sadness. Éomer chuckles at the sight of Merry, doubting his abilities. But Éowyn knows that her brother doubts her as well, and protests, creating her own tie to Merry's warrior theme.

Beneath Dunharrow, upon the Stair of the Hold, a cloaked rider approaches, his coming infecting Aragorn's sleeping mind with horrific visions. He sees himself thrust towards the Dimholt Road, he sees Arwen's Evenstar pendant shattered, and he sees Arwen upon her death bed, alone, deprived of his presence. The Army of the Dead theme plays again, preponderantly developed. Aragorn has long grappled with his inheritance, but his concerns are now drawing to a head. He fears the Paths of the Dead as he fears his own weaknesses. But his love for Arwen has caused him to fear even more for another, to put her safety before his. Aragorn is beginning to adopt the mindset of a benevolent ruler. The Army of the Dead theme crescendos and suddenly cuts off. With a start, Aragorn wakes from his vision. The guard at his door informs him he has a visitor.

UNUSED CONCEPT:
The Army of the Dead theme playing under Aragorn's nightmare was not used in the film. On disc, it ties Aragorn's fears and his understanding of his responsibilities—a telling psychological portrait of a leader pushed to serve by his concern for others.

TEXTS
THE DIMHOLT ROAD
Text by Philippa Boyens
Sindarin Translation by David Salo
FIRST HEARD: DISC TWO | TRACK SIX
Go vegil tolo hí | Come armed,
Egor íriel firi | or prepared to die.
'Ni men hen ú veth 'war. | There is no other end to this road.

THE BLADE THAT WAS BROKEN
Text by Philippa Boyens
Sindarin Translation by David Salo
FIRST HEARD: DISC TWO | TRACK SIX
Achannen, andaminnen | Reforged, remade
Aeg a celair | Sharp and bright
Naur 'wain | A new fire
An ardhon 'wain | For a new world
Dan ma istach han maetho? | But you can still feel it, can't you?
Nu lach? | Beneath the flame?
I 'was dín | The stain of it.
Sereg in iorath | The blood of the old
I hautha den na daew | That seeped into the hilt.
Lungas e ndaged | The weight of killing,
I hardhant i chathol. | That tempered the blade.

Ortho i vegil Elessar | Yake up the sword, Elessar
Rango in gyrth | Embrace the dead,
An le rangatha gurth | For death shall yet embrace you.

INSTRUMENTS
ROHAN
J.R.R. Tolkien based Rohan's society on the Northern European lands of the Nordic peoples. These cultures (both Middle- and real earth) were founded upon simple ideals: the relationship between men and the land, men and animals, pride, power, self-reliance. Reflecting these values, Shore set the music of Rohan in the same thickset brass style as the other music for the World of Men, but intermixed with solo strings that stress a rural type of sophistication.
Returning:
HARDANGER FIDDLE
Listening Example: Disc One | Track Five | 1:02
Although the composer was previously aware of many of the rare instruments in The Lord of the Rings' collection, Shore had never come across the Hardanger fiddle before he began studying Nordic music as a basis for Rohan. "It was part of the research for The Two Towers, looking towards Northern European sounds and thinking about the Viking, Nordic culture." Often referred to as the national instrument of Norway, the Hardanger fiddle was thought to have been invented in the mid 1600s. The tone is bracing and emphatic, but moderate at the same time. In Norwegian culture the instrument was used to relate history and lore, and it functions much the same in the music of Rohan. "The fiddle creates a nice counterpoint to the wooden flutes and the whistle in the other cultures." When the Rohan culture is introduced, it is proud but sorrowful—a once great civilization beset by a failing king and unending assaults. Here the Hardanger underlines a brittleness within the culture.

THE ARMY OF THE DEAD
Debuting:
HANGING TIBETAN GONGS
Listening Example: Disc Two| Track Eleven | 1:11
A large assortment of these hanging metal plates represents the muted clang of long-ago war behind the ghostly men's chorus of the Army of the dead. Though the gong is now a common member of the percussion family, it was first introduced to the orchestra by composer, François Joseph Gossec, who used it, appropriately enough, in a funeral march.

(c) The Annotated Score (The Music of The Lord of the Rings Films)
Genre not found
Artist not found
Album not found
Search results not found
Song not found