Roots And Beginnings
Howard Shore Lyrics
THE SEDUCTION OF THE RING
text by J.R.R. TOLKIEN, translation by DAVID SALO
( QUENYA )
I tuo, i macil...
Astaldaron mauri.
Nai corma macilya
A lelyat túrenna!
(( The strength, the weapon...
The needs of the valiant.
Be the ring of your weapon
Go to victory! ))
Contributed by Michael F. Suggest a correction in the comments below.
To comment on specific lyrics,
highlight them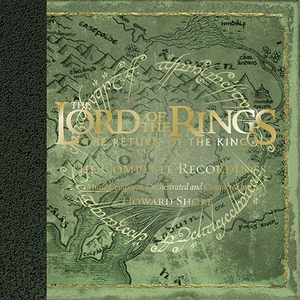 The Return of the King begins with an uncharacteristically gentle and bucolic tone. Oboe and strings introduce a purling waltz that soon sweeps a familiar melody to the fore. As it has twice before, the History of the Ring theme accompanies the on-screen title, and the final third of The Lord of the Rings begins.

But this is not the tumultuous Middle-earth of present day. This is Middle-earth centuries earlier, a land that has not known the burden of the One Ring for over two thousand years.
Read Full Bio
The Return of the King begins with an uncharacteristically gentle and bucolic tone. Oboe and strings introduce a purling waltz that soon sweeps a familiar melody to the fore. As it has twice before, the History of the Ring theme accompanies the on-screen title, and the final third of The Lord of the Rings begins.

But this is not the tumultuous Middle-earth of present day. This is Middle-earth centuries earlier, a land that has not known the burden of the One Ring for over two thousand years. Shore's music is bright—playful, even. Sprightly woodwinds dance around two small hobbits fishing upon the Gladden river. This is hobbit music, but of a different breed. The lilting waltz gives way to two-step phrases, more characteristic of hobbit music, and a chipper variant on the Hobbits Antics figure (introduced in The Two Towers) playfully builds until, with a twittering trill, it deposits one hobbit in the river's waters.

The music darkens for the first time, only to be parted by another of the hobbits' signature sounds, the solo fiddle. But the melody offers no playfulness, no buoyancy. Once again the History of the Ring sounds—the One Ring has lured another hand. Déagol pulls the Ring from the silt and scrambles up the riverbank to examine his find… and to find himself examined. The Seduction of the Ring sounds in the boys chorus (see vocalists list, the London Oratory School Schola) as Déagol peels his fingers back, exposing the powerful ornament. Close behind, Sméagol, Déagol's fishing companion, spots the glinting Ring. If Déagol is intrigued, Sméagol is bewitched. The transfixing Seduction theme continues as Sméagol leans in close and demands, "Give us that, Déagol, my love."

Sméagol lurches towards the Ring, initiating a rhythmic stirring in the strings and low double reeds. Low brass chords now begin to gnaw at the texture as Déagol ducks away. The hobbits inexplicably cast their friendship aside as the two diminutive characters begin to wrestle tooth and nail for ownership of the Ring. Unrelenting, Sméagol's attack is met with a chilling musical counterpart—an intersection of the Seduction and Evil themes for the One Ring. This is to be an overriding trend in Howard Shore's score to The Return of the King. The Fellowship of the Ring and The Two Towers illustrated, through the hobbits' eyes, the ever-expanding scope of Middle-earth, and the limitless extent to which the One Ring had affected it. But here, as the story draws towards its conclusion, that scope, the breadth of storytelling, has come to singularly focus upon the plight of the One Ring. Shore's diverse thematic catalogue begins to fold inwards, combining material as it reaches a common terminus.

Behind Sméagol and Déagol's conjoined Seduction and Evil themes another line forms, crawling and scratching along the orchestra's bottom. The Descending Third figure is but one of many ancillary lines associated with Mordor, yet to hear it here, so far from its home, associated with two simple characters who were, only moments ago, fishing upon a cool blue river, is cruelly upsetting.

But the angular music of Mordor is appropriate to this setting. Under the Ring's overwhelming influence, Sméagol murders Déagol. Pinched settings of the History theme mark a new hand bearing the Ring. A spindly oboe line descends, trickling down through the orchestra as Sméagol flees for the Misty Mountains and begins to change. Time passes as the History theme reemerges, encountering a new rising and falling line outlining minor harmonies upon its return. As Sméagol twists and withers we hear the earliest incarnations of The Pity of Gollum.

UNUSED CONCEPT:
Both the music for Sméagol and Déagol's fight and the music for Sméagol's transformation into Gollum were not used in the film. Gollum's transformation music marks the lengthiest unused composition in The Return of the King.

TEXTS
THE SEDUCTION OF THE RING
Text by J. R. R. Tolkien
Quenya Translation by David Salo
FIRST HEARD: DISC ONE | TRACK ONE
I tuo, i macil… | The strength, the weapon…
Astaldaron mauri. | The needs of the valiant.
Nai corma macilya | Be the ring of your weapon
A lelyat túrenna! | Go to victory!

(c) The Annotated Score (The Music of The Lord of the Rings Films)
Genre not found
Artist not found
Album not found
Search results not found
Song not found