DON'T LET GO
text by PHILIPPA BOYENS, translation by DAVID SALO
( SINDARIN )
Anírach únad
Egor gurth hen
Han cenin vi chen lín
Egor ú-erin le devi
Tellin men achae
Brennin men anann
Rago! Ú-erich leithio,
Ú-erich o nin gwanno.
(( You want nothing more
Than this death.
I see it in your eye.
But I cannot let you
We have come too far
We have held on too long.
Reach! You cannot let go,
You cannot leave me. ))
- - -
THE DESTRUCTION OF THE RING
text by PHILIPPA BOYENS, translation by DAVID SALO
( SINDARIN )
Mi naurath Orodruin
Boe hedi i Vín
Han i vangad i moe ben bango
Sin eriol natha túr in úgarnen
Sin eriol ûm beleg úgannen
(( Into the fires of Orodruin
The One must be cast;
This the price, that must be paid,
Only thus its power will be undone.
Only thus, a great evil, unmade. ))
Ú cilith 'war.
Ú men 'war
Boe min mebi.
Boe min bango.
(( There is no other choice.
There is no other way.
One of you must take it,
One of you must pay. ))
- - -
NOT ONCE, NOT EVER
text by PHILIPPA BOYENS, translation by DAVID SALO
( SINDARIN )
Dannen le
A ú-erin le regi
Rang ail le iestannen
Lû ail le tegin na hen.
Gwannach o innen ului
Ú lû erui, ului.
(( You have fallen.
And you cannot reach you.
Every step I willed you on,
Every moment I lead you to this.
You never left my mind,
Not once, not ever ))
Contributed by Sophia R. Suggest a correction in the comments below.
To comment on specific lyrics,
highlight them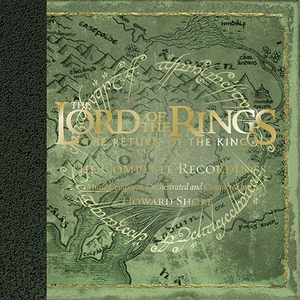 Gollum and the Ring fall into the molten rock below. With one last twinge of Ring-lust Gollum attempts to extend his hand above the fires. But to no avail. Gollum sinks below and dies, his precious Ring deposited upon the lava's surface. But Frodo has not fallen. With his one good hand he clings to the rocks. Sam scrambles to the precipice and extends his arm towards Frodo. Below in the intense fire, the Ring's inscription glows brightly like an inarticulate scream.
Read Full Bio
Gollum and the Ring fall into the molten rock below. With one last twinge of Ring-lust Gollum attempts to extend his hand above the fires. But to no avail. Gollum sinks below and dies, his precious Ring deposited upon the lava's surface. But Frodo has not fallen. With his one good hand he clings to the rocks. Sam scrambles to the precipice and extends his arm towards Frodo. Below in the intense fire, the Ring's inscription glows brightly like an inarticulate scream. The Ring's themes attempt to collect themselves, the first pitches of History—or Evil—sliding glassily in the violins. Reduced to its quintessence, the Ring's melodic line rises a half-step up-and-back-down. It is the antithesis of everything the Fellowship has represented. Through hours of music, the Fellowship's whole-step down-and-back-up has come to represent Middle-earth's honor. This, then, is everything it battles against—Middle-earth's would-be nadir. "Don't let go," Sam screams to Frodo. The orchestra lifts through adjacent major chords, a melody of gladdened perseverance on the cusp of existence. Frodo reaches up to Sam and begins to climb back to solid ground.

The chorus catches in an harmonic stasis, intoning a chant-like line. Holding perfectly still upon the fires of Mount Doom, the One Ring, the source of Sauron's power, the root of evil in Middle-earth, melts into nothingness.

It is destroyed.

The adjacent chords sound again, the perseverance melody now honoring the battle at the Black Gate. Sauron's host turn their attention to Barad-dûr where the great eye peels wide, trembling in pain. The full force of the orchestra and chorus (see The Destruction of the Ring text) gathers the melodic line that once represented the Fate of the Ring and reforms the Ring themes' despair to embracing hope. The Fate of the Ring is revealed in unchecked splendor as The Destruction of the Ring—the final Ring theme, its Fourth Age theme. Barad-dûr shatters and falls; Middle-earth opens the land and swallows the Orcs. Sauron's eye is extinguished. The Destruction of the Ring has ushered in the Fourth Age of Middle-earth.

Gondor Reborn, its Fourth Age theme, now sounds to its full length, a silver trumpet at its head.

The joyous Destruction of the Ring celebrates, once again, the carillon of Middle-earth's victory. Mount Doom explodes into a crest of fire… and the heroes pause. Did Frodo and Sam, their task complete, escape? Did the Ring claim them as its final victims?

Evil Times begins again as a reluctant chaconne (see Not Once, Not Ever text) —one which recalls another figure from the past, Gandalf's Farewells. With four similarly mournful chords, Gandalf the Grey once bid his friends goodbye. It now appears he, and the rest of the Fellowship, must say goodbye to Frodo and Sam.

UNUSED CONCEPT:
The Original Soundtrack Album to The Return of the King featured an earlier draft of Shore's music for the Ring's moment of destruction.

IN THE MAKING:
The fall of Barad-dûr was altered in the final film with an insert of music intended for Aragorn's coronation. Heard here is Shore's original, complete composition.

TEXTS
DON'T LET GO
Text by Philippa Boyens
Sindarin Translation by David Salo
FIRST HEARD: DISC FOUR | TRACK TWO
Anírach únad | You want nothing more
Egor gurth hen | Than this death.
Han cenin vi chen lín | I see it in your eye.
Egor ú-erin le devi | But I cannot let you
Tellin men achae | We have come too far
Brennin men anann | We have held on too long.
Rago! Ú-erich leithio, | Reach! You cannot let go,
Ú-erich o nin gwanno. | You cannot leave me.

THE DESTRUCTION OF THE RING
Text by Philippa Boyens
Sindarin Translation by David Salo
FIRST HEARD: DISC FOUR | TRACK TWO
Mi naurath Orodruin | Into the fires of Orodruin
Boe hedi i Vín | The One must be cast;
Han i vangad i moe ben bango | This the price, that must be paid,
Sin eriol natha túr in úgarnen | Only thus its power will be undone,
Sin eriol ûm beleg úgannen | Only thus, a great evil, unmade.

Ú cilith 'war. | There is no other choice.
Ú men 'war. | There is no other way.
Boe min mebi. | One of you must take it,
Boe min bango. | One of you must pay.

NOT ONCE, NOT EVER
Text by Philippa Boyens
Sindarin Translation by David Salo
FIRST HEARD: DISC FOUR | TRACK TWO
Dannen le | You have fallen.
A ú-erin le regi | And I cannot reach you.
Rang ail le iestannen | Every step i willed you on,
Lû ail le tegin na hen. | Every moment i lead you to this.
Gwannach o innen ului | You never left my mind,
Ú lû erui, ului. | Not once, not ever.

(c) The Annotated Score (The Music of The Lord of the Rings Films)
Genre not found
Artist not found
Album not found
Search results not found
Song not found