The Eyes Of The White Tower
Howard Shore Lyrics
THE DEATH OF BOROMIR
text by PHILIPPA BOYENS, translation by DAVID SALO
( QUENYA )
I alda helda, I ehtele lína.
Manna lelyalye Voromírë?
Cánalya hlarula, la hirimmel
Fuinë lanta Pelendoro nandesse.
Sí massë I Anar?
(( The tree is bare, the fountain still.
Whither goest thou Boromir?
We heard your call, but cannot find you
Darkness falls upon the vale of Pelennor.
Where now is the Sun? ))
Contributed by Victoria P. Suggest a correction in the comments below.
To comment on specific lyrics,
highlight them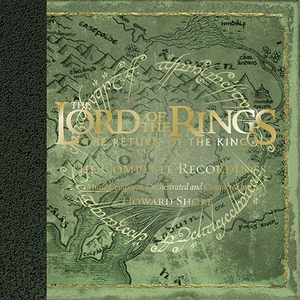 The Eyes Of The White Tower
Denethor receives Gandalf and Pippin, but upon their arrival he is heavily distracted, lost in thought. The Steward's heart is as broken as the cloven horn settled in his lap, for this horn belonged to Boromir, his eldest son. Flashing back through Pippin's memory, we see Boromir back at Amon Hen, pierced by the Orcs' black arrows. After a brief introductory passage, Shore's score returns to that long-ago tragedy with the same heart-wrenching boys chorus that depicted it in The Fellowship of the Ring.
Read Full Bio
Denethor receives Gandalf and Pippin, but upon their arrival he is heavily distracted, lost in thought. The Steward's heart is as broken as the cloven horn settled in his lap, for this horn belonged to Boromir, his eldest son. Flashing back through Pippin's memory, we see Boromir back at Amon Hen, pierced by the Orcs' black arrows. After a brief introductory passage, Shore's score returns to that long-ago tragedy with the same heart-wrenching boys chorus that depicted it in The Fellowship of the Ring. A Noble End, Shore's music for mankind's sacrifice, makes its second appearance in The Lord of the Rings, but it is not to be its last.

Pippin tells Denethor of Boromir's sacrifice, and swears his allegiance, if somewhat naïvely. Gandalf brushes the hobbit aside, telling Denethor that this is not the time for mourning. He demands that Gondor begin preparing for the assault that will soon be upon it. The sonorous music of Denethor's grief begins to give way to the acrid music of his fury. Dissonant clusters form in the high strings, their entrances becoming increasingly staggered until, with a jagged assault of down-bowing strings, Denethor rises from Gondor's throne, accusing Gandalf of seeking to supplant him with Aragorn. "The rule of Gondor is mine and no other's."

With a surge from timpani and suspended cymbal, Gandalf turns his back on Denethor and exits the throne room. Low brass accents mark their footsteps with another quasi-inversion of the Gondor theme. They return to the courtyard, overlooking the White Tree, Gandalf disgusted with Denethor. "All has turned to vain ambition," he decries, and yet he regards Gondor's once-prominent nobility reverently. The sight of the White Tree is heralded by a clear trumpet solo, perhaps unable to yet muster a Gondorian theme, but at least willing to turn the melodic contour upwards once again.

Soon the Minas Tirith theme is able to find its way back into the mix, French horns carrying the melody in their singing register, celli and basses entering on the consequent phrase and continuing the line with a somber heft. Solo trumpet returns, now able to recall the theme, painting the final phrase with its clear-headed heraldry. The theme begins again, but is intercepted by the wider scope of the Realm of Gondor theme. But are we now seeing Gondor in Ascension or in Decline? Before the issue can be resolved, the music turns once more, clouding over, darkening. Mordor's bleak catalogue of material corrupts the palette. In the depths of the orchestra Shore introduces another hybrid theme, a martial line somewhere between an inverted Threat of Mordor and the Mordor Skip Beat. Concurrent to the Ring, Mordor's power is focusing, its peak nigh. Underlining this parallel, Shore reaches over the new Threat theme and deposits his inky History/Evil hybrid, this time emphasizing the Evil. Gandalf explains to Pippin just how Gondor came into such corruption and decay. High atop the city, the two spot the fires of Mordor on the horizon and a ponderous black cloud seeping across the sky towards them. "Help must come to us."

TEXTS
THE DEATH OF BOROMIR
Text by Philippa Boyens
Quenya Translation by David Salo
FIRST HEARD: DISC ONE | TRACK THIRTEEN
I alda helda, i ehtele lína | The tree is bare, the fountain still.
Manna lelyalye Voromírë? | Whither goest thou Boromir?
Cánalya hlarula, la hirimmel | We heard your call but cannot find you.
Fuinë lanta Pelendoro nandesse | Darkness falls upon the vale of Pelennor
Sí massë i Anar? | Where now is the sun?

(c) The Annotated Score (The Music of The Lord of the Rings Films)
Genre not found
Artist not found
Album not found
Search results not found
Song not found