The Houses of Healing
Howard Shore Lyrics
With a sigh, you turn away
With a deepening heart,
No more words to say
You will find that the world has changed forever.
And the trees are now
Turning from green to gold
And the sun is now fading
I wish I could hold you closer.
Contributed by Kennedy V. Suggest a correction in the comments below.
To comment on specific lyrics,
highlight them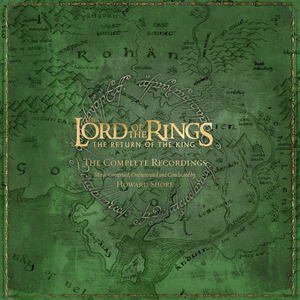 Featuring Liv Tyler; Music by Howard Shore; Lyrics by Fran Walsh.

Pippin searches through the battle's debris and finds a cloak adorned with an Elvish brooch—Merry's cloak. Éomer discovers Éowyn, badly wounded, collapsed upon the figure of her perished uncle. Aragorn and Gandalf survey the carnage. Now is the time for healing.

Under Aragorn's care, Éowyn recovers in the Houses of Healing. "Arwen's Song" acts here as an Elvish blessing—an ethereal prayer for the suffering.
Read Full Bio
Featuring Liv Tyler; Music by Howard Shore; Lyrics by Fran Walsh.

Pippin searches through the battle's debris and finds a cloak adorned with an Elvish brooch—Merry's cloak. Éomer discovers Éowyn, badly wounded, collapsed upon the figure of her perished uncle. Aragorn and Gandalf survey the carnage. Now is the time for healing.

Under Aragorn's care, Éowyn recovers in the Houses of Healing. "Arwen's Song" acts here as an Elvish blessing—an ethereal prayer for the suffering. Arwen, too, is somewhere in Middle-earth, just as lovelorn. "And the trees are now turning from green to gold/And the sun is now fading…" And yet, there is still hope. Faramir has also recovered in the Houses of Healing. He smiles at Éowyn. "Arwen's Song" continues, "I wish I could hold you closer."

The whistle continues in the same tender vein. Late at night, Pippin has found Merry on the quiet battlefield. Stepwise passages recall the Shire theme, but more mature and worldly.

TEXTS
ARWEN'S SONG
Text by Fran Walsh
FIRST HEARD: DISC THREE | TRACK ELEVEN
With a sigh you turn away
With a deepening heart no more words to say
You will find that the world has changed forever

And the trees are now turning from green to gold
And the sun is now fading
I wish i could hold you closer

(c) The Annotated Score (The Music of The Lord of the Rings Films)
Genre not found
Artist not found
Album not found
Search results not found
Song not found