The Passing of the Grey Company
Howard Shore Lyrics
THE WAY IS SHUT
text from J.R.R. TOLKIEN, translation by DAVID SALO
( SINDARIN )
Hollen i ven
In gyrth han agorer
A han beriar in gyrth.
Hollen i ven.
(( The way is shut.
It was made by those who are dead
And the Dead keep it.
The way is shut. ))
Contributed by Juliana K. Suggest a correction in the comments below.
To comment on specific lyrics,
highlight them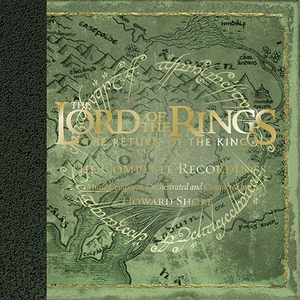 The Passing of the Grey Company
Aragorn packs his scant belongings and prepares to take to the Dimholt Road. Éowyn confronts him, shocked that he would leave the men on the eve of battle, and thinking him a deserter. Double fiddle sings the sad strains of Éowyn and Aragorn, its emotive, woody tone evoking romantic yearning, and strain. Aragorn finally addresses her love, gently telling her that they cannot be together. The Shieldmaiden of Rohan is crushed. Her eyes wrapped in tears she stands motionless as Aragorn kindly strokes her face, then sets out to leave the camp.
Read Full Bio
Aragorn packs his scant belongings and prepares to take to the Dimholt Road. Éowyn confronts him, shocked that he would leave the men on the eve of battle, and thinking him a deserter. Double fiddle sings the sad strains of Éowyn and Aragorn, its emotive, woody tone evoking romantic yearning, and strain. Aragorn finally addresses her love, gently telling her that they cannot be together. The Shieldmaiden of Rohan is crushed. Her eyes wrapped in tears she stands motionless as Aragorn kindly strokes her face, then sets out to leave the camp.

But where a man of the Fellowship goes, Elf and Dwarf are never far behind. Gimli and Legolas stop Aragorn and, with a strain of the Fellowship theme that is both tenuous and generous, inform him that he will not travel the Dimholt alone. Strings pass the theme to brass, warming it until, with a sudden chill, the music is gutted by the hollow tones of the Army of the Dead. Above the Army theme, Fellowship continues to play in the Horns, insecure, abandoned by harmonic support, but sure-headed still.

The Men of Rohan, however, are far less directed. They see the Fellowship depart and are unnerved. They declare that hope is no more. Gamling articulates the men's fears, telling Théoden, "Too few have come. We cannot defeat the armies of Mordor." A low line for timpani, celli and basses snakes through the score, manifested by doubt. Théoden speaks, acknowledging that no, they cannot win. Tenuous brass bolsters this line, abating the fear ever so slightly. "But we will meet them in battle nonetheless."

Dawn breaks. Théoden seeks out his niece, Éowyn, and tells her that she is to rule in his stead, should he fall in battle. But Éowyn wishes to serve a more immediate need. She wants to fight. Théoden will not ask her to. Instead, he asks her simply to smile again. To remember her joy, and not mourn those who have lived their lives and come to honorable ends. Violins play a line infused with hope, beauty and melancholy. It leads to a breathing organic shape as Théoden draws Éowyn nearer. Horn brushes the edges of Rohan's theme, but it is followed by subtle suggestions of All Shall Come to Darkness… the music that once represented Boromir's death, and now predicts another noble man about to meet his end.

(c) The Annotated Score (The Music of The Lord of the Rings Films)
Genre not found
Artist not found
Album not found
Search results not found
Song not found