The Tomb of the Stewards
Howard Shore Lyrics
ON THE FIELDS OF PELENNOR
text from J.R.R. TOLKIEN, adapted by PHILIPPA BOYENS, translation by DAVID SALO
( SINDARIN )
Edrochant e
Na nagor,
Ed nan gurth.
A e gladhant
An e naun ad neth
(( Forth he rode
Into battle,
Forth into death.
And he laughed
For he was young again. ))
A naun aran
Hir gwaith beleg.
Elo!
Sui orthant vegil ín
Vi'las beleg
Ortholl gurth.
(( And he was King.
The Lord of a great people.
And lo!
Even as raised his sword
In great joy,
Death came on. ))
Anann si lostar
Nu lae vi Ngondor
Sí lostar na hír veleg,
Mithrin sui nîr, thiliol celebren,
Ta geliant caran,
Púrinnen na hereg
(( Long now they sleep
Under grass in Gondor.
Sleep now by the great river,
Grey as tears, gleaming silver,
Red then it rolled,
Dyed with their blood. ))
Lachant ned annûn
Úrianner i eryd
Sui ros garan dannant
Or pheli Pelennor.
(( Flamed at sunset;
The mountains burned;
As red dew fell
On the fields of Pelennor. ))
Contributed by Gavin W. Suggest a correction in the comments below.
To comment on specific lyrics,
highlight them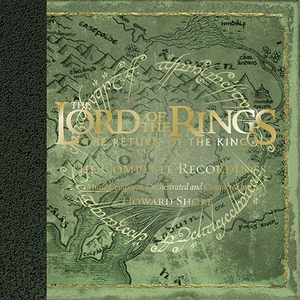 Sam overhears the Orcs and learns Frodo is not dead, flutes piquing along with his interest. The Orcs pick Frodo up in order to cart him to Cirith Ungol. At a safe distance, Sam pursues.

But concurrent to Sam's renewed hope is Denethor's total abandonment of the same. The steward prepares a funeral pyre, the flames of which are meant to engulf both him and Faramir. Horns, trombone and tuba chant bits of the Ring's History/Evil hybrid—Denethor has lost his sense just as his city needs him the most, maddened by his lust for the Ring.
Read Full Bio
Sam overhears the Orcs and learns Frodo is not dead, flutes piquing along with his interest. The Orcs pick Frodo up in order to cart him to Cirith Ungol. At a safe distance, Sam pursues.

But concurrent to Sam's renewed hope is Denethor's total abandonment of the same. The steward prepares a funeral pyre, the flames of which are meant to engulf both him and Faramir. Horns, trombone and tuba chant bits of the Ring's History/Evil hybrid—Denethor has lost his sense just as his city needs him the most, maddened by his lust for the Ring. Pippin attempts to free Faramir, but Denethor casts him out of the chamber. The hobbit searches through the streets for Gandalf, but the city burns, overrun by a host of Mordor's most horrid warriors. The chorus' sopranos sing Tolkien's text "On the Fields of Pelennor" to the hybrid History/Evil theme.

At daybreak Pippin finds Gandalf and the two rush to Faramir's side, accompanied by Gondor's opening pitches in high, clear trumpet—the instrumental timbre of Mankind. But they are intercepted by the most dangerous of their attackers, the Witch-king of Angmar himself. The increscent orchestra thunders with dissonance as the Rider holds his sword to the sky, summons his evil might from a vortex of fiery clouds and shatters Gandalf's staff. Gandalf falls from Shadowfax as contrabassoon grunts the Threat of Mordor, a threat which has not so directly touched Gandalf the White since he was Gandalf the Grey. The Witch-king prepares to strike the wizard, but distant horns on the horizon distract him, staying his hand, drawing him to the fields below.

IN THE MAKING:
Shore's music for the beginning Gandalf/Witch-king face-off was not used in the final film. This music picks up once Gandalf is knocked from Shadowfax.

TEXTS
ON THE FIELDS OF PELENNOR
Text by J.R.R. Tolkien
Adapted by Philippa Boyens
Sindarin Translation by David Salo
FIRST HEARD: DISC THREE | TRACK THREE
Edrochant e | Forth he rode
na nagor, | In to battle.
Ed nan gurth. | Forth in to death.
A e gladhant | And he laughed.
An e naun ad neth | For he was young again.
A naun aran | And he was King.
Hir gwaith beleg. | The Lord of a great people.
Elo! | And lo!
Sui orthant vegil ín | Even as raised his sword
Vi 'las beleg | In great joy,
Ortholl gurth. | Death came on.

Anann si lostar | Long now they sleep
Nu lae vi Ngondor | Under grass in Gondor.
Sí lostar na hír veleg | Sleep now by the great river,
Mithren sui nîr, thiliol celebren | Grey as tears, gleaming silver,
Ta geliant caran, | Red then it rolled,
Púrinnen na hereg | Dyed with their blood.
Lachant ned annûn | Flamed at sunset;
Úrianner i eryd | The mountains burned;
Sui ros garan dannant | As red dew fell
Or pheli Pelennor | On the fields of Pelennor.

(c) The Annotated Score (The Music of The Lord of the Rings Films)
Genre not found
Artist not found
Album not found
Search results not found
Song not found