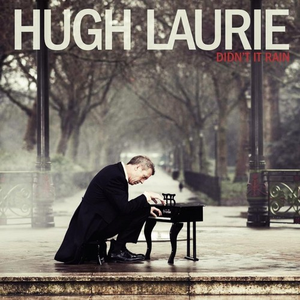 Hugh Laurie is an English actor and comedian. Originally part of Cambridge Unive…
Read Full Bio ↴
Hugh Laurie is an English actor and comedian. Originally part of Cambridge University Footlights Dramatic Club, he found fame playing various roles in the classic British comedy TV series "Blackadder." He is perhaps more famous for the legendary TV sketch show "A Bit of Fry and Laurie" where he performed with his Cambridge University chum, Stephen Fry. Since then he has appeared in various films (Maybe Baby, Girl from Rio, Flight of the Phoenix, Stuart Little) and television shows, and has done some theatre work in London's West End. Mr. Laurie was rumored to be a top contender for the role of "Doctor Who," (prior to David Tennant getting the part), however he was cast as Dr. Gregory House in the hit FOX medical drama "House, MD". Songfacts reports that Laurie is also an enthusiastic and keen musician, playing the piano, guitar, drums, harmonica, and saxophone. He has displayed his musical talents on several episodes of House, as well as on previous shows he starred in, such as A Bit Of Fry & Laurie. In 2010 Laurie played piano as a special guest on Meatloaf 's track If I Can't Have You.
After signing a contract with Warner Bros, Laurie released a blues album Let Them Talk , which was released initially in France on April 18, 2011 and later in the UK on May 9th.

He has written one novel, "The Gun Seller," and another one, "The Paper Soldier," is tentatively scheduled for September 2009. Mr. Laurie has some musical talent, notably the piano and mouth trumpet (he can make convincing trumpet sounds using just his mouth). He played '20s numbers on the piano in the TV series "Jeeves and Wooster" (again with Stephen Fry) in addition to some original comic songs in "A Bit Of Fry & Laurie." He is currently a member of "Band from TV" with several other TV personalities. He is married with children, although he has become somewhat of an absentee father due to his work on American television while his family stays in London.
Jump to: Overall Meaning ↴ Line by Line Meaning ↴
Some people call me a junker,
Say I'm loaded out of my mind
But I just feel happy
I feel good all the time
Some say I use a needle,
and some say I sniff cocaine
that's the best damn feeling,
that I've ever seen
So its goodbye, goodbye to Whisky
And so long to Gin
Just give me my reefer
I wanna get high again
Well some they grave for chicken,
some fellas grave for stake
But I'll be happy oh so happy
with a slice of my yellow cake
Some people call me a junker,
Say I'm loaded all the time
But I just feel happy
I feel good all the time
Overall Meaning
The lyrics of Hugh Laurie's "Junkers Blues" tell of a man who is often labeled a "junker," someone who is addicted to drugs and alcohol. While some accuse him of using a needle or snorting cocaine, he claims that the best feeling he's ever experienced is the high from marijuana. He has said goodbye to whiskey and gin and instead craves a hit of his reefer. He is content with simple pleasures like a slice of yellow cake and feels happy all the time despite his reputation.
The lyrics suggest that the man is aware of how people perceive him, but he doesn't let their opinions bring him down. He embraces his status as a "junker" and finds happiness in the things he enjoys, even if others don't understand them. The song has a laid-back, bluesy feel, which matches the tone of its lyrics.

Line by Line Meaning
Some people call me a junker,
There are those who refer to me as a person addicted to drugs
Say I'm loaded out of my mind
They believe that I am heavily under the influence of drugs
But I just feel happy
Despite their perception of me, I feel content with my life
I feel good all the time
My constant use of drugs has created a state of euphoria for me
Some say I use a needle,
There are those who accuse me of using intravenous drugs
and some say I sniff cocaine
Others believe that I partake in the consumption of cocaine through the nose
that's the best damn feeling,
Regardless of how I consume it, I find the feeling of being high to be most pleasurable
that I've ever seen
It's an experience that I cherish and don't want to let go of
So its goodbye, goodbye to Whisky
I am moving on from drinking alcohol, specifically whiskey
And so long to Gin
I'm also saying farewell to gin
Just give me my reefer
Give me my marijuana
I wanna get high again
Because I miss the feeling of being in an intoxicated state
Well some they grave for chicken,
There are people who crave chicken as their preferred food
some fellas grave for stake
Others crave steak as their preferred food
But I'll be happy oh so happy
For me, my preferred food is something different
with a slice of my yellow cake
I'm happy with just a slice of my favorite cake, which happens to be yellow cake
Some people call me a junker,
Again, there are those who label me as a drug addict
Say I'm loaded all the time
They believe that I am constantly under the influence of drugs
But I just feel happy
Regardless of their perception, I'm content with my life as it is
I feel good all the time
My consistent drug use has a positive effect on me, and I'm happy with that
Lyrics © Universal Music Publishing Group, Warner Chappell Music, Inc.
Written by: JACK DUPREE

Lyrics Licensed & Provided by LyricFind
To comment on or correct specific content,
highlight it
Genre not found
Artist not found
Album not found
Search results not found
Song not found