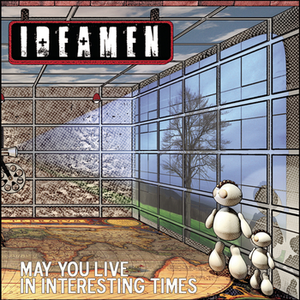 July 11th 2017 - IDEAMEN'S "New Album Pre Order Campaign / Merch & Touring Vehicle Fundraiser" is happening now at www.iloveideamen.com . This is a totally DIY campaign DIRECTLY with Ideamen & their fans. Ideamen is releasing their new album Trained When We're Young on Rotten Records, scheduled for Friday, August 25th 2017. This long awaited release continues to carry the bands signature sound laid down in previous albums May You Live In Interesting Times and Schemata while exploring a bit broader musical path & making it their own. The overall vibe of Trained When We're Young is a vibrant
Read Full Bio
July 11th 2017 -

IDEAMEN'S "New Album Pre Order Campaign / Merch & Touring Vehicle Fundraiser" is happening now at www.iloveideamen.com . This is a totally DIY campaign DIRECTLY with Ideamen & their fans.

Ideamen is releasing their new album Trained When We're Young on Rotten Records, scheduled for Friday, August 25th 2017. This long awaited release continues to carry the bands signature sound laid down in previous albums May You Live In Interesting Times and Schemata while exploring a bit broader musical path & making it their own. The overall vibe of Trained When We're Young is a vibrant blend of bi-polarism, from the dark hallways of "Cold As February" to the abject giddiness of "This Message", the stoner rock space anthem-ness of "Beg For A Plea" to "Rainy Days" with a laid back sound sopping wet & laying in a puddle somewhere on Abbey Road. Whether or not you are familiar with Ideamen, you will appreciate the alternatively dreamy yet crunchy guitars, precise explosions of drums, finely crafted keyboard melodies, gritty driving bass, and beautifully arranged and layered vocal harmonies.

Ideamen hails from Chicago Illinois, formed in 2007 by Tim Swanson (Keyboards and Vocals), Mark Vasquez (Bass), Dave Solar (Vocals) and Phil Goodrich (Drums), and have since added Phil Miller and Greg Millikan (Guitars). Their first EP Progress was well received by fans and critics around the world with its unique blend of Classical, Punk, and Salsa. The success of the initial release gave Ideamen enough momentum to sign on with Rotten Records in 2009, releasing their first full length album May You Live In Interesting Times. It picked up where Progress left off, taking a Queen inspired approach to the vocal production that would ultimately help shape Ideamens sound. Schemata, their second album on Rotten released in 2014, encapsulated a mood darker than its predecessor, with reoccurring melodies infused with a tone of hopelessness peppered brilliantly throughout this masterpiece.

Ideamen has sold albums around the world and shared the stage with such artists as Foxy Shazam, Tub-Ring, Green Jelly, Psychostick and Civil Twilight. The fate of the world may look bleak, but Ideamen will be carrying a torch & touring on the release of Trained When We're Young throughout 2017.

Trained When We're Young Track list:
Genesis
Deck Of Cards
Beg For A Plea
Rainy Days
Cold As February
Fall From Grace
Frantic Avenue
This Message
Confidence Shattered
Right On
An Unreliable Historian

Description
Indie / Alt Rock / Experimental / Progressive / Pop
Genre not found
Artist not found
Album not found
Search results not found
Song not found
The Rest
Ideamen Lyrics
We have lyrics for 'The Rest' by these artists:



Kakkmaddafakka Tangled life Climbing, why? Now let your hopes Be mine Grow…
Lorenzo Fragola Tell me anything that you know I try to understand These thi…
SixToes Infinite possibility Rose in me With the dust On the station…
The Station Breaks It was the eve of the day Dreamt up in the…



We have lyrics for these tracks by Ideamen:



Bad Apple Wake up jump ship, get out of bed. Now…
Dead Utopia Awake in life without a birth. Unite, revise and…
Downtown Crier I know we were talking, that it was not your…
Know The Dance Here's the man, he knows of the dance It will put…
No Thought Should have given it a try – But I haven't…
Paper Goose Gonna climb up on the roof today Try not to be…
Schemata Prologue Embrace from a letter will raise all the dead. …
Vivid With the devil in your eye, you'll feel a compromise. Nothin…

The lyrics can frequently be found in the comments below, by filtering for lyric videos or browsing the comments in the different videos below.