Walking women, want to see the Southern Cross at night?
And so they set aside a sock and tie their laces tight
Yes, warmful is the melody that echoes in their heads
Without a beat, they march along believing...
Bach is dead!
Contributed by Elizabeth D. Suggest a correction in the comments below.
To comment on specific lyrics,
highlight them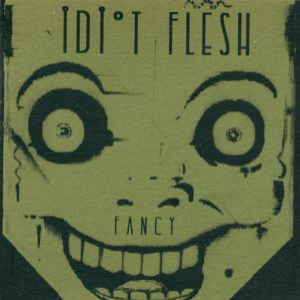 Idiot Flesh was a talented and musically discordant band blending by a wide array of influences ranging from funk to prog rock and heavy metal as well as aspects of Eastern European Folk, Opera & Butoh dance performances. Formed in Oakland, California, USA in 1985 under the name Acid Rain with the demo album "We Were All Very Worried." They eventually changed their name to Idiot Flesh prior to the release of their first album in 1990. After Idiot Flesh disbanded in the late 90's
Read Full Bio
Idiot Flesh was a talented and musically discordant band blending by a wide array of influences ranging from funk to prog rock and heavy metal as well as aspects of Eastern European Folk, Opera & Butoh dance performances. Formed in Oakland, California, USA in 1985 under the name Acid Rain with the demo album "We Were All Very Worried." They eventually changed their name to Idiot Flesh prior to the release of their first album in 1990. After Idiot Flesh disbanded in the late 90's, lead singer Nils Frykdahl and bassist/producer Dan Rathbun later formed Sleepytime Gorilla Museum.

Known to tour the US in a converted city bus with Rathbun as the driver/mechanic, with the windshield destination banner of HELL. Besides their wild performances which embodied a "rock against rock" ethos, they were also known to defy classification with marching band routines, performing puppet shows, and playing household items as instruments (in tune). After finding few financial rewards for their increasingly complex stage show, Idiot Flesh disbanded in 1998.

Core Members:

- Captain Dragon (Gene Jun; Guitar, Percussion, Violin, Vocals, Arranger)
- Hyena Boy (Wes Anderson; 1994-1998: Percussion, Drums, Marimba, Multi Instruments, Talking, Vocals, Bassoon, Trash Cans)
- The Improver (Dan Rathbun; Bass, Multi Instruments, Saw, "Talking", Horn, Vocals, Trombone, Cello, Megaphone; Engineer)
- Pin (Nils Frykdahl; Flute, Saxophone, Percussion, Castanets, Vocals, Guitar; Cover Design/Graphics)
- Chuck Squier (1985 through 1994: Drums, Cover art)

Discography:

- (1990) Tales of Instant Knowledge and Sure Death
- (1994) The Nothing Show
- (1995) Teen Devil/Twitch (4 Song EP)
- (1997) Fancy (Nov. 11)
Genre not found
Artist not found
Album not found
Search results not found
Song not found