Hello My Baby
Hello
Hello my baby, hello my honey
Hello my ragtime gal
Send me a kiss by wire
Baby my heart's on fire
If you refuse me
Honey, you'll lose me
Then you'll be left alone
Oh baby, telephone
And tell me I'm your own
You call me on the telephone
You tell me that you're all alone
I know that you are lying through your teeth
You dirty rascal
How could you expect me
To believe the lies you hand me
You've been out with that girl again
Now do you understand me
You broke my heart and made me cry
With every phoney alibi
When I could see the lipstick on your shirt
You dirty polecat
Telephone and tell me I'm your own
Hello
Hello my baby, hello my honey
Hello my ragtime gal
Send me a kiss by wire
Baby my heart's on fire
If you refuse me
Honey, you'll lose me
Then you'll be left alone
Oh baby, telephone
And tell me I'm your own
I'm sorry that I made you blue
It was a beastly thing to do
I shouldn't have upset you like I did
With Lil' the barmaid
If you take me back again
I'll never, ever wander
'Cause when I did I found that absence
Made the heart grow fonder
So cross my heart and hope to die
I'll never tell another lie
I'll mend your broken heart
As good as new
My little cough-drop
Telephone and tell me I'm your own
Hello
Hello my baby, hello my honey
Hello my ragtime gal
Send me a kiss by wire
Baby my heart's on fire
If you refuse me
Honey, you'll lose me
Then you'll be left alone
Oh baby, telephone
And tell me I'm your own
Hello, hello, hello
Hello, hello, hello
Goodbye, goodbye, goodbye
Goodbye…
Contributed by Hudson T. Suggest a correction in the comments below.
To comment on specific lyrics,
highlight them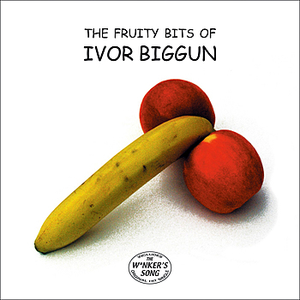 How do you describe Ivor Biggun? - The Pharaoh of Filth, perhaps? The Bawdy, Vaudevillian Bard? The man whose hand you'd least like to shake? Sadly, all of these and much more. But don't take my word for it, listen to his music and shudder.

aka Doc Cox from the TV programme "That's Life!".
Genre not found
Artist not found
Album not found
Search results not found
Song not found