Satisfied?
J-Live Lyrics
Hey yo
Lights, camera, tragedy, comedy, romance
You better dance from your fighting stance
Or you'll never have a fighting chance
In the rat race
Where the referee's son started way in advance
But still you living the American Dream
Silk PJ's, sheets and down pillows
Who the fuck would want to wake up?
You got it good like hot sex after the break up
Your four car garage it's just more space to take up
You even bought your mom a new whip scrap the jalopy
Thousand dollar habit, million dollar hobby
You a success story everybody want to copy
But few work for it, most get jerked for it
If you think that you could ignore it, you're ignorant
A fat wallet still never made a man free
They say to eat good, yo, you gotta swallow your pride
But dead that game plan, I'm not satisfied
[Chorus]
The poor get worked, the rich get richer
The world gets worse, do you get the picture?
The poor gets dead, the rich get depressed
The ugly get mad, the pretty get stressed
The ugly get violent, the pretty get gone
The old get stiff, the young get stepped on
Whoever told you that it was all good lied
So throw your fists up if you not satisfied
Are you satisfied?
I'm not satisfied
Hey yo, the air's still stale
The anthrax got my Ole Earth wearing a mask and gloves to get a meal
I know a older guy that lost twelve close peeps on 9-1-1
While you kicking up punchlines and puns
Man fuck that shit, this is serious biz
By the time Bush is done, you won't know what time it is
If it's war time or jail time, time for promises
And time to figure out where the enemy is
The same devils that you used to love to hate
They got you so gassed and shook now, you scared to debate
The same ones that traded books for guns
Smuggled drugs for funds
And had fun letting off forty-one
But now it's all about NYPD caps
And Pentagon bumper stickers
But yo, you still a nigga
It ain't right them cops and them firemen died
The shit is real tragic, but it damn sure ain't magic
It won't make the brutality disappear
It won't pull equality from behind your ear
It won't make a difference in a two-party country
If the president cheats, to win another four years
Now don't get me wrong, there's no place I'd rather be
The grass ain't greener on the other genocide
But tell Huey Freeman don't forget to cut the lawn
And uproot the weeds
'cause I'm not satisfied
[Chorus]
All this genocide
Is not justified
Are you satisfied?
I'm not satisfied
Yo, poison pushers making paper off of pipe dreams
They turned hip-hop to a get-rich-quick scheme
The rich minorities control the government
But they would have you believe we on the same team
So where you stand, huh?
What do you stand for?
Sit your ass down if you don't know the answer
Serious as cancer, this jam demands your undivided attention
Even on the dance floor
Grab the bull by the horns, the bucks by the antlers
Get yours, what're you sweating the next man for?
Get down, feel good to this, let it ride
But until we all free, I'll never be satisfied
[Chorus: x 2]
Are you satisfied?
Whoever told you that it was all good lied
I'm not satisfied
Throw your fists up if you not satisfied
Are you satisfied?
Whoever told you that it was all good lied
I'm not satisfied
So throw your fists up
So throw your fists up
Throw your fists up
Lyrics © Sony/ATV Music Publishing LLC, Universal Music Publishing Group, Spirit Music Group, ESSENTIAL MUSIC PUBLISHING
Written by: CHUCK BUTLER, KIPP WILLIAMS, LESLEY ROY

Lyrics Licensed & Provided by LyricFind
To comment on specific lyrics,
highlight them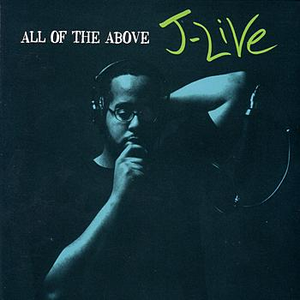 J-Live was born and raised in Uptown Manhattan, New York City. After making a home for himself in Brooklyn upon graduating from SUNY at Albany, J relocated to Philadelphia in 2003. "Moving to Philly was more for the family than any kind of career move. But the whole music scene here and the hip hop community here have embraced me with open arms since I arrived. I've gotten a lot of support from so many different artists and dee jays. This city is jam packed with talented and beautiful people."
Read Full Bio
J-Live was born and raised in Uptown Manhattan, New York City. After making a home for himself in Brooklyn upon graduating from SUNY at Albany, J relocated to Philadelphia in 2003. "Moving to Philly was more for the family than any kind of career move. But the whole music scene here and the hip hop community here have embraced me with open arms since I arrived. I've gotten a lot of support from so many different artists and dee jays. This city is jam packed with talented and beautiful people."

J-Live started his career by releasing solid 12" such as "Longevity", "Braggin' Writes", and "Hush the Crowd", which earned him a spot in The Source's "Unsigned Hype" column.

Recorded mostly at J's own Triple Threat Studios in Philadelphia, The Hear After actually seems to have taken on a life of its own. Guest vocalist on the album, include up and coming artist, Kola Rock, Cvees, and the soulful sounds of Virgin recording artist, Dwele. The album features production by Floyd the Locsmif (Atl), Hezekiah, James Poysner (Philly), Probe DMS, Fire Dept., (NYC), Oddisee (DC), and J-Live himself. "The title is a play on words. People think of the here after as the after life or somewhere you go when you die. Like heaven or hell. Me personally, I see heaven as being at peace with yourself while you're alive. I see hell as the path you choose in life as opposed to a place you go after death. The album is called The Hear After because I'm at peace with myself musically, and I've been through hell to get that way. This is what you "hear after" all that has transpired so far. This is what I've been working to accomplish since the last album."

Like J's last two full length records, The Best Part and All of the Above, The Hear After covers a wide range of thoughts and emotions both musically and with its subject matter. "If you were to look at the whole thing, you would see a story line about an artist trying to maintain and expand his career and still be there for his family. That was the biggest struggle while making the record, and its no coincidence that it's a theme that becomes obvious listening to it. But there are songs about almost every aspect of my life from growing up in the city, to raising kids, touring heavy, building and teaching, politics, party and bullshit. I can't just spit about one thing for a whole record. That's not my style."

J-Live has been rhyming and mixing since the age of 12 but he has made much more of a name for himself as an MC than as a DJ. "I definitely focus on rhyming more. Growing up doing both it was easier on the pockets to be an MC. Records and equipment can get expensive. But I love spinning." One of the highlights of his entertaining live show is when he rhymes and beat juggles on the turntables simultaneously, performing his classic, "Braggin' Writes." J-Live is also known to produce beats.

J-Live has always used music to get his messages across. He explains, "I grew up listening to everything from BDP to NWA, to PE [[artist]Public Enemy], Slick Rick, Big Daddy Kane, Nice and Smooth. Whether the music was pimped out, gangsta, militant or whatever, rappers had something important to say to kids like me. And I listened intently. As a 5%er, I can't imagine how much of an influence hip hop had on the way I see the world."

Case in point, J's favorite song on the album, "Audio Visual" is so descriptive it's a song "in 3-D". From the quirky, key accents to the thick-ass bottom running throughout the song, J-Live paints a colorful, picture of his life on and off the mic. "Brooklyn Public" is his ode to his days as an educator. Earlier in his career, J-Live taught middle school English/Language Arts in Brooklyn for a few years.

Making music for the walkmans as well as the Jeeps, J-Live made a mature, sonically sophisticated album. "I feel like I represent hip hop's middle class. Seems like everybody's either crying broke or screaming rich or both. I try to speak to the people in between. The everyday hard working fun loving hip hop heads."

Year Formed: 1995
Official Site: http://www.j-livemusic.com/
Genre not found
Artist not found
Album not found
Search results not found
Song not found