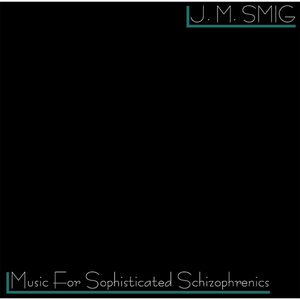 Pissing Hard On a Rainy Morning
The miserable prick is still at it. The composer of lounge music from the Vatican gay bar for sophisticated schizophrenics, murderous nerds and other deviants doesn't know when to give it up and go home.

Actually, he does but he doesn't give a fuck, having ascended a childhood of toughing it out in the projects of Witch City, crafting sonic soliliquies that would ferment into "contemporary music for the bizarre at heart...electronica and classical works [that] operate in a style unlike any other." ♠︎
Read Full Bio
The miserable prick is still at it. The composer of lounge music from the Vatican gay bar for sophisticated schizophrenics, murderous nerds and other deviants doesn't know when to give it up and go home.

Actually, he does but he doesn't give a fuck, having ascended a childhood of toughing it out in the projects of Witch City, crafting sonic soliliquies that would ferment into "contemporary music for the bizarre at heart...electronica and classical works [that] operate in a style unlike any other." ♠︎

JMS has confounded Berklee elves, conservatory tards, and other upper crustaceans with a "restless compositional philosophy that will not resonate with listeners expecting concise, neatly packaged musical content."♣︎ and an "unapologetically strange and jarring...captivating and enigmatic soundscape of obscure lounge music that will set your five senses alight." ♦︎

♠︎ eMusician newsletter
♣︎ Evan Crandell, 24Our Music
♦︎ Brandon Minia, 24Our Music

©2018 Sophisticated Schizophrenic Records.
Genre not found
Artist not found
Album not found
Search results not found
Song not found
Pissing Hard On a Rainy Morning
J. M. Smig Lyrics
We have lyrics for these tracks by J. M. Smig:



Behind The Barn Door Covered the carcass of time with flowers To send the scent…
Black Coffee Waltz Black Coffee, blue mornin' Toast is burnin' and the rain kee…
French Devil Kiss Trop de fierté pour avouer Les sentiments, il faut pas joue…
Hey Hey My My You almost have to lose your mind To find yourself sometimes…
I Need U You're all (lie together, cry together) I need (I swear to…
Jam Kick off shoes, jump on the jock Listen to the Jam…
Rain Song I heard about it raining on a Georgia night Never…

The lyrics can frequently be found in the comments below, by filtering for lyric videos or browsing the comments in the different videos below.