Jump to: Overall Meaning | Line by Line Meaning
I heard this old story before
With the people keeping calling for the metaphors
But, don't leave much up to the imagination
So I want to give this imagery back
But I know it ain't just so easy like that
So, I turn the page and read the story again and again and again
Sure seems the same with a different name
We're breaking and rebuilding, and we're growing always guessin'
Never knowing shocking but we're nothing
We're just moments
We're clever but we're clueless
We're just human
Amusing and confusing
We're tryin' but where is this all leading
We'll never know
It all happens so much faster
Than you can say a disaster
Want to take a time lapse and look at it back
We found the last one but maybe that's just the answer
That we're after but after all
We're just a bubble in a boiling pot
Just one breath in a chain of thought
The moment's just combusting
Feels certain but we'll never never know
Sure seems the same give it a different name
We're begging, and we're needing and we're trying and we're breathing
Never knowing shocking but we're nothing
We're just moments
We're clever but clueless
We're just human
Amusing and confusing
We're helping rebuilding and we're growing
Never know
Never know
Never know
Never know
Knock knock on a door to door
Tell you that the metaphors is better than yours
And you can either sink or swim
Things are looking pretty grim
If you don't believe in what feedin'
It's got no feeling so we'll read it again and again and again
Sure seems the same, so many different names
Our hearts are strong, our heads are weak, we'll always be competing
Never know we're shocking but we're nothing
We're just moments
We're clever but clueless
We're just human
Amusing and confusing
But the truth is, all we got's question
We'll never know
We'll never know
We'll never know
We'll never know
Overall Meaning
The song Never Know by Jack Johnson is a reflection on the uncertainty of life and the frustrating inability to truly understand the world around us. Johnson begins the song by acknowledging the familiar story of people seeking metaphors to explain their experiences. He understands that much of the time, the use of metaphors can limit, rather than expand, our imagination. Therefore, he aims to turn to imagery that is more vivid and powerfully descriptive to better capture the complexities of life. However, he quickly realizes that the task is not as simple as he thought, as there is no easy way to encapsulate the true essence of the world and convey it through language. Then he turns to the metaphor of a book, recognizing that no matter how many times we read the story of life, we'll never understand everything there is to know.
In the chorus, Johnson highlights the irony of the human condition. We consider ourselves "clever," but in reality, we are "clueless." We find situations "amusing," but they also "confuse" us. We are constantly "trying," yet we have no idea where all our efforts will take us. Ultimately, no matter how much we attempt, we will "never know" the ultimate purpose of our existence because life moves too fast and our understanding is too limited.
The song concludes with Johnson acknowledging that we are all "competing" to make sense of our existence. We are all searching for answers that we may never find, and therefore, we must learn to live with uncertainty.
Overall, Never Know is a thoughtful commentary on the human condition, the limitations of language and understanding, and the inevitability of uncertainty in our lives.

Line by Line Meaning
I heard this old story before
I've heard this same tale repeatedly
With the people keeping calling for the metaphors
People want stories with poetic language
But, don't leave much up to the imagination
They want more imagery and figurative language
So I want to give this imagery back
I want to provide vivid descriptions
But I know it ain't just so easy like that
But I'm aware that storytelling isn't simple
So, I turn the page and read the story again and again and again
So, I keep reading and refining my craft
Sure seems the same with a different name
Each story has a similar pattern no matter what it's called
We're breaking and rebuilding, and we're growing always guessin'
Life is always changing and we're trying our best to navigate it
Never knowing shocking but we're nothing
We never truly know what's going to happen, and in the grand scheme of things we're insignificant
We're just moments
We only exist for a brief period of time
We're clever but we're clueless
We're intelligent but often unsure of what to do
We're just human
We're flawed and imperfect beings
Amusing and confusing
Our behavior and existence can be both entertaining and perplexing
We're tryin' but where is this all leading
We're making an effort, but don't always know where we're going
It all happens so much faster
Life moves quickly, sometimes catching us off guard
Than you can say a disaster
Before we realize it, something bad has occurred
Want to take a time lapse and look at it back
We desire to view life in retrospect to gain better understanding
We found the last one but maybe that's just the answer
We've discovered some truths, but there may be more questions than answers
That we're after but after all
We're searching for knowledge, but ultimately it may be unattainable
We're just a bubble in a boiling pot
We're a minuscule part of a vast, complex world
Just one breath in a chain of thought
We're just a temporary participant in a continuum of ideas
The moment's just combusting
Each experience is a brief, brilliant explosion of emotion
Feels certain but we'll never never know
We may feel confident about something, but we'll never have complete certainty
Knock knock on a door to door
This line is a metaphorical reference to the search for truth
Tell you that the metaphors is better than yours
There may be better ways to describe things than the ones we currently have
And you can either sink or swim
We must either adapt or fail
Things are looking pretty grim
The future may not be optimistic
If you don't believe in what feedin'
If you question the validity of something
It's got no feeling so we'll read it again and again and again
We revisit concepts to comprehend and connect with them
Our hearts are strong, our heads are weak, we'll always be competing
Our emotions can be powerful, but rational thought is often less effective. We're always striving for more.
But the truth is, all we got's question
We have more questions than answers about the nature of reality
We'll never know
We'll never have all the answers
We'll never know
We'll never have all the answers
We'll never know
We'll never have all the answers
Lyrics © Bubble Toes Publishing, REACH MUSIC PUBLISHING
Written by: Jack Hody Johnson

Lyrics Licensed & Provided by LyricFind
To comment on or correct specific content,
highlight it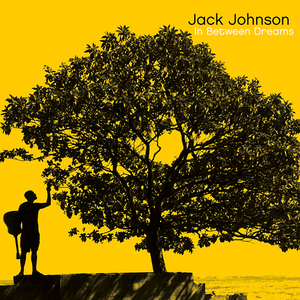 "Never Know" is the 2nd track on Jack Johnson's third album, In Between Dreams, which was released in March 2005.
Genre not found
Artist not found
Album not found
Search results not found
Song not found