Jump to: Overall Meaning | Line by Line Meaning
When your mind is a mess, so is mine, I can't sleep
'Cause it hurts when I think, my thoughts aren't at peace
With the plans that we make, chances we take
They're not yours, they're not mine
There's waves that can't break
All the words that we said and the words that we mean
Words can fall short, can't see the unseen
'Cause the world is awake for somebody's sake
Now please close your eyes, woman, please get some sleep
And know that if I knew all of the answers
I would not hold them from you
Know all of the things that I know
We told each other there is no other way
Mm-mmm-mmm
Well, too much silence can be misleading
You're drifting, I can hear it in the way that you're breathing
We don't really need to find reason
'Cause out the same door that it came
Well, it's leaving, it's leaving
Leaving like a day that's done a part of a season
Resolve is just a concept that's just dead as the leaves
But at least we could sleep, it's all that we need
When we wake we would find our minds would be free to go to sleep
And know that if I knew all of the answers
I would not hold them from you
Know all of the things that I know
'Cause we told each other there is no other way
Mm-mmm-mmm
Overall Meaning
In the song "No Other Way" by Jack Johnson, the speaker is addressing a woman who is struggling with anxiety and cannot sleep. He confesses that he too is struggling with his own thoughts and cannot find peace, but he urges her to close her eyes and try to rest. The speaker understands that they can't control everything in their lives, including the plans they make and the choices they take. There are forces beyond their control, like the waves that can't break. Words can only do so much, as the world is vast and complex. But he promises her that they will face whatever comes their way together. He acknowledges that things may not always make sense, but they will find a way to move forward.
The speaker then shifts his focus to the presence of silence between them, which he fears is leading them apart. He can hear her drifting away, but he believes that they don't need to find a specific reason why. Whatever is causing them to drift apart will eventually leave like the passing of a season. He maintains that resolve is only a concept and that sometimes all they need is to sleep. In sleep, their minds will be free of the worries that plague them.

Line by Line Meaning
When your mind is a mess, so is mine, I can't sleep
My thoughts mirror yours and it keeps me up at night
'Cause it hurts when I think, my thoughts aren't at peace
My thoughts cause me pain and they're not calm
With the plans that we make, chances we take
The choices we make together
They're not yours, they're not mine
Our choices belong to both of us
There's waves that can't break
Some things can't be changed
All the words that we said and the words that we mean
Our words are important, both spoken and unspoken
Words can fall short, can't see the unseen
Sometimes words are not enough to explain everything
'Cause the world is awake for somebody's sake
The world keeps turning no matter what
Now please close your eyes, woman, please get some sleep
Take a break and rest
And know that if I knew all of the answers
I don't have all the answers
I would not hold them from you
But I would share them with you if I did
Know all of the things that I know
I'll share what I do know with you
We told each other there is no other way
We agreed that this is the only way forward
Well, too much silence can be misleading
Silence can be deceptive
You're drifting, I can hear it in the way that you're breathing
I can tell something is bothering you by the way you're breathing
We don't really need to find reason
We don't have to have all the answers
'Cause out the same door that it came
Whatever is bothering us will eventually leave
Well, it's leaving, it's leaving
It's time to move on
Leaving like a day that's done a part of a season
Like a season coming to an end, things are coming to a close
Resolve is just a concept that's just dead as the leaves
We can't always fix everything, sometimes things end and we have to move on
But at least we could sleep, it's all that we need
Even though we can't control everything, at least we can rest
When we wake we would find our minds would be free to go to sleep
After resting, we may have a clearer perspective on things
Mm-mmm-mmm

Lyrics © Bubble Toes Publishing, REACH MUSIC PUBLISHING
Written by: Jack Hody Johnson

Lyrics Licensed & Provided by LyricFind
To comment on or correct specific content,
highlight it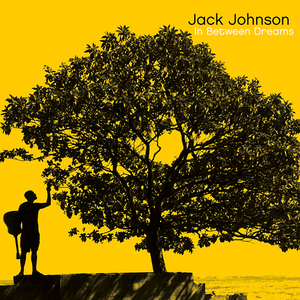 Jack Hody Johnson (born May 18, 1975 in North Shore, Oahu, Hawaii) is a singer, professional surfer, composer, and filmmaker who has achieved critical and commercial success and a dedicated following since he first appeared on G. Love & Special Sauce's album Philadelphonic. The release of his 2001 debut album, Brushfire Fairytales, further cemented his popularity and he has since released four more successful albums including 2003's On and On, 2005's In Between Dreams, 2008's Sleep Through the Static and 2010's To The Sea.
Read Full Bio
Jack Hody Johnson (born May 18, 1975 in North Shore, Oahu, Hawaii) is a singer, professional surfer, composer, and filmmaker who has achieved critical and commercial success and a dedicated following since he first appeared on G. Love & Special Sauce's album Philadelphonic. The release of his 2001 debut album, Brushfire Fairytales, further cemented his popularity and he has since released four more successful albums including 2003's On and On, 2005's In Between Dreams, 2008's Sleep Through the Static and 2010's To The Sea. He has also released a live concert album and DVD, En Concert and recorded the soundtrack to the film Curious George.

Jack learned to play the guitar at age 14, but was a professional surfer until an accident at Pipeline in which his front teeth were knocked out and he received more than 150 stitches. While he was recovering in bed, he spent his time writing songs and playing guitar. However, Jack didn't seriously pursue a career in the arts until his college years at the University of California, Santa Barbara. Jack Johnson also played rhythm guitar for the party band "Soil" in 1999, and graduated with a degree in film.

He has written, recorded, and released the albums Brushfire Fairytales (2001), On And On (2003), In Between Dreams (2005), Sing-A-Longs and Lullabies for the Film Curious George (2006), Sleep Through the Static (2008) and To The Sea (2010), he has also been on 3 soundtracks "September Sessions" from the film The September Sessions, "Thicker Than Water" from the film Thicker Than Water, "Sprout", "A Broke Down Melody" Ep and "Some Live Songs EP". Several of his songs are also featured in the movie "Out Cold". His latest album - Sleep Through The Static - reached the top 10 of the US charts.

In (2009) A live album and DVD of Jack's (2008) world tour to promote the release of Sleep Through The Static album. The DVD entitled En Concert, was released on October 27, 2009. The DVD was directed by Emmett Malloy.

On June 1, 2010, Johnson released his fifth studio album, To The Sea, on Brushfire Records/Universal Republic, which was recorded using Solar Powered energy at his Mango Tree Studio in Hawaii, and the Plastic Plant in LA . To The Sea was co produced by Robert Carranza, Jack Johnson, and his bandmates Merlo Podlewski, Zach Gill and Adam Topol and features guest appearances from G. Love, and Paula Fuga.

Jack Johnson is currently on a world tour promoting To The Sea while continually encouraging his concert attendees to pay greater respect for our planet. An active promoter of environmental causes like Explore.org and One Percent For The Planet, Johnson's 2010 world tour will continue to collaborate with local non-profit groups around the world, according to his website. He will once again donate 100% of his tour profits to support environmental, art, and music education. Learn more about Jack Johnson's current environmental commitments to our planet at: www.AllAtOnce.org.

Jack just cancelled the remaining balance of his Japanese tour on March 12, 2011 in sympathy of the victims of Tohoku Earthquake. Join Jack in supporting this disaster relief by donating to Global Giving Japan, and he encourages others to join this effort. Johnson's Ohana Charitable Foundation has also supported Little Kids Rock, a national nonprofit that works to restore and revitalize music education in disadvantaged U.S. public schools. He also decorated a guitar for Little Kids Rock to auction to raise funds for its program.

On September 22, 2012, he donated his time to play a few songs at Farm Aid 2012 in Hershey, PA. Later in 2012, Jack donated $50,000 for Hurricane Sandy relief and added links on his website for others to donate:

"After years of touring and surfing along the East Coast, I have made so many great friends. It is heartbreaking to see the images and hear their stories. I just made donations to help recover and relief efforts for Hurricane Sandy. Below is a list of groups you can support. If you can't donate money, you can donate food, supplies, or your time. Our East Coast family, friends, and neighbors need our help. Aloha"

Johnson released From Here to Now to You with his band on September 17, 2013. On June 15, 2013, Jack and the Band performed as headliners at the 2013 Bonnaroo in Tennessee. He also played two acoustic concerts, one at London's Tabernacle in Notting Hill and the other at New York City's Allen Room at Lincoln Center overlooking Central Park, featuring songs from his upcoming album. The From Here to Now to You Tour ran from March through September 2014.

In February 2017, Johnson announced a U.S. tour beginning in Chicago at the Huntington Bank Pavilion on Northerly Island on June 1 and ending with two Kōkua Hawai'i Foundation benefit concerts at the Waikiki Shell on August 4 & 5. Also, he revealed plans to release an album in the summer of 2017. Later, he added a September 10 concert for the 2017 Ohana Fest at Doheny State Beach, Dana Point, California. On September 8, 2017, Jack released his seventh studio album All the Light Above It Too, and peaked at number 13 on the Billboard chart's "Artist 100." In July 2018, Johnson released his greatest hits album "Jack Johnson: The Essentials" in Japan only.

In late 2019, Johnson released a single "New Axe", which was featured in the This Warm December Vol. 3 album. He then did a "Together at Home" Instagram Live stream concert on March 28, 2020. His concert was the third most watched on the Global Citizen YouTube. He then also performed at the "One World: Together at Home" special, and a live version of "Better Together" was featured on the One World: Together at Home album. On May 1, 2020, he was featured on Milky Chance's new single "Don't Let Me Down". On September 26, 2020, Johnson performed the opening set at Farm Aid: On the Road.

On December 4, 2020, Johnson released a new single titled "The Captain Is Drunk". On April 16, 2021, Johnson released a song titled "If Ever" with Paula Fuga and Ben Harper. The song appeared on Fuga's new album Rain on Sunday, which will be featured on Johnson's record label.

On June 24, 2022, Johnson released his eighth studio album, Meet the Moonlight, his first full-length record in five years. It was produced by Blake Mills, engineered by Joseph Lorge, and recorded both in Los Angeles (at Sound City Studios and EastWest Studios) and at The Mango Tree (Johnson's home studio) in Hawaii. The album's lead single is titled "One Step Ahead".

To coincide with his new album release, Johnson embarked on the Meet the Moonlight Tour with 35 stops at major venues across the United States (including Hawaii) and Canada. He was accompanied by various artists including Grammy-award winner (and personal friend) Ziggy Marley. In November, Johnson will tour the album in Australia and New Zealand, his first overseas concerts since 2019.

On July 22, 2000, Johnson married his college girlfriend, Kim Baker. They have three children: two boys and a girl. Johnson lives on the North Shore of the island of Oahu in Hawaii. In an interview with Johnson, Ann Donahue from Billboard described Johnson's family life by saying "There is often trouble in balancing the life of an artist, environmentalist, and family man, but Johnson seems to have the niche for such a challenge. This time around, he's found a pace that agrees with him...bringing his family along so he can spend mornings with them sightseeing." Both Johnson and his wife declined to talk about or release any intimate information concerning their children.
Genre not found
Artist not found
Album not found
Search results not found
Song not found