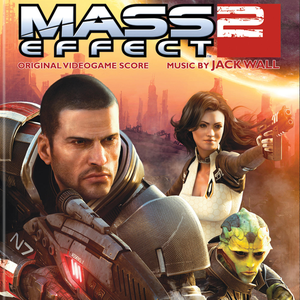 Jack Wall is an American video game music composer. He has worked on video game music for over 20 games including the Myst franchise, Splinter Cell, Jade Empire, and Mass Effect. Wall earned a degree in civil engineering from Drexel University in Philadelphia, Pennsylvania, and, after a brief stint working in civil engineering, transitioned into music production. He worked with musicians such as John Cale, David Byrne, and Patti Smith, and, after performing increasingly complex production and sound engineering tasks
Read Full Bio
Jack Wall is an American video game music composer. He has worked on video game music for over 20 games including the Myst franchise, Splinter Cell, Jade Empire, and Mass Effect. Wall earned a degree in civil engineering from Drexel University in Philadelphia, Pennsylvania, and, after a brief stint working in civil engineering, transitioned into music production. He worked with musicians such as John Cale, David Byrne, and Patti Smith, and, after performing increasingly complex production and sound engineering tasks, moved into music composition in 1995.

Wall immediately began working in the video game industry, composing the soundtrack to Vigilance. Primarily composing in an orchestral style, by 2001 he composed the soundtrack to Myst III: Exile, which was the title he says put him on the map as a video game composer. In 2002, Wall became one of around 20 co-founders of the Game Audio Network Guild (G.A.N.G.) as well as senior director. In 2005, Wall, along with G.A.N.G. founder and fellow composer Tommy Tallarico, produced the Video Games Live concert series. Wall serves as the conductor for the international concert tour. His latest released soundtrack is that of 2012's Call of Duty: Black Ops II. His soundtracks for Myst III: Exile, Myst IV: Revelation, Rise of the Kasai, Jade Empire, and Mass Effect have been nominated for and won multiple awards.
Genre not found
Artist not found
Album not found
Search results not found
Song not found
We have lyrics for 'Legion' by these artists:



1349 Like a ghost I wander Withdrawn from reality becoming a mi…
Agonoize Hast du geglaubt das würde ewig weitergehen Und die Menschh…
Ask Embla Mmmm Aaaah Yeah I am legion I am more I am soldier I am more…
Digitalife Siento que el aire se me acaba Aun así me brindas…
Dismember From cold north to scorching desert sands A vast empire rul…
Eumeria Sunlight burns colder than I've ever known Far from reason, …
Fear Of Domination Who are you? Who am I? Is everybody here just to die? I…
FGFC820 Dear hallowed nation We come in peace You are the remnants…
Grand Magus A mighty blast of fire burned across the sky It is…
Hammer Bros. And I say down with the empire as if you…
HammerFall The war still remains No Kingdom on earth There's only pure …
Hell's You are down, down on your knees For your believes of…
Hydra Division V You can't survive In any form You can't define The meaning o…
Internal Suffering (We, As One… Dominate!) …We Are Nothing, … We Are Everyth…
Johnny Deathshadow From hell we came to rip your motherfucking face off Back…
Junkie XL Connecting channel to channel, communications are rebel That…
Konkwista 88 Era invierno un tiempo difнcil la nieve en el horizonte…
Marduk With my pale eyes, I watch with delight Beyond the horizon…
Marionette The bastards tell you that this world won't have a…
Paper Planes I can't sleep Nor can I pull myself up From my bed…
Penetralia Augen Adern platzen - Blut dringt ein Gestank Ein Kind …
Resist The Thought I smell the fear of death lingering in the air…
Sangriento War We're all in battle, a fight to gain control The heated…
Saviour Machine Legion moves over the land Softly he whispers, his forces…
Severed Heads 1 My name is Legion / I'm to work with…
Songhammer DIE DIE DIE DIE DIE DIE DIE DIE And if you think That you c…
Soul Extract Fallen angels ripping through the circuitry inside this suit…
Tender Give me back my legions, or give me control Now i…
The Penetralia Augen Adern platzen - Blut dringt ein Gestank Ein Kind Nach…
VNV Nation Enveloped in a sentiment, a sound that rushes over me. Engag…
Weepers Circus Première nausée au grand matin des vivants, A l'ombre du…
Werkraum Wenn auf Türmen du stehst Und Stürme es weht Bist du Einer…



We have lyrics for these tracks by Jack Wall:



Exile You're in exile from me Because its you that I can't…
Main Theme Narani (D'ni dialect) Chorus Tomahna, Edanna, Amateria, Vol…

The lyrics can frequently be found in the comments below, by filtering for lyric videos or browsing the comments in the different videos below.