Visions of the future going through your mind. When your kind lonesome or
Your in a bind. I'm not placing blame. Been there a thousand times. If you
Think it's funny, just rewind. I can't safely make the case. I've never had
A problem with, loneliness. We can't break the bond at stake. Takes, all
Our love to get through this whirlwind. Oh the silence is to violent for
Me. Just say something. Please realize that, I'm smiling, be free. We can
Be happy. Never knew that you were, living in a lie. The truth comes as the
Open sun, staring at the sky. Lets define the future. Baby now is the time.
When you try to love someone, you try a thousand times. Way to take the
Weight of all the world. Lately you're a slave, don't loose yourself.
Contributed by Parker S. Suggest a correction in the comments below.
To comment on specific lyrics,
highlight them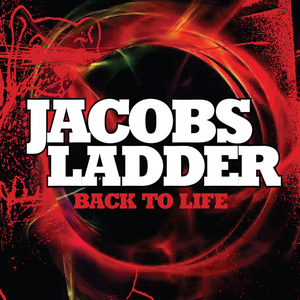 "Ours for the Taking", Produced by Cyrus Bolooki of NFG, Mixed/Recorded by Ryan Haft, & Mastered by Matthew Agoglia @ Masterdisk.

Forming in the summer of 2002 JACOBS LADDER has done pretty well for themselves over the last few years. Playing 550+ SHOWS, 13 NATIONAL TOURS, 4000+ Records Sold (11/09-Current), Sponsored by Ernie Ball/Gibson/Orange/Visual Sound, SXSW 2010, Won Ernie Ball Battle of the Bands 2006 & 2008, "One of the Best Local Albums of 2009"-MIAMI NEW TIMES, & same line up since 2002!
Read Full Bio
"Ours for the Taking", Produced by Cyrus Bolooki of NFG, Mixed/Recorded by Ryan Haft, & Mastered by Matthew Agoglia @ Masterdisk.

Forming in the summer of 2002 JACOBS LADDER has done pretty well for themselves over the last few years. Playing 550+ SHOWS, 13 NATIONAL TOURS, 4000+ Records Sold (11/09-Current), Sponsored by Ernie Ball/Gibson/Orange/Visual Sound, SXSW 2010, Won Ernie Ball Battle of the Bands 2006 & 2008, "One of the Best Local Albums of 2009"-MIAMI NEW TIMES, & same line up since 2002!

JACOBS LADDER HAS PLAYED WITH: FALL OUT BOY, THE MATCHES, BAYSIDE, THE ATARIS, RELIENT K, FOUR LETTER LIE, THE AUDITION, WARPED TOUR 2x, FOREVER THE SICKEST KIDS, VALENCIA, BETWEEN THE TREES, VERSA EMERGE, BOWLING FOR SOUP, RIVER CITY HIGH, ARTIST VS. POET.

Read more: http://www.jacobsladdermusic.com
Genre not found
Artist not found
Album not found
Search results not found
Song not found