Show me
What it means to be yours
What it means to be more, more
What it means to be more, ah
Show me
What a difference you make
What a word that you say now could mean
When it's over and it comes time for change
'Cause I'm gonna miss you
I'm gonna miss you when you're gone
I'm gonna miss you
I'm gonna miss you when you're gone, ah
Show me
How to get what you give
How to let go and live, live
How to let go and live, ah
Show me
What a life this could be
What a promise you make now could mean
When the day comes that everything you see
Is without me
'Cause I'm gonna miss you
I'm gonna miss you when you're gone
I'm gonna miss you
I'm gonna miss you when you're gone, ah
'Cause I'm gonna miss you
I'm gonna miss you, ah
I'm gonna miss you
I'm gonna miss you, ah
I'm gonna miss you
I'm gonna miss you, ooh
Lyrics © BMG Rights Management, Kobalt Music Publishing Ltd.
Written by: James Hersey

Lyrics Licensed & Provided by LyricFind
To comment on specific lyrics,
highlight them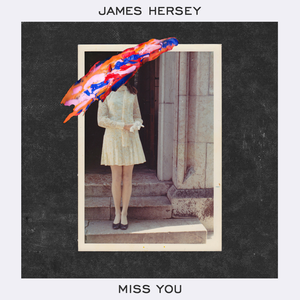 Free tracks at: http://www.jamesherseymusic.com

James Hersey is an independent solo project/band. The 24 year old guitarist writes, produces, and performs soulful songs with unique pop sensibility and vocals. Launched in Vienna, Austria (home to half of his family) in 2010, James rapidly gained support from major alternative outlets as well as mainstream media. His current single "Don't Say Maybe" is charting in the Top-5, and his mixtape "TWELVE" earned him an Artist Of The Month title at Radio FM4.
Read Full Bio
Free tracks at: http://www.jamesherseymusic.com

James Hersey is an independent solo project/band. The 24 year old guitarist writes, produces, and performs soulful songs with unique pop sensibility and vocals. Launched in Vienna, Austria (home to half of his family) in 2010, James rapidly gained support from major alternative outlets as well as mainstream media. His current single "Don't Say Maybe" is charting in the Top-5, and his mixtape "TWELVE" earned him an Artist Of The Month title at Radio FM4.

Sold-out shows in his hometown, as well as support slots and collaborations with the likes of Train, Left Boy, and Manu Delago (Bjork) promise a long career for the young singer songwriter.

Available Releases:

TWELVE (Mixtape) - December 2012

Forever Yours (Single) - October 2012

All I Want (Single) – June 2012

It Ain't Over (Single) – November 2011

Stand Up For You (Single) – May 2011

James Hersey EP – June 2010
Genre not found
Artist not found
Album not found
Search results not found
Song not found